Vegetarian Biscuits and Gravy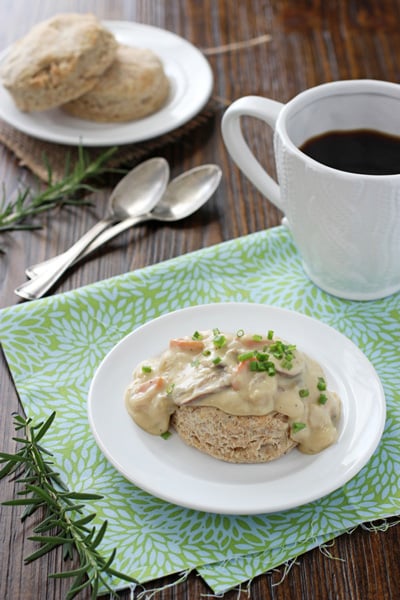 I'm so excited about today's post! Because ooooo boy is it a good one!
We're talking classic, delicious biscuits and gravy … made vegetarian and lightened up a bit too. Without sacrificing any flavor. Now that's a double whammy of goodness right there!
Let's first talk biscuits. Have I told you about my complete obsession with coconut oil these days? I blow through jars like nobody's business. So of course I had to go ahead and replace the butter in the biscuits with coconut oil. You guys – mind blown.
You'll cut solid state coconut oil into the flour mixture just like you would butter. And then proceed like normal, stirring in some milk, forming a dough and cutting out rounds. They bake up into tender delicious biscuits, studded with fresh rosemary for some additional herby flavor. I didn't even miss the butter – so that's saying something right there.
And now for the gravy. Replacing the traditional sausage is a mixture of onions, carrots and mushrooms, which all help bulk it up and add some oompf. We'll also add in some more fresh rosemary and a little bit of vegan worcestershire to up the savoriness.
It will simmer for a few minutes, thicken up nicely … and then you'll go ahead and spoon this creamy gravy right on over a biscuit.
I do believe that is one delicious special weekend breakfast. Especially with a good cup of coffee.
My husband was a little skeptical of this meal at first – i.e. before he had tasted it. And once he did? He said the flavors were spot on to a normal biscuits and gravy and unless he was seriously thinking about it, he didn't even notice a difference.
Winning at life.
So hop on over to Oh My Veggies, where I'm sharing the recipe! —> Vegetarian Biscuits and Gravy!
On an unrelated note – just a heads up that I'm taking a few days off (and will be away from my computer (which I am horribly attached to by the way)) to celebrate my birthday – the big 3-0. Eek! I have a recipe post scheduled for you on Friday but I appreciate your patience for responses to emails, comments, etc.! A girl turns 30 only once : )