Coconut Oil Dark Chocolate Zucchini Cookies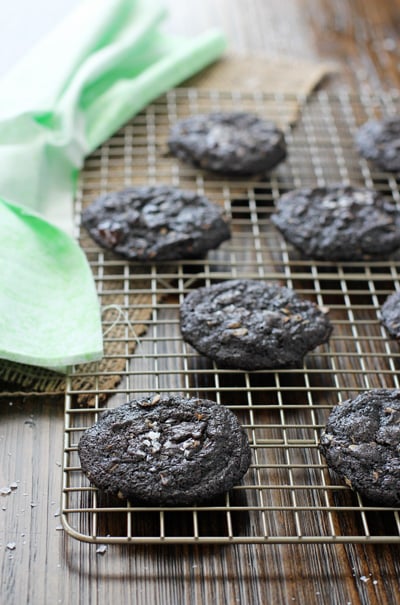 It's Friday and I brought cookies to the party. With coconut oil!
How many different ways do you think I can use coconut oil? Guesses? Let's take bets.
We're all friends here and I'm pretty sure you already know how obsessed I am with this stuff. We also know that I easily get on kicks that can go strong for months. And I'm right in the thick of this one.
So clearly after I made biscuits with coconut oil, naturally the next step would be to use it for cookies. Naturally.
I also just really wanted some cookies.
I also meant to share these with you a few weeks ago but I have a slightly obsessive / perfectionist personality and kept making these over and over. And over. Trying to decide which version I liked best.
So let's discuss the version I landed on. They are so perfectly fudgy and slightly chewy and filled with lots of chocolate. And some shredded zucchini so that totally means you can eat more. Or at least that's what I told myself. I am by no means calling these health food, but they do have coconut oil, zucchini and oats! So there's that!
And now a few tips for when you are making these:
Really really squeeze the zucchini dry. Throw it between some paper towels and squeeze it out over the sink. You don't want soggy cookies from excess moisture. Got it? Good.
Don't open the refrigerator a bazillion times when chilling the dough. And don't skip chilling the dough either. The cookies will spread more if you do this. And be flat little messes. Tasty messes, but really difficult to pick up and take a bite. I know from experience.
If you want really thick and puffy cookies, add 1 additional tablespoon all-purpose flour and 1 additional tablespoon of the cocoa powder. There was a debate in our house over which version was better. My choice is written below in the recipe but well, this way is pretty darn good too.
Now tell me about your weekend plans. Do you see cookies in your future? I think you just might.
Yield: about 16 to 18 cookies
Coconut Oil Dark Chocolate Zucchini Cookies
Prep Time: 50 minutes
Cook Time: 10 minutes
Total Time: 1 hour
Recipe for fudgy coconut oil dark chocolate zucchini cookies. With coconut oil instead of butter! Packed with chocolate, shredded zucchini and oats.
Ingredients:
¾ cup plus 1 tablespoon all-purpose flour
¼ cup plus 1 tablespoon unsweetened cocoa powder
½ teaspoon baking soda
¼ teaspoon salt
½ cup melted coconut oil, cooled to room temperature
¼ cup plus 2 tablespoons packed light brown sugar
¼ cup granulated sugar
1 large egg
1 teaspoon vanilla extract
½ cup shredded zucchini, squeezed dry
½ cup dark chocolate chips
¼ cup rolled oats
flaky sea salt, for sprinkling (optional)
Directions:
In a small bowl, whisk together the flour, cocoa powder, baking soda and salt. Set aside.
In the bowl of a stand mixer fitted with the paddle attachment, add the cooled coconut oil, brown sugar and granulated sugar. Beat on medium speed until blended. Add in the egg and vanilla. Beat again on medium until well combined, scraping down the bowl as needed. With the mixer on low, slowly add in the flour mixture and beat until just combined. Remove the bowl from the mixer and gently fold in the zucchini, chocolate chips and oats. Transfer to the refrigerator and let chill for 35 minutes.
Meanwhile, preheat the oven to 350ºF. Line a large baking sheet with parchment paper.
When the dough is done chilling, scoop about 1 ½ to 2 tablespoons of dough (I used my larger cookie scoop) and drop onto the prepared baking sheet about 2 to 3 inches apart. Sprinkle the tops lightly with some of the sea salt.
Bake for about 9 to 10 minutes, until the cookies are set (they may not look completely done but will continue to cook when you take them out). Let the cookies cool directly on the baking sheet.
I like to use a blend of natural and dutch-process cocoa in this recipe. This is what I use: Special Dark Cocoa Powder (<— affiliate link!).
Melt the coconut oil first then measure out the correct amount, otherwise you may use too much.