Almond Butter and Jelly Waffles
I am currently on an almond butter kick like no other. To the point where I haven't even thought about regular peanut butter in weeks. Which is unheard of. Complete and utter blasphemy!
I've even managed to get my husband on board with this kick and we are blowing through jars. Kind of scarily fast. I also blame this bender on the fact that I cracked and bought a jar of the Justin's brand vanilla almond butter. And holy smokes. Now I get why everyone always talks about it.
The jars were sitting there on the store shelf taunting me and were on sale and I was hungry and my willpower went out the door. And now. Now I am addicted. Both me and the husband. We have to pace ourselves though. It's getting out of hand.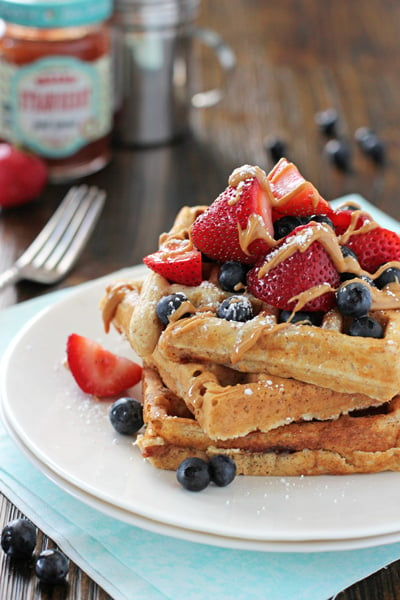 So clearly, clearly I needed to make some waffles with almond butter and strawberry preserves swirled right into the batter. Total no brainer.
Now the waffle base itself isn't overly sweet – other than the preserves there's only a little bit of honey to sweeten them up.
Because you want to be able to go to town with the toppings. Promise me that you will make these and then smear a boatload of almond butter right on top and then add on some fresh berries. Oh goodness is it good. Or you can melt the almond butter just a tad and then drizzle it on. I die of happiness.
Almond butter happiness.
Yield: about 10 (4x4 inch) waffles
Almond Butter and Jelly Waffles
Recipe for almond butter and jelly waffles. With almond butter and strawberry preserves swirled right into the batter! Easy and freezer-friendly!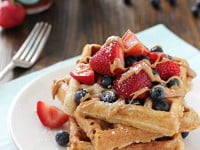 Ingredients:
For the waffles:
1 ¾ cups all-purpose flour
2 ½ teaspoons baking powder
½ teaspoon salt
2 large eggs
1 ¾ cups milk (I use whole milk or 2%)
⅓ cup melted coconut oil, cooled slightly*
⅓ cup creamy almond butter
1 teaspoon vanilla extract
2 tablespoons honey
⅓ cup strawberry preserves
Serving ideas:
additional almond butter
additional strawberry preserves
fresh berries
maple syrup
confectioners' sugar
slivered almonds
Directions:
In a large bowl, whisk together the flour, baking powder and salt. In a medium bowl, whisk together the eggs, milk, coconut oil, almond butter, vanilla extract and honey. Pour into the bowl with the dry ingredients and mix until incorporated (the batter will be lumpy). Drop the strawberry preserves into the batter in small dollops and swirl into the batter (but don't mix it all the way in).
Preheat a waffle maker. When hot, pour the recommended amount of batter into the waffle maker according to the manufacturer's instructions. Cook until golden brown. Repeat with the remaining batter.
Serve with whatever toppings you would like!
*Melt the coconut oil first then measure out the correct amount, otherwise you may use too much.