Cheesy Taco Casserole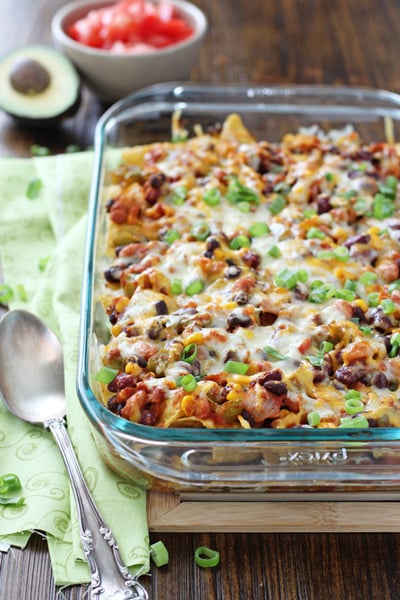 Let's talk nachos. But like, fancier. And more like a cross between nachos, tacos and enchiladas. Sounds good, right?
I've never seen my husband more excited for a meal. He's always asking me to make nachos and I pretty much just ignore those requests. It's not that I don't like nachos. I just have so many recipe ideas floating around in my brain that nachos just get looked over. Passed by.
So this was a sort of compromise. A cheesy delicious compromise.
We've got a three-bean and veggie base. Pinto beans, black beans and red kidney beans come together with corn and green pepper and lots of spices to form a sort of filling for this dish.
Then we've got plenty of crunchy tortilla chips.
And a generous helping of cheese. Cheese me please.
Which all get layered and then baked into one awesome casserole. The bottom layers get softer, while the top keeps that amazing crunch.
Finally, you can decide on your toppings. There's no wrong decision here – go with your favorites. For me? I love me some green onions, avocado, diced tomatoes, extra salsa … the list goes on. I have a hard time restraining myself with toppings.
All the toppings, all the time.
To get in on this goodness, head on over to Oh My Veggies where I'm sharing the recipe!
Get it here! —> Cheesy Taco Casserole