25 Game Day Eats You Need in Your Life
Let's talk football food. Because as much as I do like actually watching the game, the food is the superstar. The VIP. The big kahuna. The shining light of goodness.
I'm more than happy to listen to my husband yell at the TV as long as I have a giant smorgasbord of delicious food to keep me occupied. Although if we're being honest, and if you can keep a secret, I've started yelling too. I can get very competitive and well, maybe playing in a fantasy football league was not the smartest decision on my part. Especially when you don't know all that much about the players and then obviously turn into a sore loser when your team ain't doing all that hot. But I so want to win!
Maybe I should just stick to the food…
Which is what we are doing today. Just go ahead and make all of it over the course of this football season. You won't be sorry.
Snack-ity Snacks (& Dips too!)
Spiced pita chips with whipped herb goat cheese
Caramel apple popcorn
Fresh herb vegetable dip
Apple pie spiced pecans
Grape salsa
Heartier Appetizers
Enchilada stuffed mushrooms
Baked honey chipotle chicken wings
Baked goat cheese with cranberries and pistachios
Spinach and artichoke sweet potato skins
Baked pork egg rolls

Mains
Crockpot chocolate stout pulled pork
Cheesy taco casserole
Sweet and spicy meatballs
Crockpot vegetarian chili with farro
Vegetarian farro sloppy joes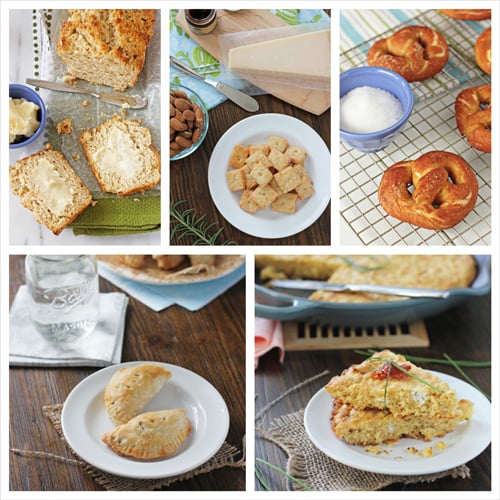 Carb Love
Buttery honey beer bread
Rosemary and gruyere crisps
Homemade soft pretzels
Sausage, pepper and feta hand pies
Skillet cornbread with goat cheese and sun-dried tomatoes
Sweets & Treats
Peanut butter chocolate chip pretzel cookies
Football cupcakes
Dark chocolate and pistachio almond butter cups
Chocolate cream cheese cookies with sea salt
Oreo football truffles
Is that enough to get you started?
Don't worry, I have more recipes coming your way soon. Get your yoga pants ready.