25 Game Day Eats You Need in Your Life
A collection of 25 delicious game day eats! Including snacks, appetizers, mains, breads and desserts to make all football season long!
Let's talk game day eats!
Because as much as I do like actually watching the game, the food is the superstar. The VIP. The big kahuna. The shining light of goodness.
I'm more than happy to listen to my husband yell at the TV as long as I have a giant smorgasbord of delicious food to keep me occupied.
Although if we're being honest, and if you can keep a secret, I've started yelling too. I can get very competitive and well, maybe playing in a fantasy football league was not the smartest decision on my part.
Especially when you don't know all that much about the players and then obviously turn into a sore loser when your team ain't doing all that hot. But I so want to win!
Maybe I should just stick to the food…
Which is what we are doing today. Just go ahead and make all of it over the course of this football season. You won't be sorry.
Snack-ity Snacks (& Dips too!)
Heartier Appetizers

Main Dish Ideas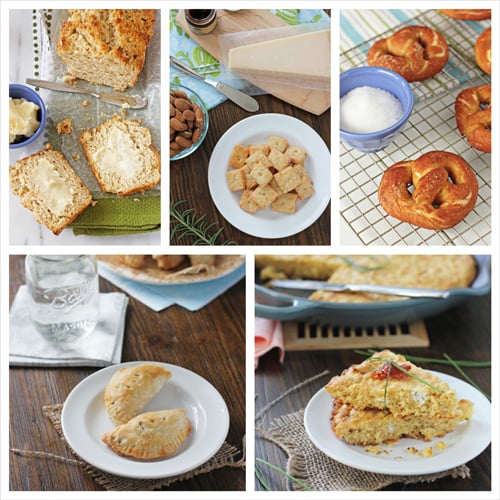 Carb Love
Sweets & Treats
Is that enough to get you started?
Don't worry, I have more recipes coming your way soon. Get your yoga pants ready.