Butternut Squash Burritos with Black Beans and Kale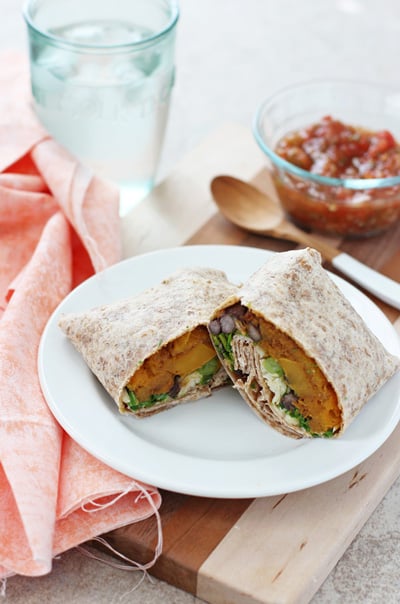 Are you ready for more butternut squash?
Well I sure hope so. Because today we're talking about this orange loveliness once again.
And … even better … we are combining it with my love of mexican food.
Which seems to be becoming a pattern around these parts. I would promise to stop, but since I have no intention of doing so, that doesn't seem right. Plus, I feel like you fully expect to see plenty of mexican food on this blog so I'm just going to continue to roll with it.
So. Let's chat up some burritos.
We have simple, easy, roasted butternut squash, which is my fave fave fave way to prepare it. And we'll add in plenty of warm spices – like cumin, smoked paprika and cinnamon. We'll mash it up just a tad, to give it that perfect consistency for smearing all over a burrito.
Then! We'll sauté some kale and warm up some black beans. And roll it alllll up with some green onions and obviously some cheese. I personally like either pepper jack or cheddar here, but really you can't go wrong. It is cheese after all.
How about a little foodie math for you?
Fall favorite + mexican goodness = best ever.
So, make the jump over to Oh My Veggies, where I'm sharing the recipe!
Get it here! —> Butternut Squash Burritos with Black Beans and Kale