Honey Roasted Brussels Sprouts with Peanuts
Sweet & salty honey roasted brussels sprouts! These irresistible sprouts are made with honey, red pepper flakes and sprinkled with peanuts for crunch!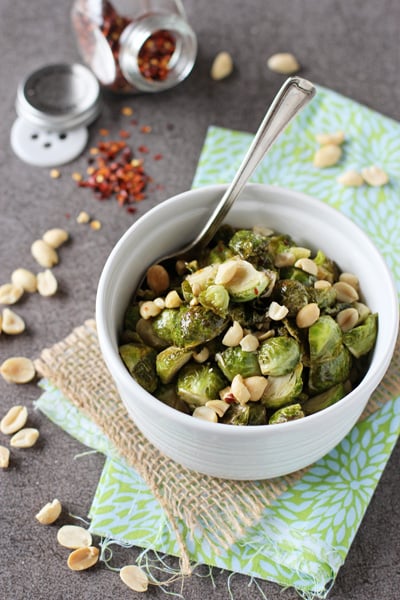 Let's balance out that cheesy french onion soup dip from Wednesday with a super simple healthy side, yes?
That way, when you make the dip this weekend, you have a nice green veggie to chase it down with.
So brussels sprouts. Love em? Hate em? In the middle?
I used to firmly be in the hate em' category … even though I had never tried one. Go figure.
At least I don't remember ever trying one. My sister and I were both pretty obnoxious picky eaters growing up, so I doubt my parents even attempted to feed me brussels sprouts. I would have thrown a hissy fit.
I was that person who refused to go to Outback Steakhouse (one of the few restaurants near us) because it was too "spicy" and "exotic." Hmmm. Not so sure about that logic.
Anyway, I've long since gotten over that picky eater phase, but for whatever reason never really had brussels sprouts until a few years ago.
And now I'm firmly in the o.b.s.e.s.s.e.d. category. I can see my 10 year old self shaking her head at me – like, who is this lady?? Brussels sprouts? Psshhh, weirdo.
But seriously, we now have them at least once a week. Well, whenever I can find them fresh at the store. And today, I'm showing you my go-to method for preparing them. Well, I should say a spin on my go-to method.
Typically, I just roast them with a little olive oil, honey and salt.
Until …. I had a fried version at a local restaurant with some red pepper flakes, a touch of lemon mixed in with the honey and a tad of peanuts. And ohhhh was it good.
Which resulted in this recreated, at-home, baked version.
About These Honey Roasted Brussels Sprouts
The sweetness from the honey balances out the slight inherent bitterness of the brussels sprouts and they get just a touch caramelized in the oven.
With a hint of heat from the red pepper flakes and a salty crunch from the peanuts, this version is just as fight-over-the-last-one-good as the one from the restaurant, yet all done in oven instead.
Get your brussels sprouts on this weekend. These little jewels of goodness are hard to resist.
Additional Brussels Sprout Recipes You Might Enjoy!
Did you make this recipe? Rate and review it down below! I'd love to hear from you.
Ingredients
3 tablespoons honey
1 ½ tablespoons freshly squeezed lemon juice
¼ teaspoon red pepper flakes, or more to taste
1 pound brussels sprouts, trimmed and halved lengthwise (quartered if really large)
1 ½ tablespoons olive oil
½ teaspoon salt
¼ cup roasted salted peanuts, chopped
Instructions
Preheat the oven to 400ºF.
In a small bowl, whisk together the honey, lemon juice and red pepper flakes.
Add the brussels sprouts to a rimmed baking sheet. Drizzle with the olive oil, the honey mixture and sprinkle with the salt. Toss to combine.
Bake for about 15 to 20 minutes, stirring once halfway through, until tender.
Sprinkle with the peanuts and serve.
Nutrition Information:
Yield:

4
Serving Size:

1
Amount Per Serving:
Calories:

136
Total Fat:

6g
Saturated Fat:

1g
Trans Fat:

0g
Unsaturated Fat:

5g
Cholesterol:

0mg
Sodium:

291mg
Carbohydrates:

22g
Fiber:

3g
Sugar:

15g
Protein:

3g
Nutrition data shown is an estimate provided by an online calculator and is for informational purposes only. It should not be considered a substitute for a medical professional's advice.