Crockpot Tex-Mex Meatballs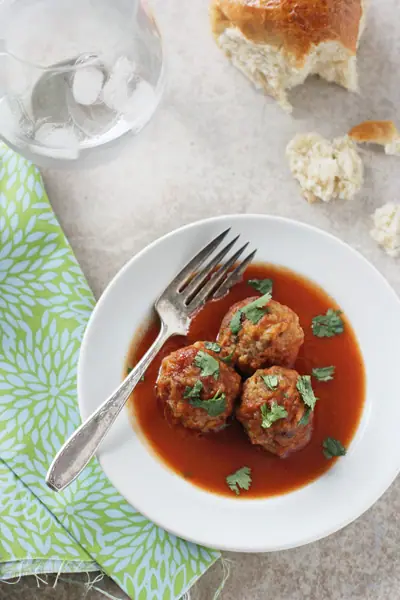 I feel like it's been ages since we've talked about how much I heart my crockpot. And especially now that it's the fall and all that business … I really bust out the crockpot quite often.
Although major sad face. Remember when I told you about how I have two crockpots and like to get them both going at the same time? Like dueling crockpots?? Which was practically the best ever and so much fun?
Sadly one of the two met an untimely death. I had it on the floor in a hall closet where there is a bunch of utility stuff and a repair guy accidentally knocked over one of the million other things I have crammed in there … which led to my crockpot shattering into a bunch of pieces. He was devastated … I was devastated. It wasn't pretty.
So now it's just me and my one crockpot. We're making do.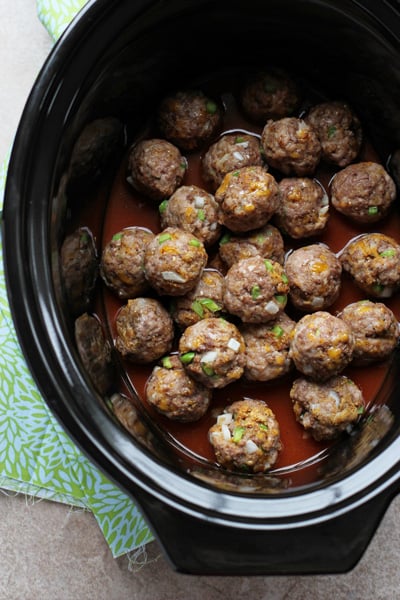 More than making do actually. Especially since it's pumping out complete deliciousness like these tex-mex meatballs.
Which 100% make me think of my grandma. She doesn't cook a lot now, but when she did, she was alllll about the low and slow when she made things like meatballs or sausage and peppers. She had this huge, massively deep, ginormous skillet that she would always bust out (mind you, she's a tiny little italian lady and I have no idea how she held that giant thing). Things would cook for hours in there and come out just all kinds of amazing.
So we're doing the same here – just in the crockpot instead. With a blend of pork and beef, and a bit of onion, green pepper, spices and cheese worked into the mix, you'll first brown the meatballs for just a few minutes in the oven. And then transfer them to your crock, pour in some enchilada sauce and let it do all the rest!
Slow cooked goodness that you can serve however you would like! We personally like them topped off with a sprinkle of cilantro and then plenty of bread on the side for dipping.
Meatballs meatballs! For the win! (And yes, you must say that all accent-like with hand gestures – just makes it so much more fun).
Yield: about 25 meatballs
Crockpot Tex-Mex Meatballs
Prep Time: 20 minutes
Cook Time: 5 hours
Total Time: 5 hours 20 minutes
Recipe for crockpot tex-mex meatballs. Slow cooked meatballs and your crockpot does all the work! With enchilada sauce, onion, pepper and plenty of spices.
Ingredients:
For the meatballs:
¾ pound ground pork
½ pound ground beef (I use 90/10)
¼ cup minced onion
¼ cup minced green pepper
⅓ cup whole wheat breadcrumbs (regular works too!)
1 large egg, lightly beaten
½ teaspoon salt
¼ teaspoon pepper
½ teaspoon chili powder
½ teaspoon cumin
½ cup freshly shredded cheddar cheese
2 ½ cups enchilada sauce, divided*
Serving ideas:
bread or rolls
additional freshly shredded cheddar cheese
fresh cilantro, roughly chopped
Directions:
Preheat the oven to 450ºF. Line a rimmed baking sheet with aluminum foil and then spray with nonstick cooking spray.
In a large bowl, add the pork, beef, onion, pepper, breadcrumbs, egg, salt, pepper, chili powder, cumin and cheddar. Mix to combine (but don't overwork the meat). Form into meatballs, about 1 ½ inches in size, and place on the prepared baking sheet. Bake for about 6 to 7 minutes, until lightly browned.
Pour a small amount of the enchilada sauce into a crockpot – just enough for a thin layer on the bottom (in my crockpot this is about ⅓ to ½ cup).
Transfer the browned meatballs to the crockpot. Pour the remaining enchilada sauce over the meatballs. Cover and cook on low for about 5 hours, until cooked through and the internal temperature is at least 165ºF.
Serve however you would like!
*As much as I completely adore my homemade enchilada sauce, I've found that a thinner enchilada sauce works better in the crockpot. If you do want to use the thicker, homemade version, I'd suggest thinning it out a bit with some chicken or veggie broth (which will help prevent it from burning around the edges of the crockpot).