24 Healthy Recipes to Kick Off the New Year
Happy 2015!! New year, fresh start! I love the feeling of the new year … there's just something about it.
To be totally honest, I'm not really a big resolution person. I do sit down every January and make goals for the year, but I consider them goals not resolutions … if that makes sense?
Anywho, this is also that time of the year when I'm craving a sort of reset from all the holiday goodies. Cookies most specifically.
So today I have a collection of our favorite healthy recipes from the blog. The ones we make over and over. For those of you looking for a holiday detox or some delicious, nutritious food to start the year off right, this is for you! And I do promise, they all are tasty. Nothing boring, nothing bland.
Enjoy! I'll be back next week with lots of new recipes! Get pumped, get pumped, get pumped!
Breakfast Ideas
Pretty smoothies + grab-and-go options!
strawberry oatmeal chia smoothie
healthy spiced banana bread oatmeal bars
lemon coconut chia seed energy bites
vanilla mango spinach smoothie
apple cinnamon quinoa breakfast bowls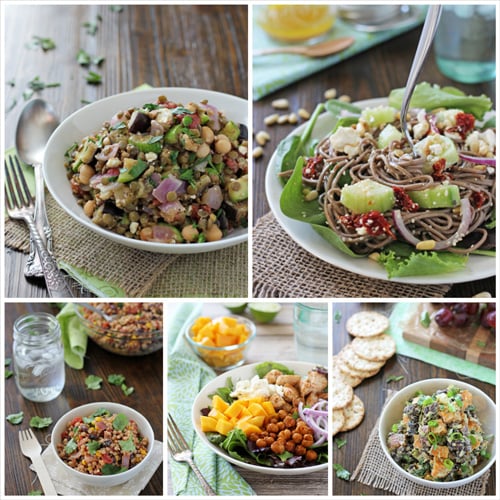 Nice and Filling Salads
Promise. These actually keep you full!
mediterranean chickpea and lentil salad
soba noodle and pine nut salad
mexican couscous salad
chicken, chickpea and mango salad with cumin lime dressing
sweet potato and black bean "chicken" salad
Warming Soups
All the soup, all the time. Especially in the winter.
hearty chipotle chicken soup
crockpot chicken, wild rice and butternut squash soup
chard and lentil vegetable soup
crockpot vegetarian chili with farro
roasted vegetable soup with couscous
Delicious Dinner Ideas (that aren't soup or salad!)
i.e. awesome meals that don't fit neatly into one category
fresh herb white bean and avocado sandwich
citrusy quinoa cashew chicken and broccoli
thai chicken bowls
greek pita pockets with hummus
quinoa and roasted vegetable burrito bowls
Treats To Satisfy that Sweet Tooth
Because I'd go crazy without dessert.
healthier carrot cake cookies
healthier "cookie dough" parfaits
healthier "brownie" snack bars
healthier chocolate chip cookies
Cheers to a 2015 filled with loads and loads of good food!