20 Strawberry Recipes To Make This Summer
Let's talk strawberry recipes. Desserts, main dishes, special occasions. We're covering them all!
Strawberries!!!! Goodness, how I love them.
They are really starting to get absolutely deeelicious and my current mission is to enjoy them as much as possible this summer. To become a strawberry eating machine. Yessss.
So, in light of this, we are talking about these gorgeous berries today. I wanted to pull together a collection of my favorite recipes for any occasion. Breakfast, dinner, dessert. And of course ideas to bring to all those potlucks and barbecues over the coming months.
I fully realize I'm cutting it close with Memorial Day, so let's just pretend that instead I am getting a nice head start on July 4th. I'll say that was my plan all along.
Enjoy!!
Roast Em' Up!
Roasted strawberries = pure perfection.
turkey burgers with brie and roasted strawberries
roasted berry and ricotta crostini
roasted strawberry, brie and arugula quesadillas
chocolate chip roasted strawberry shortcakes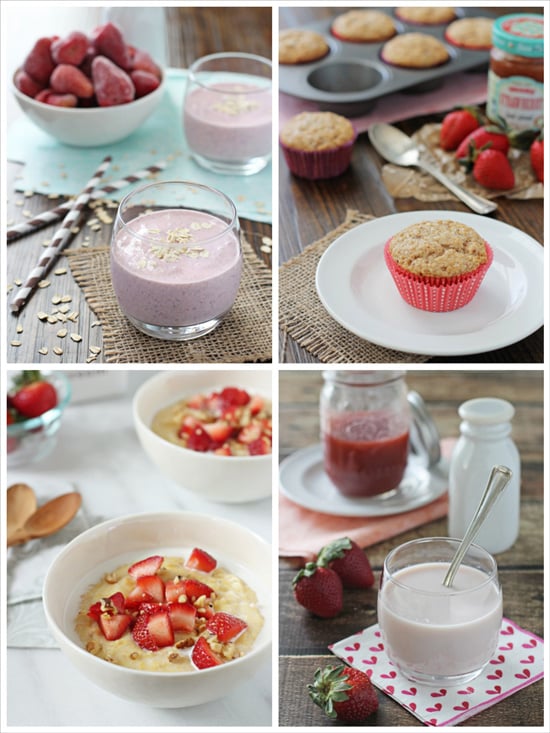 Berries for Breakfast!
Because who wouldn't want to start their day off with strawberries?
strawberry oatmeal chia smoothie
strawberry vanilla muffins
strawberries and cream breakfast polenta
homemade strawberry milk
Sweet Treats!
Sweet tooth time!
berry chocolate chip mascarpone tart
honey lime fruit salad with vanilla bean whipped cream
strawberry brown sugar buttermilk ice cream
soft chocolate sugar cookies with strawberry frosting
Random Strawberry Deliciousness!
The name says it all.
strawberry, cucumber and mozzarella phyllo cups
strawberry quinoa balsamic salad
summer salad with sugared pecans and poppy seed dressing
strawberry prosciutto pizza
Recipes I've Bookmarked to Try!
From my blogging friends around the web!
goat cheese and spinach stuffed strawberries from She Likes Food
strawberry filled cinnamon twists from A Kitchen Addiction
no-bake vegan strawberry pie from Making Thyme for Health
margarita fruit salad with tequila lime simple syrup from Flavor the Moments
Have an absolutely wonderful Memorial Day weekend!! I'll be back next week to chat your ear off about my new favorite whole grain … I bet you can guess which one. Hint. Yes, I've already blabbered on about it previously.