Fruit Pizza Almond Meal Blondies
Chewy. Gluten free. And topped with fresh fruit and whipped cream! These fruit pizza almond meal blondies make me a happy girl. Very happy indeed.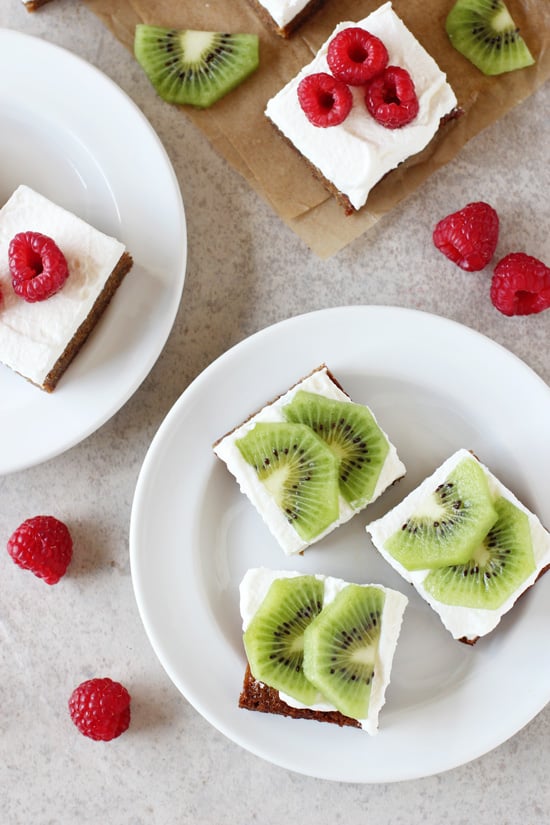 So. The struggle is real. My struggle with gluten free baking that is.
Every single year for Christmas I am tasked with making some gluten free goodies for our family gathering due to allergies. And every single year I make recipes from various sources (that shall remain unnamed) and they turn out disastrous. And I'm left standing in front of the oven crying over failed cookies and complaining to my mom.
You would think I would have learned by year three or four, but no. Not at all. It's like groundhog day.
But, I finally decided to work on this dilemma now so that come Christmas, I would have recipes of my own to make that I know have already worked out swimmingly on several occasions. Why it took me so long to do this I have no idea.
And even if you don't need to eat gluten-free, don't run away! I taste-tested these on a number of gluten-loving friends and they had no idea. Loved em!
And I agree. They are goooood. Dangerously good. Especially when eaten cold straight out of the fridge. Oops. At 10am. Big oops. But there's fruit so it's cool right?
So anyway, let's talk about these blondies.
The base itself is super simple. One bowl. Just a few ingredients, like almond meal, coconut oil and eggs. Once baked, the blondies get this awesomely deep sort of caramel color. Gorgeous.
So next we have the freshly made whipped cream. While you can definitely cheat and use store-bought, I would highly encourage you to make it fresh! The taste just cannot be beat! Plus, then you get to lick the mixing bowl.
The whipped cream is spread on the cooled blondies in a nice and thick layer and then you can go to town on the fruit. Really, use whatever your heart desires. I loved the look of the kiwi and raspberries but go with your favorites!
Once assembled, these blondies do need to be kept in the fridge. And I actually prefer them that way. They get super chewy and just plain fabulous.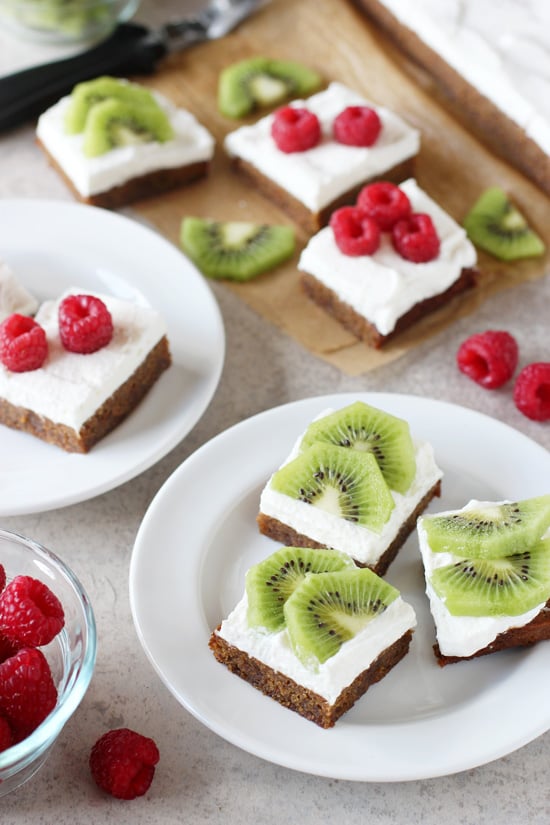 Faaaabulous. Said all drawn out with your pinky held up in the air. Because these little bars rock.
Yield: 1 (8x8 inch) pan blondies
Fruit Pizza Almond Meal Blondies
Prep Time: 40 minutes
Cook Time: 25 minutes
Total Time: 1 hour 5 minutes
Recipe for fruit pizza almond meal blondies. Gluten-free chewy blondies topped with fresh whipped cream and fruit!
Ingredients:
For the blondies:
½ cup melted coconut oil
1 cup coconut sugar
2 large eggs, lightly beaten
2 teaspoons vanilla extract
¼ teaspoon salt
1 ¼ cups plus 2 tablespoons almond meal
For the topping:
⅔ cup heavy cream
2 tablespoons confectioners' sugar
½ teaspoon vanilla extract
sliced assorted fruit and / or berries
Directions:
To make the blondies:
Preheat the oven to 350ºF. Line an 8×8 inch baking dish with parchment paper, cutting a big enough piece so that it hangs over the edges on two sides. Spray with nonstick or olive oil spray and set aside.
Add the coconut oil and sugar to a large bowl and mix until combined and evenly moistened. Add in the eggs and vanilla and mix again until combined. Add in the salt and almond meal and mix until just combined.
Transfer the batter to the prepared baking dish and use a spatula to spread evenly in the pan.
Bake for about 22 to 25 minutes, or until a toothpick inserted into the center comes out clean. Set the pan on a wire rack and allow to cool completely. Carefully lift the blondies out of the pan using the parchment overhang and place on a cutting board or work surface (you may need to run a butter knife on the two sides without the parchment overhang to loosen).
To make the topping:
Add the heavy cream, confectioners' sugar and vanilla to a large bowl. Whip with a hand mixer until stiff peaks form. Transfer the bowl to the refrigerator and let chill for about 20 minutes.
Spread the whipped cream over the cooled blondies in an even layer (I use all of the whipped cream, but feel free to use as much or as little as you want). Top as desired with the fresh fruit. Slice into squares and serve.
Be sure to melt the coconut oil first and then measure out the correct amount (otherwise you may use too much).
Once frosted, you need to store these blondies in the fridge. You can let them come back to room temp before serving (or just eat straight from the fridge cold – I speak from experience!).
Prep time includes the 20 minute chill time in the fridge for the whipped cream. Hands on time is only 20 minutes.
I have only tested these with almond meal (I have not tested them with blanched almond flour, so I can't say if they will work the same with any substitutions).