Creamy Watermelon Coconut Milkshake
It's Friday and we are celebrating! With these creamy watermelon coconut milkshakes!
Or slushies. Or smoothies. I really had no idea what to call them. Like, the husband helped me debate about this decision for far longer than I should admit. We take food seriously around these parts.
I ended up going with "milkshake" since this is definitely meant to be a treat.
But, there's like nothing bad in it. So smoothie also seemed appropriate. Then again, the texture is more like a slushie or ice milk or even a frosty?? I have not had a frosty since high school (which is a longggg time ago) so who knows if I am even remembering correctly. I don't know.
Do you see my dilemma?
But whatever we are calling these, all I do know is that you need to make them. Pronto.
This is one of those times when I made a recipe on a whim just for the husband and I. And then we proceeded to make it just about every other day over the course of two weeks. You know, to get it justtt right. Which is when the light bulb finally went off that I should share here.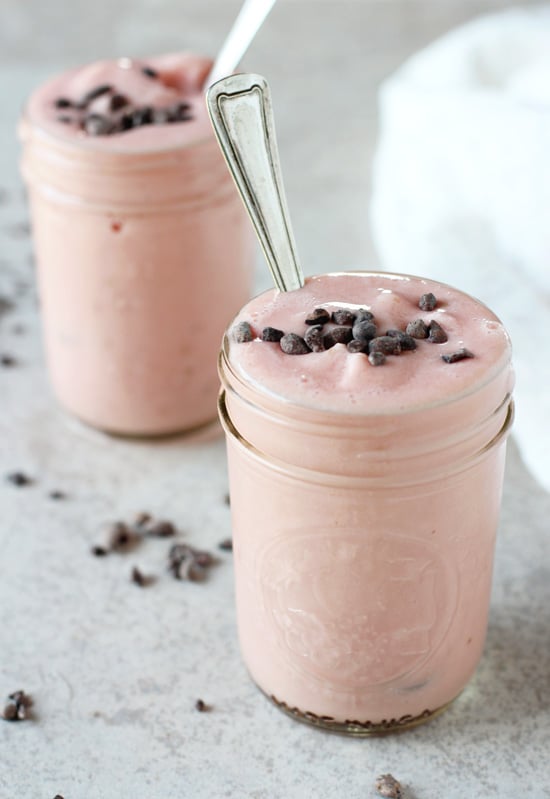 And these are easyyyyy. With a total of four ingredients.
1. Frozen chunks of seedless watermelon
2. Boxed coconut milk
3. A touch of pure maple syrup
4. And a splash of vanilla extract
Blend it up and dessert is served. Creamy, frosty, awesome.
Okay, fine. Five ingredients.
5. Top with a generous amount of cacao nibs or chocolate chips or coconut flakes
All are very good choices. I speak from experience.
Let me leave you with one warning. Brain freezes are real. Careful folks. Careful.
Yield: 1 large or 2 small servings
Creamy Watermelon Coconut Milkshake
Prep Time: 5 minutes
Cook Time: 0 minutes
Total Time: 5 minutes
Recipe for dairy free creamy watermelon coconut milkshake. With frozen watermelon, coconut milk, maple syrup and vanilla! Vegan! A fun summer treat!
Ingredients:
1 ½ cups cubed (1-inch chunks) seedless watermelon, frozen
1 cup coconut milk
1 tablespoon pure maple syrup (or to taste)
1 teaspoon vanilla extract
unsweetened coconut flakes, cacao nibs or chocolate chips, for garnish
Directions:
Add the watermelon, milk, maple syrup and vanilla extract to a blender. Process until smooth but still thick. If needed, add an extra splash of coconut milk to the blender to get it going, but try to avoid adding too much extra!
Serve immediately, topped with the coconut flakes or chocolate (if desired)!
Remember to plan ahead for this and freeze the watermelon!!! I freeze a bunch at a time so it's ready to go whenever I need it! Place cubed seedless watermelon on a parchment lined baking sheet in a single layer and freeze until solid (then transfer to a freezer safe plastic baggie or container).
This would also absolutely work with another milk of choice! Also, to clarify above, I use the boxed kind of coconut milk here (like the kind that comes in a shelf stable box like almond milk, etc.) and not the canned version.