Caprese Avocado BLT
I have mentioned it before but I am not one to go crazy over bacon. Yes, there are times where I really think it adds something, but in most cases, gimme a big fat gooey chocolate chip cookie over it any day. Priorities.
But, there is one exception to this rule / belief / whatever we are calling it of mine. I go completely ga-ga over a good BLT. And when we are specifically talking about a caprese avocado BLT? Well now you're speaking my language.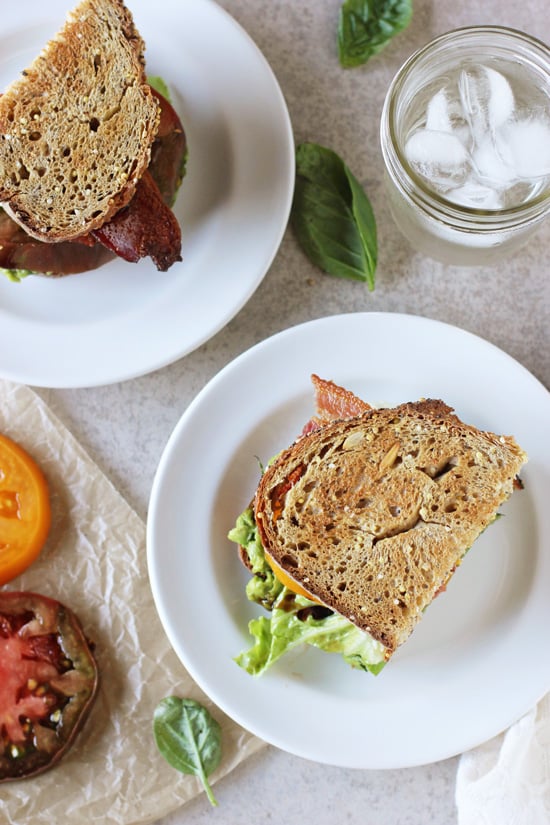 The really nut-o part about all of this? Creating this recipe was the first time I've made a BLT at home. How is this possible? Sometimes I wonder about myself.
I'll order one at a few select restaurants that in this crazy brain of mine I find worthy of my occasional BLT feast (yes, I am uber particular about my BLTs!). So why it never occurred to me to just make it myself? We'll never know.
But with juicy delicious colorful tomatoes all around us right now, it seemed like the perfect time to make it happen. And now I mayyyyy have created a monster. I'm trying really hard to control myself. What do we think is the acceptable amount of times I can add these to my meal plans?? Don't answer that. Seriously, don't.
So. Let's discuss.
We'll start with some pieces of delicious crusty bread. Whatever is your favorite.
Then, we have some mashed up avocado with a ton of chopped fresh basil stirred right in.
We'll smear that sucker right on the toasted bread, top it with crunchy lettuce, fat awesome slices of tomato, fresh mozzarella and salty thick-cut bacon.
And finally! We'll drizzle it with a bit of tangy balsamic glaze. Before smooshing on another piece of toast.
I advise serving with plenty of napkins and sitting nowhere near your crazed I-will-do-anything-for-food dog. Ahem, that leads to nothing good.
Yield: about 3 sandwiches
Caprese Avocado BLT
Prep Time: 10 minutes
Cook Time: 0 minutes
Total Time: 10 minutes
Recipe for quick and easy caprese avocado BLT. With mashed avocado, basil, juicy tomatoes, fresh mozzarella & crispy bacon! Finished with balsamic glaze!
Ingredients:
For the avocado spread:
1 medium ripe avocado, pitted
¼ cup chopped fresh basil
pinch of salt
pinch of pepper
For the sandwich:
6 large slices crusty bread of choice, toasted
romaine lettuce, to taste
2 medium tomatoes, sliced
4 ounces fresh mozzarella, sliced
6 large slices thick cut bacon, cooked until crispy
balsamic glaze, for drizzling
Directions:
To make the spread:
Scoop out the flesh from the avocado and add to a small bowl. Mash with a fork until mostly smooth. Add in the basil, salt and pepper. Mix to combine.
To assemble the sandwich:
Set three pieces of the toasted bread on a work surface. Smear some of the avocado mixture on each. Top each with some of the lettuce, tomato, mozzarella and bacon. Drizzle lightly with the balsamic glaze, then top with another piece of bread. Serve immediately!
I did not include a cook time for the bacon since you can cook it on the stove or in the oven – whatever you like and is easiest for you!
Pssst. Looking for other awesome sandwich ideas? Maybe a meatless one with caramelized onions?? Be sure to check out the recipe I created for Oh My Veggies!
Get it here! —> Mushroom-Cannellini Bean Patty Melts