Healthy Weekly Meal Plan – 10.17.15
And just like that, it's the middle of October.
I am finally back home in North Carolina after traveling pretty much nonstop for the last three weeks. It's been insane and I feel like my favorite time of the year is just flying right on by!
So, I've decided I need to be more intentional about enjoying this season. You know, stop and smell the apples and pumpkins. Says the lady who is about three weeks behind on everything. Yikes!
Anywho, at least I have meal planning taken care of! And this week there is definitely no shortage of awesome recipe ideas!
As with all our healthy weekly meal plans, vegetarian options are suggested if the meal contains meat. And! Two printable grocery lists are included at the end of the post – one that is completely filled out and another that you can customize yourself.
So let's get to the food!
—
Monday
Pumpkin Macaroni and "Cheese" from Making Thyme for Health
Prep Ahead: You can chop the kale, shallot and garlic ahead of time. Serve with a small side salad.
Tuesday
Turkey Sausage Jalapeno White Bean Chili from Flavor the Moments
Prep Ahead / Vegetarian Option: Omit the turkey sausage and use vegetable stock instead of chicken for a vegetarian option. Prep ingredients ahead of time, and use packaged, cubed butternut squash if pressed for time!
Wednesday
Southwest Sweet Potato Breakfast Skillet from Cook Nourish Bliss
Prep Ahead: This meal comes together fairly quickly and doesn't require a lot of prep work! Use your favorite salsa for serving!
Thursday
Crock Pot Chicken and Rice Soup from The Roasted Root
Prep Ahead / Vegetarian Options: The vegetables can be chopped ahead of time for easy preparation. To make this recipe vegan, replace chicken broth with vegetable broth and 1 can of chickpeas or black beans for the chicken. You can also add additional vegetables, such as potatoes, zucchini or yellow squash, broccoli, and/or spinach.
Friday
Baked Butternut Squash and Gouda Tortellini from greens & chocolate
Prep Ahead: You can make the butternut squash sauce one day in advance.
Click HERE for this week's printable meal plan and grocery list (below)!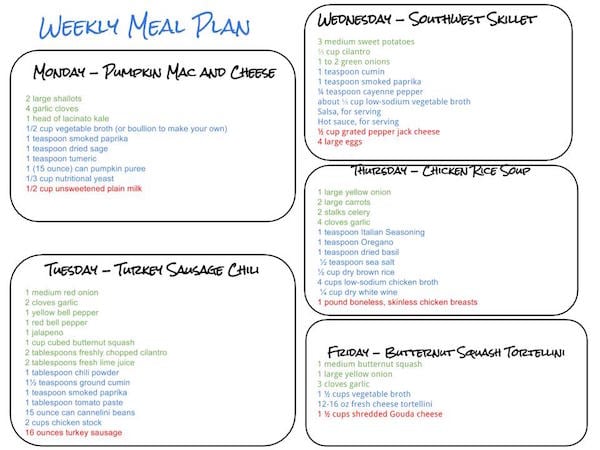 Click HERE for our customizable meal plan and grocery list (below)!