Healthy Weekly Meal Plan – 10.24.15
Happy Saturday! Let's celebrate with a healthy weekly meal plan, shall we?
With all the gorgeous fall weather, go right on ahead and get outside and enjoy the loveliness! We have next week's meal plan all taken care of for you. Although, you'll still have to do your own grocery shopping. Gosh, I'm funny today.
Anyway, this week we have lots more fall goodness. We're talking butternut squash soup, eggplant rollatini casserole and some mexican rice! Plus, creamy pasta and curry with halloumi. Yum yum!
As with all our healthy weekly meal plans, vegetarian options are suggested if the meal contains meat. And! Two printable grocery lists can be found at the end of the post – one that is completely filled out and another that you can customize yourself.
So let's get to it!
—
Monday
Yellow Curry Lentils and Halloumi from The Roasted Root
Prep Ahead: The rice and the lentils can be made ahead of time and stored in the refrigerator until you're ready to finish the recipe. You can also add tofu, chicken, or shrimp to this recipe for added protein.
Tuesday
Butternut Squash Potato Leek Soup from Flavor the Moments
Prep Ahead: Veggies may be prepped in advance, and croutons can be made ahead. Use store bought croutons and pre-cubed butternut squash if pressed for time!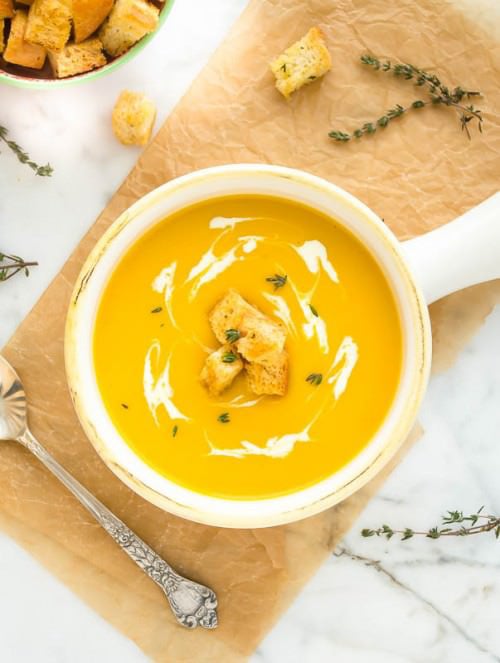 Wednesday
Creamy Sun Dried Tomato and Chicken Pasta from greens & chocolate
Prep Ahead: You can make the sauce up to one day in advance, storing in the refrigerator in an airtight container. Make vegetarian by omitting chicken and possibly add extra veggies (broccoli, peppers, zucchini, etc.) to bulk it up.
Thursday
One Skillet Mexican Rice Casserole from Making Thyme for Health
Prep Ahead: To save time you can cook the rice a day or two ahead of time.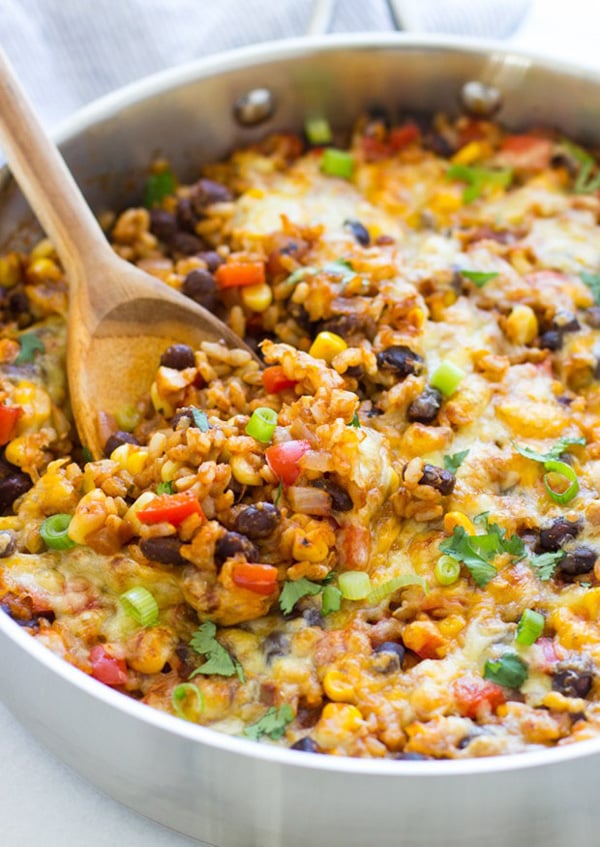 Friday
Eggplant Rollatini Quinoa Casserole from Cook Nourish Bliss
Prep Ahead: Quinoa can be made in advance. Rewarm slightly or bring back to room temp before mixing in with the other ingredients the night of.
Click HERE for this week's printable meal plan and grocery list (below)!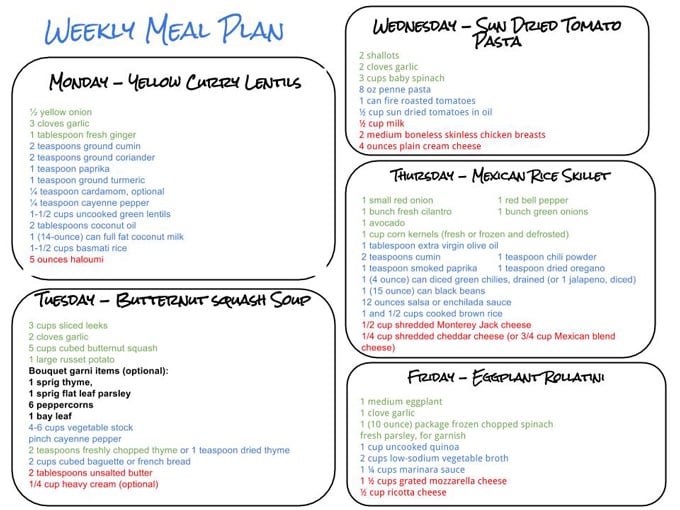 Click HERE for our customizable meal plan and grocery list (below)!