Healthy Weekly Meal Plan – 10.31.15
Boo! Happy Halloween!
Whether you're getting all dressed up for the holiday or just planning to sit at home with a bottle of wine and hand out candy (<— that would be me!), I hope that you have a wonderful weekend planned.
And since everyone has candy on the brain, we're here to help with another healthy weekly meal plan. Balance out all that sugar, yes?
This week we are talking two delicious pastas, a sweet potato chili, spicy veggie burgers and farro fried rice!
As with all our healthy weekly meal plans, vegetarian options are suggested if the meal contains meat. Plus, two printable grocery lists can be found at the end of the post – one that is completely filled out and another that you can customize yourself.
On to the food!
—
Monday
Sweet Potato and Lentil Chili from Making Thyme for Health
Prep Ahead: You can cut the veggies (onion, peppers, garlic, and sweet potatoes) up to 2 days in advance and store in an airtight container in the refrigerator.
Tuesday
Kale and Eggplant Baked Ziti from Cook Nourish Bliss
Prep Ahead: Veggies can be sauteed in advance (store in the refrigerator until ready to use). Or, the entire dish can be assembled completely, wrapped with foil or plastic wrap, and then stored in the refrigerator until ready to bake. Let it come back to room temp and then bake as directed (or until hot).
Wednesday
Spicy Black Bean Veggie Burgers from The Roasted Root
Prep Ahead: The rice can be cooked ahead of time and refrigerated until ready to use. You can also make the burger patties prior to cooking them, and/or freeze the veggie burgers.
Thursday
30 Minute Farro "Fried" Rice from Flavor the Moments
Prep Ahead: Prep veggies ahead, or buy pre-chopped veggies if really pressed for time.
Friday
Sausage and Kale Pasta with Feta Sauce from greens & chocolate
Prep Ahead/Vegetarian Option: Cook sausage a day in advance. To make vegetarian, omit sausage and replace with garbanzo beans.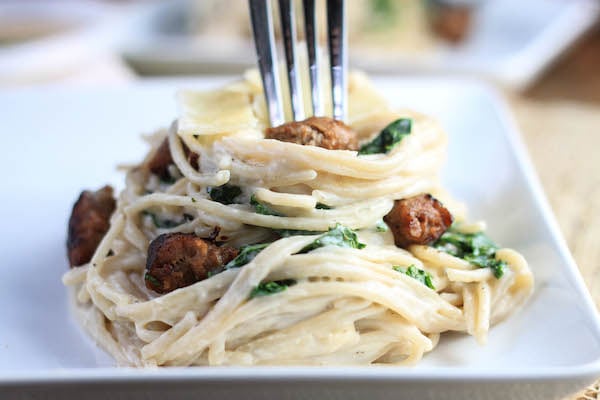 Click HERE for this week's printable meal plan and grocery list (below)!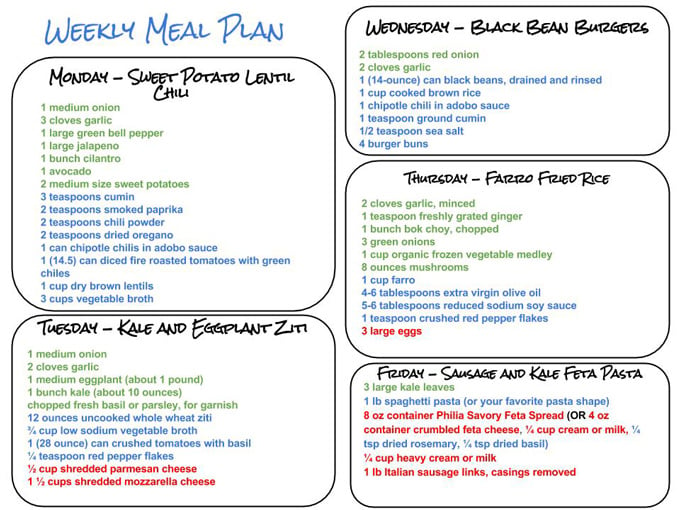 Click HERE for our customizable meal plan and grocery list (below)!