Healthy Weekly Meal Plan – 11.7.15
It's Saturday, which means it is healthy weekly meal plan time!
I hope that you have an absolutely wonderful weekend planned. I will be spending most of the day baking lots and lots of homemade bread to restock my freezer in preparation for holiday houseguests. I'm ridiculously pumped, as it is one of those things that is super relaxing for me.
Plus, I plan to watch some cheesy holiday movies a la the hallmark channel while all this baking takes place. It's gonna be good.
But. I'm getting sidetracked. Let's get back to the meal plan.
This week we have not one but two meals for your crockpot! Plus, an enchilada casserole, fried rice and a baked penne dish.
As with all our healthy weekly meal plans, vegetarian options are suggested if the meal contains meat. Plus, two printable grocery lists can be found at the end of the post – one that is completely filled out and another that you can customize yourself.
—
Monday
Crock Pot French Onion Soup from Cook Nourish Bliss
Prep Ahead/Vegetarian Options: Substitute low sodium vegetable broth for the beef broth to make vegetarian. Serve with a side salad for a complete meal!
Tuesday
Butternut Squash Enchilada Casserole from Making Thyme for Health
Prep Ahead: You can buy pre-cut butternut squash to save time.
Wednesday
Kimchi Fried Rice from greens & chocolate
Thursday
Baked Penne with Meat Sauce and Smoked Mozzarella from Flavor the Moments
Prep Ahead: Prep vegetables in advance, or make the sauce a day or more in advance. Sauce freezes very well!
Friday
Crock Pot Chicken Tikka Masala from The Roasted Root
Prep Ahead/Vegetarian Options: The sauce can be made ahead of time. To make this recipe vegetarian, substitute the chicken for 1-1/2 cups lentils and 1 (14-ounce) can of chickpeas.
Click HERE for this week's printable meal plan and grocery list (below)!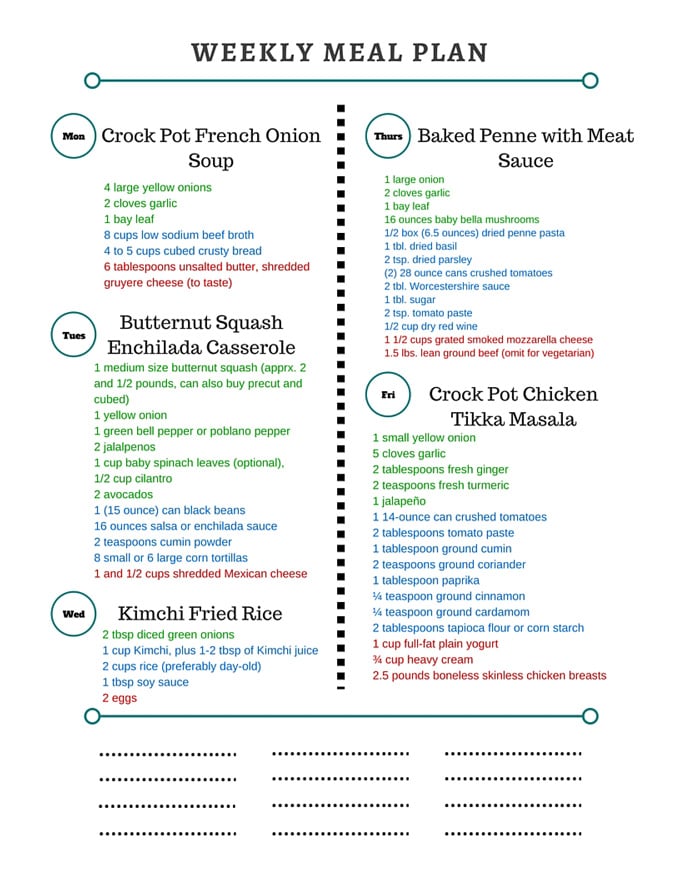 Click HERE for our customizable meal plan and grocery list (below)!