Leftover Turkey Tacos with Apples and Cranberries
Are you ready for a ridiculously easy recipe? We're talking 10 minutes or less till dinner (or lunch) is on the table.
One that is so simple that I feel a little silly sharing. But, we're rolling with it because these turkey tacos with apples and cranberries are a fantastic way to re-purpose your Thanksgiving leftovers.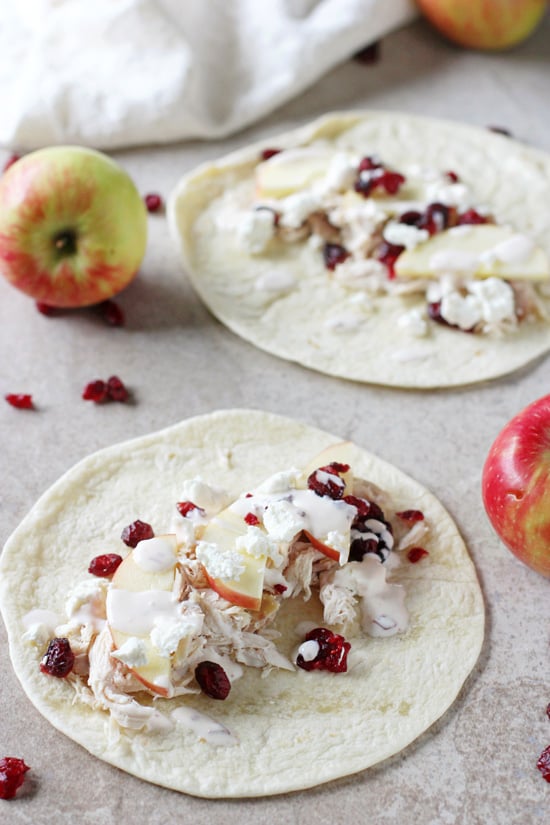 Or, or!! You can sub in leftover chicken (or rotisserie chicken) for the turkey and just make them for a quick weeknight dinner any day of the year!
Now that's a winner winner chicken dinner! Or turkey dinner?
Anyway, what I really love about these tacos is that if you are using your t-day leftovers, you don't feel like you are eating the same thing again and again.
They are a nice way to spice it up a little. Give that turkey a bit of pizzazz.
Plus, after all that Thanksgiving cooking, we can definitely use something that is easyyyy. And nourishing. Because hello, Christmas cookies!
Now, I promised you easy. So let's discuss.
First, we'll whisk together a smoky, creamy sauce with some greek yogurt, milk and chipotle peppers in adobo.
Next, we'll place some tortillas on a work surface and top them with the turkey (or chicken), some sliced fresh apple, some dried cranberries and some crumbled goat cheese.
We drizzle on that chipotle sauce and chow down!
Tart cranberries, crunchy apples, creamy goat cheese. Taco happiness right there.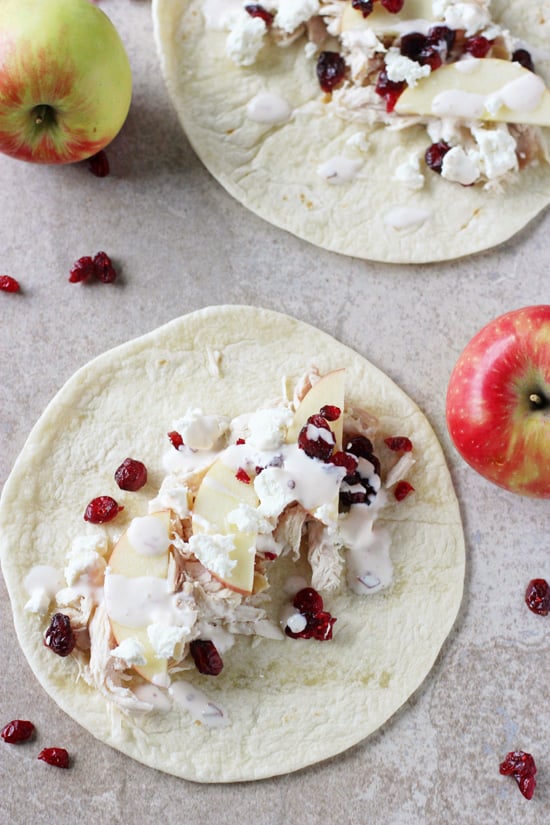 Just a quick note – I will be taking the rest of the week off from posting to spend time with family, prep for thanksgiving and partake in holiday cheer.
I wish those of you who celebrate the happiest of Thanksgivings and I'll see you Saturday with another healthy weekly meal plan – much needed after all the feasting that is ahead!
Leftover Turkey Tacos with Apples and Cranberries
Prep Time: 10 minutes
Cook Time: 0 minutes
Total Time: 10 minutes
Recipe for 10-minute turkey tacos with apples and cranberries! Re-purpose those Thanksgiving leftovers or use leftover chicken for a quick weeknight meal!
Ingredients:
For the drizzle:
½ cup plain greek yogurt
3 tablespoons milk of choice
1 to 2 teaspoons minced chipotle pepper in adobo sauce
¼ teaspoon salt, or to taste
For the tacos:
6 whole wheat large flour tortillas
2 ½ to 3 cups shredded leftover turkey, warmed if desired
1 medium apple, cored and thinly sliced
½ cup dried cranberries
3 to 4 ounces goat cheese, crumbled
Directions:
For the drizzle:
Whisk together the yogurt, milk, chipotle and salt in a small bowl until well combined. Taste and adjust the flavors if needed (the more chipotle pepper you add the smokier / spicier it will be).
For the tacos:
Lay a tortilla on a work surface. Sprinkle some of the turkey down the center, then top with some of the apple, cranberries and goat cheese. Drizzle with the desired amount of the sauce.
Serve immediately. You can also serve with the sauce in little bowls for dipping!
This is also great with shredded rotisserie (or regular) chicken instead of the turkey. Makes for a super quick weeknight meal!
Feel free to adjust the quantities of the toppings to your own liking.
Pssst. Looking for a last minute Thanksgiving recipe idea? Be sure to check out the tart I created for Oh My Veggies!
Get it here! —> Butternut Squash and Parsnip Tart