Healthy Weekly Meal Plan – 11.28.15
It's the Saturday after Thanksgiving, which means I am definitely ready for lots of healthy and nutritious meals! I don't know about you, but I most certainly ate my weight in side dishes on turkey day. Whoops.
This week we have no shortage of fantastic recipe ideas for you. Plus, we are so excited to welcome Ashley from Spoonful of Flavor – she'll be contributing recipes each week moving forward (along with the rest of us!) and I know you are going to love them!
As with all our healthy weekly meal plans, vegetarian options are suggested if the meal contains meat. And, two printable grocery lists can be found at the end of the post – one that is completely filled out and another that you can customize yourself.
Let's get to it!
—
Monday
Leftover Turkey Soup with Root Vegetables from The Roasted Root
Prep Ahead: The turkey will already be prepped ahead of time, but you can also chop the vegetables ahead of time if you'd like
Tuesday
Fall Mason Jar Salad with Maple Balsamic Dressing from Spoonful of Flavor
Prep Ahead: You can purchase pre-cut butternut squash cubes. The quinoa and salad dressing can be made in advance. Salads will keep in the jars for 2-3 days.
Wednesday
Quinoa and Roasted Vegetable Burrito Bowls from Cook Nourish Bliss
Prep Ahead: Both the quinoa and roasted vegetables can be made in advance.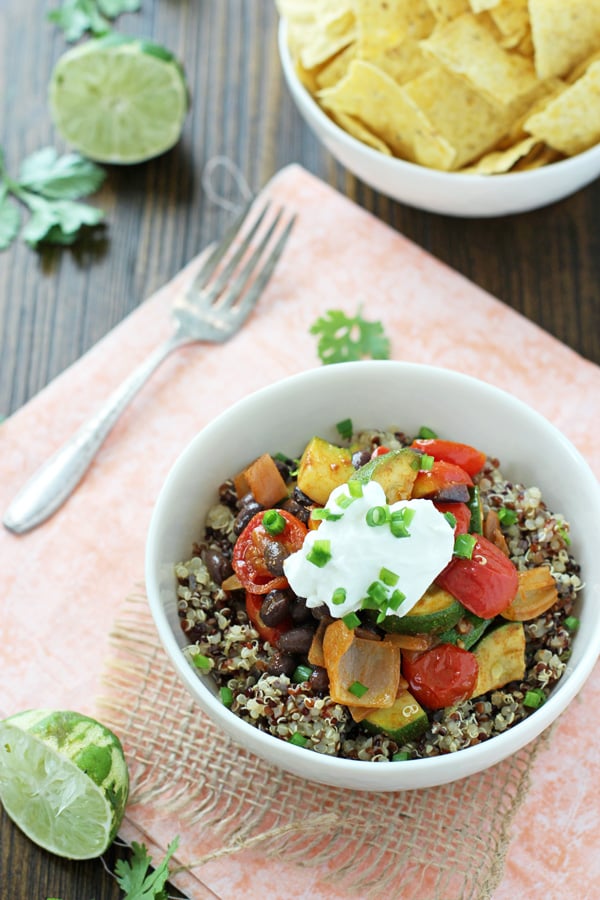 Thursday
Blackened Salmon Tostadas with Avocado Cream Sauce from greens & chocolate
Prep Ahead: The veggies can be chopped in advance, and the salmon can be seasoned up to a day in advance. For vegetarian, omit salmon and add two extra bell peppers and one extra can of black beans.
Friday
Slow Cooker Chicken Salsa Verde Tortilla Soup from Flavor the Moments
Prep Ahead: The tomatillo sauce may be made in advance. For a vegetarian option, omit the chicken and add extra beans and/or veggies if desired, and substitute the chicken stock for vegetable stock or water.
Click HERE for this week's printable meal plan and grocery list (below)!
Click HERE for our customizable meal plan and grocery list (below)!