Pistachio Dark Chocolate Whole Wheat Brownies
Alright my friends. We are going to ever so gently ease our way into the madness that is holiday baking.
Because frankly, I ate a weeeee bit too much sugar over Thanksgiving weekend and kinda sorta don't even want to look at these brownies right about now.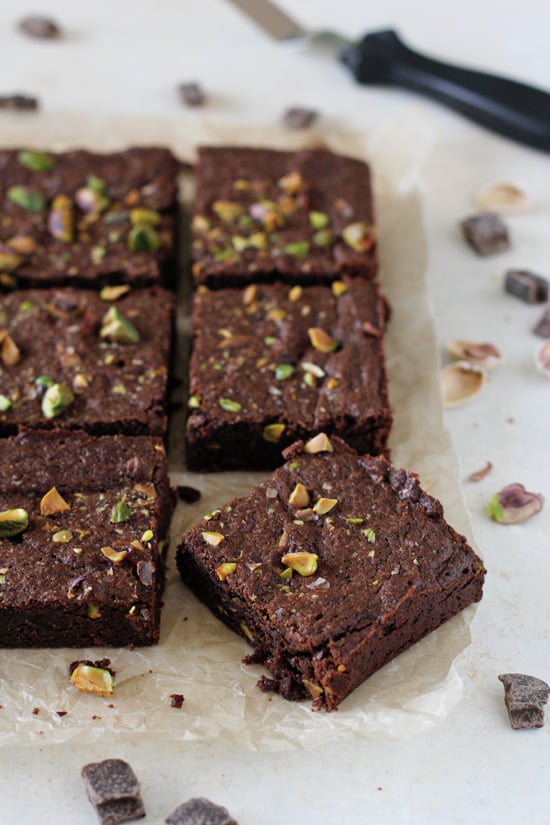 But. We must be fair to this delicious baked goodie. Which I made and tested way before Thanksgiving even arrived. It is so not the brownie's fault that I was incapable of stopping myself from eating all those pecan pie bars.
So, we forge ahead! With these perfectly fudgy and lightly sweet pistachio dark chocolate whole wheat brownies!
Now let's be clear. If you are looking for a traditional, super sweet brownie, walk away now. While these are certainly sweet, they are lightly sweet. M'kay?
And! They are studded with my absolute favorite gorgeously green nut – pistachios! Making for a sweet and salty dessert. Yessss.
I haven't even told you about the best part yet – they really couldn't be easier to make. We are talking one bowl and a fairly short list of ingredients. Keeping it nice and simple. See, I told you we are easing into this!
So, let's discuss the process.
We start by melting some dark chocolate chunks. Next, we stir in some creamy almond butter, melted coconut oil, coconut sugar and a few eggs.
Some white whole wheat flour and chopped pistachios get added to the mix, before we spread the batter in a baking pan and pop it into the oven.
Leaving us with fudgy, wonderful, pretty brownies!
Some parting words of wisdom – do not over-bake these! Because then you won't get that fudgy goodness.
Which would just be sad. So err on the side of under-baked. Check em' early in the oven.
Because could gooey brownies ever be a bad thing? Umm no.
Yield: 1 (8x8-inch) pan brownies
Pistachio Dark Chocolate Whole Wheat Brownies
Prep Time: 16 minutes
Cook Time: 24 minutes
Total Time: 40 minutes
A one-bowl recipe for fudgy pistachio dark chocolate whole wheat brownies! Made with coconut oil and coconut sugar!
Ingredients:
6 ounces dark chocolate chunks
¼ cup creamy almond butter
½ cup melted coconut oil
1 cup coconut sugar
2 large eggs, lightly beaten
½ teaspoon salt
1 cup white whole wheat flour
⅓ cup shelled pistachios, chopped and divided
Directions:
Preheat the oven to 350ºF. Line an 8×8 inch baking dish with parchment paper, cutting a big enough piece so that it hangs over the edges on two sides. Spray with nonstick cooking spray and set aside.
Add the dark chocolate chunks to a medium-sized microwave-safe bowl. Microwave in 30 second increments, stirring after each, until melted. Alternatively, you can use a double-boiler.
To the bowl with the melted chocolate, add the almond butter, coconut oil and the coconut sugar. Whisk until combined. Add in the eggs and whisk again to combine. Add in the salt and flour and mix until just combined. Add about three quarters of the chopped pistachios and mix until incorporated.
Transfer the batter to the prepared baking dish and use a spatula to spread evenly in the pan. Sprinkle the top with the remaining pistachios.
Bake for about 22 to 26 minutes, or until a toothpick inserted into the center comes out mostly clean (with a few crumbs attached) – you don't want to over-bake these or they won't be fudgy! Set the pan on a wire rack and allow to cool completely. Lift the brownies out of the pan using the parchment overhang. Cut into squares.
Be sure to melt the coconut oil first, then measure out the correct amount. Otherwise you may use too much!
Lightly packed brown sugar may be substituted for the coconut sugar.