Healthy Weekly Meal Plan – 12.12.15
So please tell me. Does anyone else have wayyyy too much to do this weekend?
I may or may not have slightly over-committed myself. And I also may not even remotely have my holiday shopping done. Which is made worse by the fact that I need to ship gifts this year since the husband and I are staying in North Carolina for Christmas. Which means they are likely not making it on time.
Le sigh. The one year I'm behind on presents! Ah well. It happens to the best of us I suppose.
So. Let's talk meal planning. We're here to help amid all the holiday chaos (ahem, clearly I need this help myself).
As with all our healthy weekly meal plans, vegetarian options are suggested if the meal contains meat. Plus, two printable grocery lists can be found at the end of the post – one that is completely filled out and another that you can customize yourself.
Let's get to the food!
—
Monday
Turkey Chili Stuffed Delicata Squash from Flavor the Moments
Prep Ahead/Vegetarian Option: Chili may be made in advance, and squash may be roasted in advance. For vegetarian option, omit the ground turkey.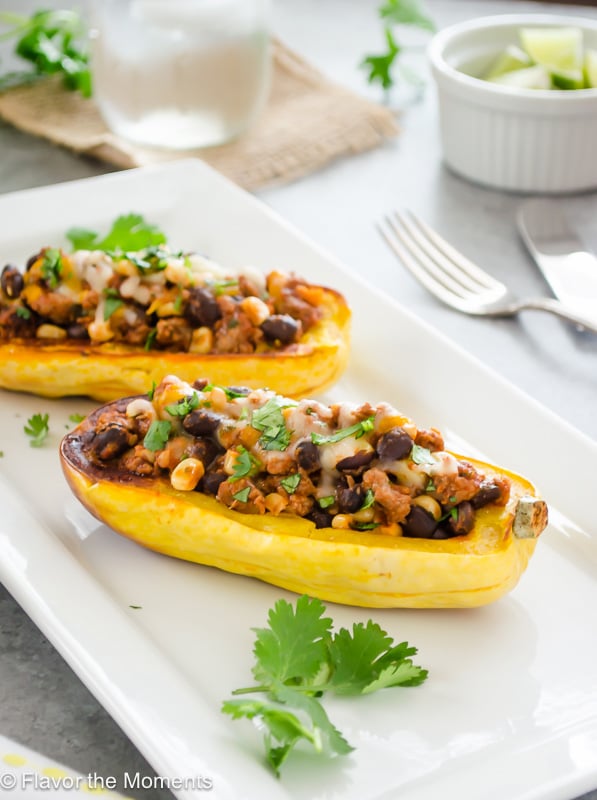 Tuesday
Tomato Basil Chicken and Vegetable Quinoa Casserole from greens & chocolate
Prep Ahead/Vegetarian Option: The entire casserole can be assembled a day in advance, then top with cheese and bake the night of. You can also use more seasonal vegetables such as broccoli, cauliflower, winter squash, carrots, kale, etc. Vegetarian option: omit the chicken.
Wednesday
Vegan Butternut Squash Bisque with Crispy Sage from The Roasted Root
Prep Ahead: You can roast the butternut squash a day or two ahead of time.
Thursday
Easy Tomato Basil Pasta from Spoonful of Flavor
Prep Ahead: You can omit the wine to make it kid friendly. Also, this pasta can be made ahead and reheated throughout the week.
Friday
Harvest Sweet Potato and Brown Rice Salad from Cook Nourish Bliss
Prep Ahead: The potatoes, dressing and rice can all be made ahead for this dish. Store in separate containers in the fridge.
Click HERE for this week's printable meal plan and grocery list (below)!
Click HERE for our customizable meal plan and grocery list (below)!