Healthy Weekly Meal Plan – 12.19.15
Whoa whoa whoa. I am completely freaking out that Christmas is just DAYS away. How did this happen??
There is so much merriment to be crammed in over the next week! I mean, I haven't even watched Christmas Vacation yet! <— Best. Holiday. Movie. Ever.
Clearly there is no time for meal planning in these crazy times. Which is where our healthy weekly meal plan comes in! Now, we realize Christmas is this week, so just use those recipes over the weekend or something. K? Good.
Now, as with all our healthy weekly meal plans, two printable grocery lists can be found at the end of the post – one that is completely filled out and another that you can customize yourself.
So let's do this!
—
Monday
Creamy Pumpkin and Brussels Sprout Gnocchi from Cook Nourish Bliss
Prep Ahead: A healthy weekly meal plan with printable grocery list. Featuring creamy gnocchi, chicken fajita chili and bourbon pork chops!This meal comes together quite quickly and doesn't require much prep!
Tuesday
Cauliflower and Kale Salad with Pomegranate, Dried Apricots, and Pumpkin Seeds from Spoonful of Flavor
Prep Ahead: You can cook the cauliflower "rice" ahead of time and then finish the salad with the remaining ingredients when you are ready to enjoy.
Wednesday
30 Minute Pork Chops with Creamy Bourbon Mushroom Sauce from Flavor the Moments
Prep Ahead: This meal comes together in a flash, and doesn't require much prep!
Thursday
Chipotle Butternut Squash Soup from greens & chocolate
Prep Ahead: You can roast the squash in advance. After that, the soup will come together very quickly. Serve with crusty bread and a salad!
Friday
Crock Pot Shredded Chicken Fajita Chili from The Roasted Root
Prep Ahead: The recipe is super quick to prepare, but you can saute the veggies ahead of time if need be.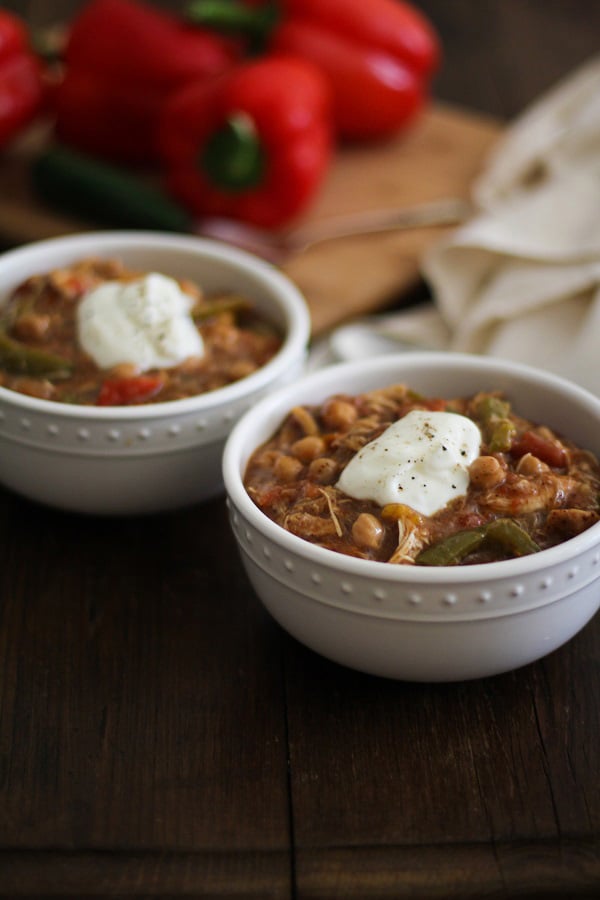 Click HERE for this week's printable meal plan and grocery list (below)!
Click HERE for our customizable meal plan and grocery list (below)!