Healthy Weekly Meal Plan – 1.9.16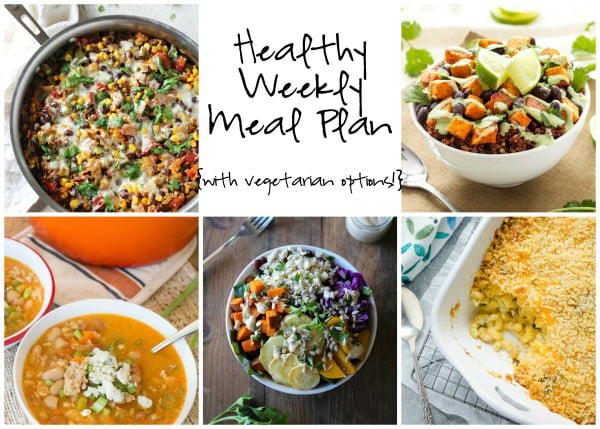 Hello Saturday! And gosh am I glad to see you. It has been a week. Although I suppose it always feels this way after a holiday break!
But anyway, we're going to keep things short and sweet today. And get right to this week's healthy meal plan! So many delicious dishes for you to check out!
As with all our healthy weekly meal plans, vegetarian options are suggested if the meal contains meat. Plus, two printable grocery lists can be found at the end of the post – one that is completely filled out and another that you can customize yourself.
And now, the food!
—-
Monday
Overnight Creamy Chicken Macaroni and Cheese from Flavor the Moments
Plan ahead/vegetarian options: The entire meal is done in advance and baked off the next day! Omit the chicken for a vegetarian option.
Tuesday
Sweet Potato and Black Bean Quinoa Bowls from Spoonful of Flavor
Prep ahead: You can actually eat this meal hot or cold. Prep all of the ingredients in advance and reheat or serve cold, if desired. You can also prep the Cilantro Cream Drizzle in advance to save time.
Wednesday
Skillet Mexican Brown Rice Casserole from Cook Nourish Bliss
Prep ahead: This meal comes together quickly, but you can chop the onion, pepper and jalapeno in advance if desired.
Thursday
Roasted Root Vegetable Buddha Bowls with Maple Cinnamon Tahini Dressing from The Roasted Root
Prep ahead: You can roast the veggies a day in advance, as well as make the brown rice and dressing ahead of time.
Friday
Buffalo Chicken Chili from greens & chocolate
Prep ahead/vegetarian options: Omit chicken and add extra can of cannellini beans. You can chop the veggies in advance.
Click HERE for this week's printable meal plan and grocery list (below)!
Click HERE for our customizable meal plan and grocery list (below)!