Healthy Weekly Meal Plan – 1.23.16
Before we get to today's healthy weekly meal plan, I just want to take a minute to send a big apology to anyone who subscribed to receive daily email updates from this site since January 1st 2016. There was a glitch with the service I use to send out those emails and they weren't going out to you (anyone who subscribed prior to that date was unaffected as well as anyone who selected the weekly email instead). It is all fixed now, so you should be good to go and receiving emails! If you ever notice anything weird in the future, please don't hesitate to reach out!
So now that we've covered the boring technical stuff, let's talk food! A much happier topic!
And this week we have no shortage of tasty and comforting meals. From thai curry, to butternut squash tacos, to chicken fajita pasta, we have you covered with plenty of fun ideas!
As with all our healthy weekly meal plans, vegetarian options are suggested if the meal contains meat. Plus, two printable grocery lists can be found at the end of the post – one that is completely filled out and another that you can customize yourself.
Let's get to it!
—-
Monday
Skillet Chicken Fajita Whole Wheat Pasta from Cook Nourish Bliss
Prep Ahead: The veggies can be sliced in advance if desired. Or, the whole dish can be made in advance (it reheats well). For a vegetarian option, omit the chicken and add 1 (15 ounce) can black beans, drained and rinsed, when you add the milk!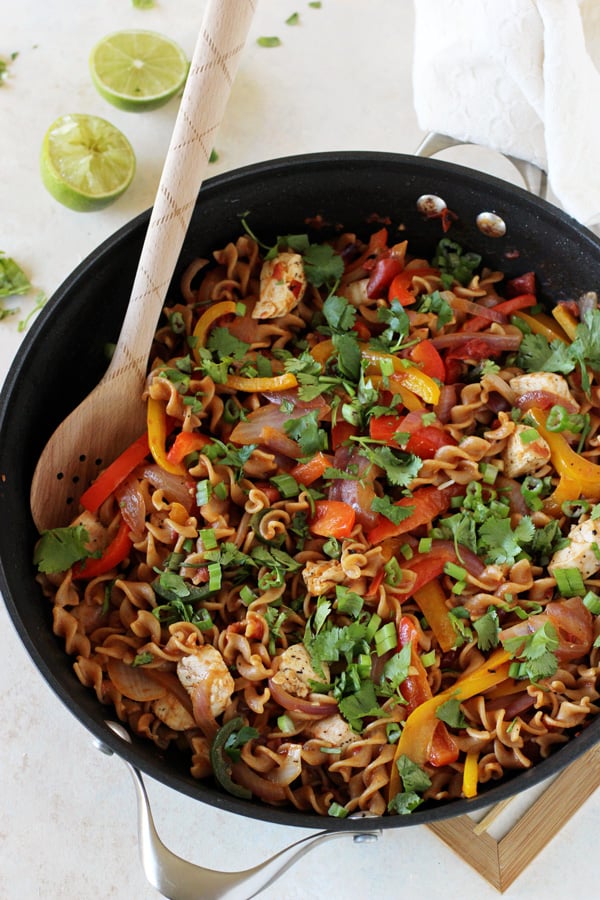 Tuesday
Butternut Squash, Black Bean, and Kale Tacos from Spoonful of Flavor
Prep Ahead: You can save time by chopping vegetables ahead of time. You can also prepare filling ahead of time and then reheat just prior to serving with the tortillas.
Wednesday
Zucchini and Yellow Squash Noodles with Turkey Bolognese Sauce from Flavor the Moments
Prep Ahead: You can make the veggie noodles and the sauce in advance! Sauce can be frozen and thawed when ready to use.
Thursday
30 Minute Thai Chicken Curry from The Roasted Root
Prep Ahead: The onion can be chopped and the ginger can be grated ahead of time. You can make the curry sauce ahead of time and use it to marinade the chicken. For a vegetarian option, omit the chicken, and add 1 large gold potato and a can of chickpeas.
Friday
Pork Ramen Bowls from greens & chocolate
Prep Ahead: You can make the hard/medium boiled eggs ahead of time. Otherwise this comes together super quick! To make it vegetarian, omit the pork and just add extra veggies such as mushrooms and shredded carrots.
Click HERE for this week's printable meal plan and grocery list (below)!
Click HERE for our customizable meal plan and grocery list (below)!