Light and Fluffy Cornbread
With winter weather in full swing, I am going to go ahead and declare that it is essential that you have an outrageously good and super easy cornbread recipe in your arsenal. I mean, we have lots of chili and soup to consume in the coming months, don't we?! So today, we talk light and fluffy cornbread!
Which if we are being honest, was sort of an accidental recipe. Well, accidental is the wrong word. More like a, huh, why have I never done this before kind of recipe.
To make a long story, semi-short, I have a cornbread muffin base that I use all the time (which I also still need to share here – I'm sorry! Forgive me!). ANYWAY, for some ridiculous reason I decided a few weeks ago that cornbread muffins were absolutely not going to cut it and that I had to have cornbread squares to go with our chili. Why, I don't know. It's not like it tastes different based on shape. But, regardless, it had to happen. I was dead set on squares.
A few slight modifications and a handful of batches later, I present to you my new go-to cornbread. Because squares = coolness. Obviously.
And also, because, laziness. Just dump the batter in a pan and bake … no scooping into muffin tins. I told you, lazy.
Now about this light and fluffy cornbread
As you may already be able to tell from the name, this cornbread is so light and so fluffy. Not at all dense or heavy. Okay? So, if that's what you're looking for, don't make this! Or you will be sorely disappointed by the super fluffy airiness of this version!
And are you ready for it? It's crazy moist too. I know. People hate that word. But it doesn't bother me, so we're using it. Because it so perfectly describes this bread!
Lightly sweetened with some honey (but still totally on the savory side) … filled with some whole wheat flour for a slight touch of nuttiness and to pump up the nutrition … it's hard not to fall in love with.
It's definitely plain and not jazzed up or filled with goodies, but in a very very good way. Classic, if you will. For use with anything and everything.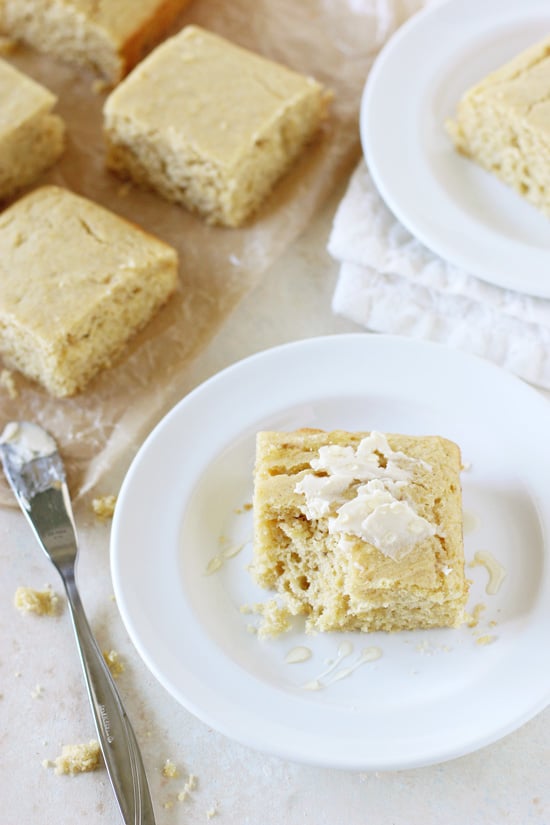 And did I mention that it's freezer-friendly? I just can't get enough. ♡ Hence the two batches currently sitting in my freezer … for a cornbread emergency. It could totally happen.
Yield: 1 (8x8 inch) pan cornbread
Light and Fluffy Cornbread
Prep Time: 15 minutes
Cook Time: 15 minutes
Total Time: 30 minutes
Irresistible and easy, this light and fluffy cornbread recipe will not disappoint! Made with whole wheat flour, honey and almond milk!
Ingredients:
1 cup fine ground yellow cornmeal
¼ cup all-purpose flour
½ cup white whole wheat flour
2 ½ teaspoons baking powder
½ teaspoon salt
1 large egg
⅓ cup grapeseed oil
⅓ cup honey
¾ cup unsweetened plain almond milk
Directions:
Preheat the oven to 375ºF. Line an 8×8 inch baking pan with parchment paper (cutting a large enough piece so that it hangs over the edges on two sides). Spray lightly with nonstick cooking spray and set aside.
In a medium bowl, whisk together the cornmeal, both types of flour, the baking powder and salt. In another medium bowl, whisk together the egg, oil, honey and milk. Add to the bowl with the dry ingredients and mix until just combined. Let the mixture stand for 5 minutes untouched.
Give the batter a very light stir, then transfer to the preparing baking dish and spread evenly.
Bake for about 15 to 17 minutes, until a toothpick inserted into the middle comes out clean. Place the pan on a wire rack and let cool completely. Use the parchment overhang to lift out of the pan. Cut into squares.
Regular milk works here as well. Another neutral oil can also be substituted for the grapeseed oil (or if you choose to use coconut oil, make sure you melt it first and then measure out the ⅓ cup – otherwise you may use too much).
I would encourage you to stick with white whole wheat flour (and not regular whole wheat flour) for this recipe. It helps keep the bread nice and light.