Healthy Weekly Meal Plan – 3.12.16
Well hello there Saturday! It's lovely to see you! Along with some warmer spring weather!
We actually had to turn the air conditioning back on the other day. Although, to be fair, this may have been caused by me heating up the house with the oven. Those piles of roasted veggies and a batch of cookies? Totally worth it.
Anyway! It's time for another healthy meal plan! This week we are talking slow cooker tacos, thai basil chicken, quinoa bowls and so much more!
As with all our healthy weekly meal plans, vegetarian options are suggested if the dish contains meat (and can be easily substituted). Plus! Two printable grocery lists can be found at the end of the post – one that is completely filled out and another that you can customize yourself.
Wishing you a wonderful wonderful weekend!
—-
Monday
Crock Pot Barley and Bean Tacos with Avocado Chipotle Cream from Cook Nourish Bliss
Prep Ahead: The prep work for this meal is minimal, but if desired you can chop the onion in advance!
Tuesday
White Bean Wild Mushroom Gratin from Flavor the Moments
Prep Ahead: You can make the beans in advance and salsa verde (if using) in advance!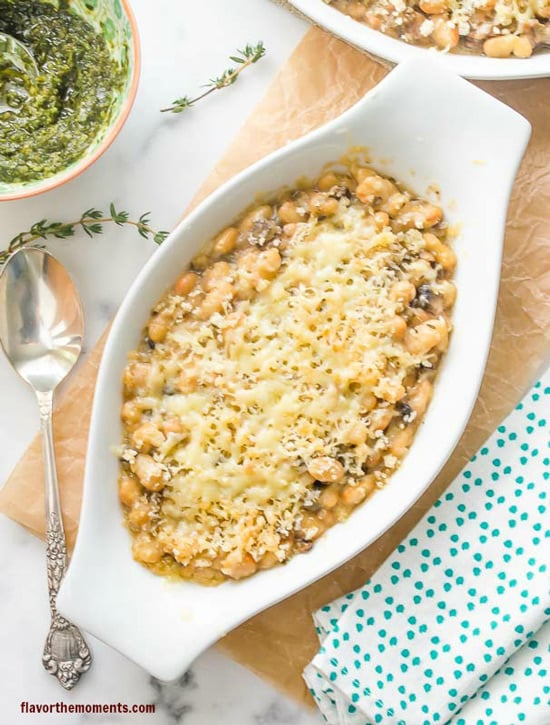 Wednesday
Cilantro Lime Shrimp Quinoa Bowls from Spoonful of Flavor
Prep Ahead: You can prepare the quinoa, salsa and avocado crema in advance to save time.
Vegetarian Option: Omit the shrimp and substitute with a fresh veggie or tofu.
Thursday
Thai Basil Chicken Stir Fry with Ginger Peanut Sauce from The Roasted Root
Prep Ahead: If serving with rice, you can cook the rice ahead of time.
Friday
Caramelized Onion and Gruyere Grilled Cheese Sandwiches from greens & chocolate
Prep Ahead: Caramelize the onions a day in advance. Serve with roasted vegetables.
Click HERE for this week's printable meal plan and grocery list (below)!
Click HERE for our customizable meal plan and grocery list (below)!