Healthy Weekly Meal Plan – 3.19.16
It's Saturday weekly meal plan time!
I hope that as you are reading this, you are sitting all cozied up on the couch with a blanket … sipping some hot coffee (or tea!) … and just enjoying the fact that it's the weekend! Or, of course, doing whatever it is that makes you smile (the whole coffee / blanket / couch thing would be my own Saturday morning ritual! Plus a good book. Yesssss.).
And to help take any meal planning stress off your plate, we're here with another healthy dinner lineup for the week ahead. Today we are talking spring detox salad, quiche primavera, pesto pizza and much more!
As with all our healthy weekly meal plans, vegetarian options are suggested if the dish contains meat (and can be easily substituted). Plus! Two printable grocery lists can be found at the end of the post – one that is completely filled out and another that you can customize yourself.
Cheers to a happy and joy-filled weekend!
—-
Monday
Skillet Crustless Quiche Primavera from Flavor the Moments
Prep Ahead: The veggies may be roasted or cooked in advance, and you can use anything that you have on hand!
Tuesday
Sweet Potato and Kale Stuffed Shells from Cook Nourish Bliss
Prep Ahead: Assemble the dish completely then cover with aluminum foil as directed. Store in the fridge until ready to bake. I like to let the dish come back to room temp before baking (otherwise you'll need to add extra time in the oven to get it heated all the way through).
Wednesday
Quick and Easy Taco Salads from greens & chocolate
Prep Ahead: You can chop the veggies a day in advance, use bagged romaine lettuce, and store-bought guacamole to cut down on prep time.
Vegetarian Option: Omit ground beef and add extra can of black or pinto beans.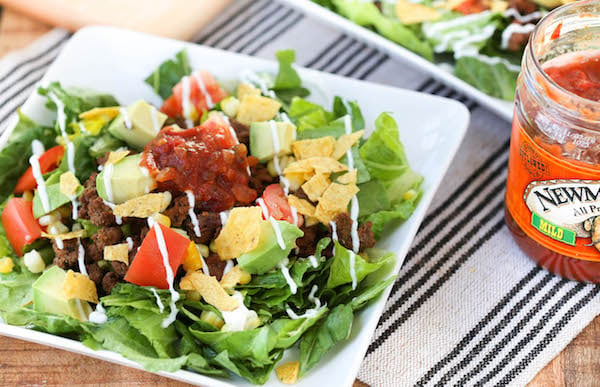 Thursday
Carrot Top Pesto Pizza from Spoonful of Flavor
Prep Ahead: You can make the pesto sauce in advance.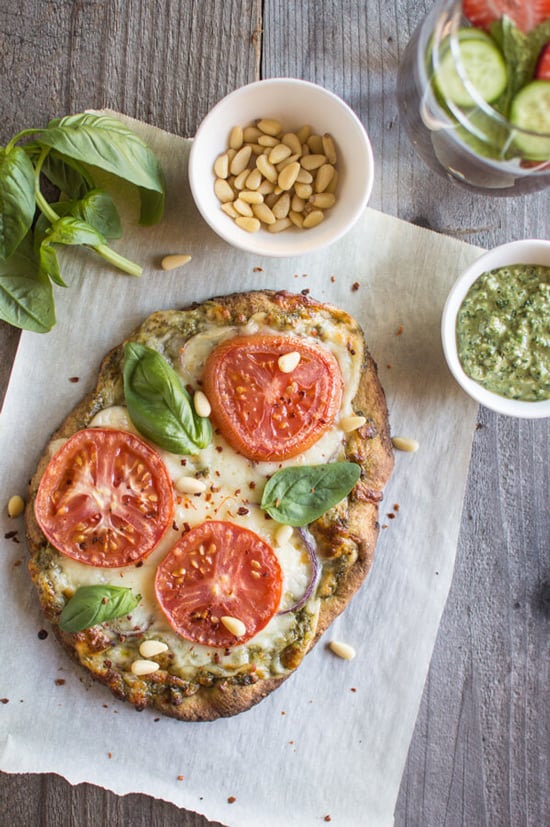 Friday
Spring Cleaning Detox Salad from The Roasted Root
Prep Ahead: The beet can be roasted ahead of time, and all of the veggies can be chopped ahead of time.
Protein Option: Add grilled chicken, chickpeas, or tofu.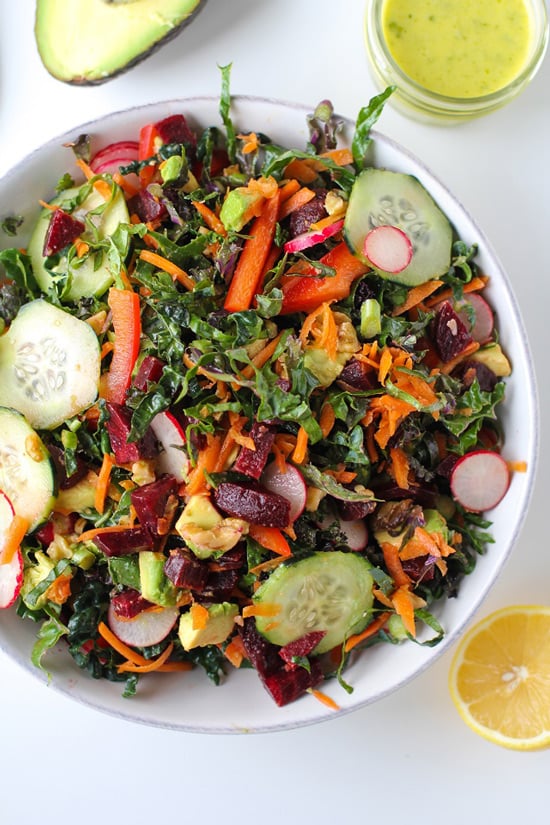 Click HERE for this week's printable meal plan and grocery list (below)!
Click HERE for our customizable meal plan and grocery list (below)!