Healthy Weekly Meal Plan – 3.26.16
The weekend is here! Time to break out the happy dance!
Because I couldn't be more excited. It's Easter weekend and I have a number of fun things lined up. Most notably a holiday lunch shindig with friends. I plan to spend some time baking today just for fun (for the aforementioned get-together) and I am quite looking forward to it!
Anyway, with all these good times happening here shortly, it's time to get meal planning for the week done. Crossed off the list! So today we have another healthy line-up of fun and delicious dinner ideas. This week we're talking green goddess quinoa bowls, spring veggie pad thai, a strawberry salad and much more!
As with all our healthy weekly meal plans, vegetarian options are suggested if the dish contains meat (and can be easily substituted). Plus! Two printable grocery lists can be found at the end of the post – one that is completely filled out and another that you can customize yourself.
Happy Easter my friends!
—-
Monday
Strawberry Fields Panzanella Salad with Strawberry Balsamic Vinaigrette from Flavor the Moments
Prep Ahead: The croutons may be made in advance and stored in an air tight container. Chicken may be added to make this even heartier!
Tuesday
Spring Vegetable Pad Thai from The Roasted Root
Prep Ahead: The rice noodles can be cooked ahead of time and reheated when ready to serve. You can also prepare the sauce and chop the vegetables ahead of time.
Protein Option: Add chicken, shrimp, or tofu!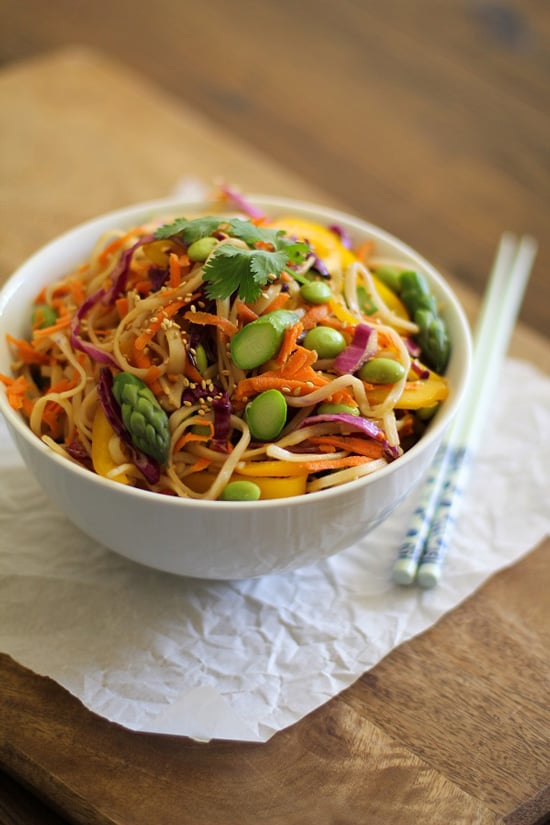 Wednesday
Arugula, Prosciutto and Goat Cheese Open Faced Sandwich from Cook Nourish Bliss
Prep Ahead: The arugula pesto can be made in advance to save time (although the whole meal comes together in about 15 minutes!).
Vegetarian Option: Leave off the prosciutto. You can add a quick sprinkle of chopped nuts or even cooked chickpeas if desired instead.
Thursday
Green Goddess Quinoa Bowls from greens & chocolate
Prep Ahead: You can make the quinoa and green goddess dressing ahead of time.
Protein Option: You can add roasted chicken breast, shrimp, or beef if you'd like!
Friday
Hawaiian Chicken Salad from Spoonful of Flavor
Prep Ahead: The chicken salad can be prepped in advance and stored in a sealed container until ready to serve. You can also purchase store-bought rotissere chicken to save time.
Click HERE for this week's printable meal plan and grocery list (below)!
Click HERE for our customizable meal plan and grocery list (below)!