Healthy Weekly Meal Plan – 4.30.16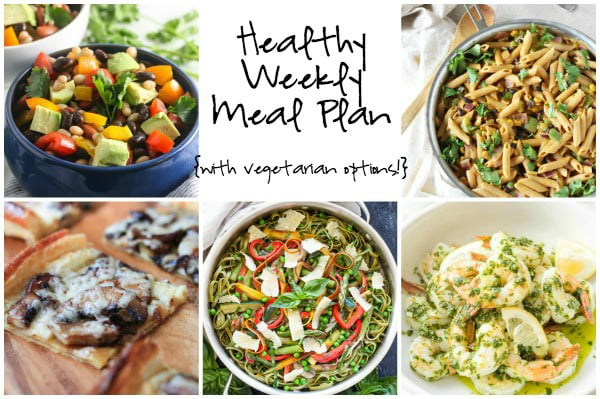 It's Saturday morning … which means I'm popping in with another healthy weekly meal plan!
As this post is going live, I am hopefully still sleeping or at the very least being lazy and doing absolutely nothing. We went to a concert for a friend's birthday last night and ummm hello, being an old lady and all that jazz, I can barely stay up till like 10 o'clock. So when I'm required to be chipper and fun after that point?? Yeah, you better believe I'll be a grouch this morning! (I should clarify that I'm writing this on Friday before leaving for said concert.)
ANYWHO. Let's get to the food! This week we have plenty of delicious weeknight meal ideas. From mexican bean salad to a sweet potato pasta skillet to havarti mushroom flatbreads! I'm getting hungry just thinking about it all.
As with all our healthy weekly meal plans, vegetarian options are suggested if the dish contains meat (and can be easily substituted). Plus! Two printable grocery lists can be found at the end of the post – one that is completely filled out and another that you can customize yourself.
Wishing you a most beautiful weekend!
—-
Monday
Pasta Primavera from Spoonful of Flavor
Prep Ahead: Feel free to substitute any of the vegetables for ones you prefer or have on hand. Prep and chop vegetables in advance to save time.
Tuesday
Creamy Sweet Potato and Black Bean Pasta Skillet from Cook Nourish Bliss
Prep Ahead: If you use store-bought sweet potato puree, this meal comes together in about 30 minutes! If using homemade puree, make it in advance to save time.
Wednesday
Healthy Mexican Bean Salad from Lauren Kelly Nutrition
Prep Ahead: This dish can be prepared ahead of time so the dressing can marinate.
Thursday
Easy Italian Salsa Verde Shrimp from Flavor the Moments
Prep Ahead: The sauce is best the day it is made but the ingredients may be prepped ahead of time. For a vegetarian option, substitute the shrimp with white beans or stir fried veggies.
Friday
Havarti and Mushroom Flatbread from greens & chocolate
Prep Ahead: There is no need to prep anything in advance – this comes together very quickly!
Serving Suggestion: Serve with a side salad.
Click HERE for this week's printable meal plan and grocery list (below)!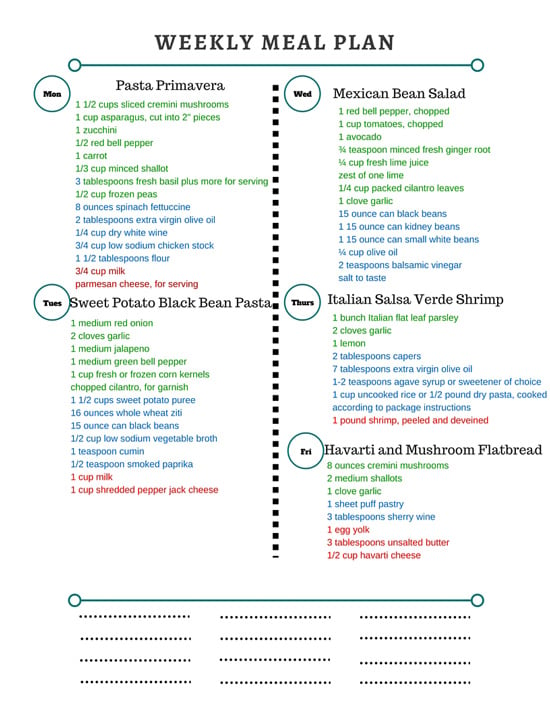 Click HERE for our customizable meal plan and grocery list (below)!