Healthy Weekly Meal Plan – 5.7.16
It's Mother's Day weekend! Tell me, do you have any fun plans? The husband jokingly bought me a Mother's Day cake a few years back (being Emma the beagle's momma totally counts!), and now I jokingly (ahem, maybe) feel like this must be repeated every single year. So cross your fingers that I get some cake tomorrow!! Kidding. Sorta.
Anyway, let's talk dinner for the coming week! As always, we have lots of fun and delicious meals on tap. From thai peanut noodles to roasted veggie quesadillas to an enchilada bake and much more!
As with all our healthy weekly meal plans, vegetarian options are suggested if the dish contains meat (and can be easily substituted). Plus! Two printable grocery lists can be found at the end of the post – one that is completely filled out and another that you can customize yourself.
Wishing all you mommas out there a most wonderful and relaxing weekend!!
—-
Monday
Roasted Vegetable Quesadillas from Cook Nourish Bliss
Prep Ahead: Filling can be made in advance so it is ready to go for dinner. Additionally, you can make the filling, let cool to room temp, and then assemble the quesadillas as directed. Wrap each individually in plastic wrap and store in fridge. When ready to eat, just cook in the skillet! They keep wrapped for about 1 to 3 days.
Tuesday
Vegetable Parmesan Quinoa in the Slow Cooker from Lauren Kelly Nutrition
Prep Ahead: Vegetables can be chopped ahead of time.
Wednesday
Chicken Verde Enchilada Bake with Heirloom Cherry Tomato Salsa from Flavor the Moments
Prep Ahead: The chicken and verde sauce may be made ahead, then just bake and make the salsa the day you're serving!
Vegetarian Option: Omit the chicken and add roasted veggies or white beans.
Thursday
Thai Peanut Chicken Noodles from greens & chocolate
Prep Ahead: The sauce can be made in advance and you can also chop/prep the veggies in advance.
Vegetarian Option: Omit the chicken and use tofu instead. Or just omit the chicken and add extra vegetables like broccoli, snap peas, etc.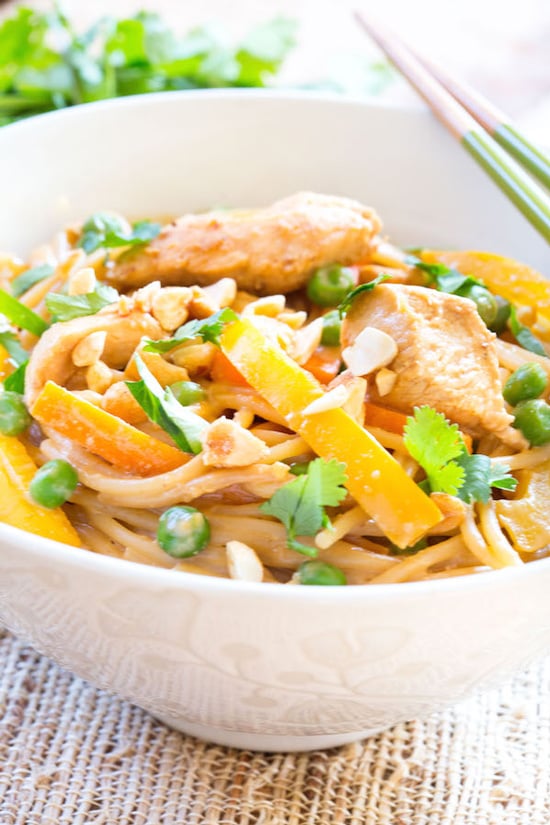 Friday
Strawberry Tropical Fruit Salad with Strawberry Ginger Dressing from Spoonful of Flavor
Prep Ahead: Prepare the quinoa, chop the fruit and make the dressing in advance to save time.
Click HERE for this week's printable meal plan and grocery list (below)!
Click HERE for our customizable meal plan and grocery list (below)!