Healthy Weekly Meal Plan – 6.11.16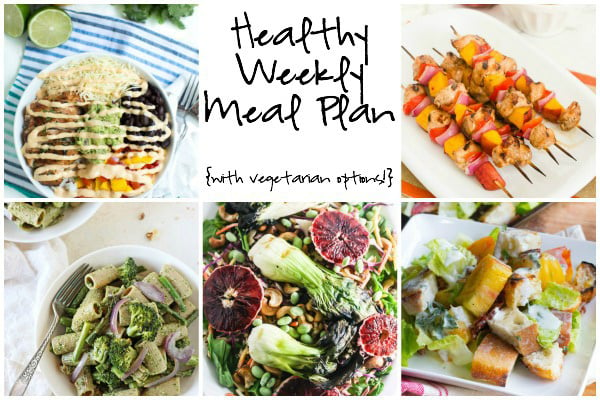 Happy Saturday my friends!
Before we get to the food, let's have a little chat. I have absolutely loved sharing these healthy meals plans with you for almost a year now (crazy!), and I know, based on your feedback, that they are definitely something you enjoy and find useful! However, this will be my last week participating in these weekly plans (the other ladies will be continuing on, so be sure to follow them to keep getting the plans each week!).
To make a long story short, I am starting some coursework at a local university and need to give myself a little bit of space so that I don't turn into a giant stress bucket (anyone who knows me from my high school and college days knows exactly what I am talking about). The program is related to healthy living / food / etc. so more on that at a later date!
I am planning on still doing healthy meal plans occasionally (think like one every season or month or something along those lines). AND! Have no fear – normal recipes will continue per usual. No change there. So thank you, thank you, in advance for your understanding!
And now, let's get to the food! As always, we have no shortage of fun and healthy dinner ideas for the week ahead. As with all our healthy weekly meal plans, vegetarian options are suggested if the dish contains meat (and can be easily substituted). Plus! Two printable grocery lists can be found at the end of the post – one that is completely filled out and another that you can customize yourself.
Cheers to a lovely weekend!
—-
Monday
Spring Green Pesto Pasta from Cook Nourish Bliss
Prep Ahead: This meal comes together quickly (about 35 minutes!) but you can make the pesto and chop the veggies in advance to save time.
Tuesday
Grilled Baby Bok Choy Salad with Honey Miso Dressing from Lauren Kelly Nutrition
Prep Ahead: You can grill the bok choy ahead of time.
Wednesday
Balsamic Honey Peach Chicken Skewers from Flavor the Moments
Prep Ahead: You may prep the chicken and veggies in advance, and even set the skewers up ahead of time.
Vegetarian Option: Omit the chicken and include tofu.
Thursday
Grilled BLT Panzanella Salad from greens & chocolate
Prep Ahead: You can make the dressing in advance.
Vegetarian Option: Omit the bacon or use bacon substitute if desired.
Friday
Chipotle Lime Chicken Taco Bowl from Spoonful of Flavor
Prep Ahead: Make the rice, salsa and sauce in advance to save time.
Vegetarian Option: Omit the chicken.
Click HERE for this week's printable meal plan and grocery list (below)!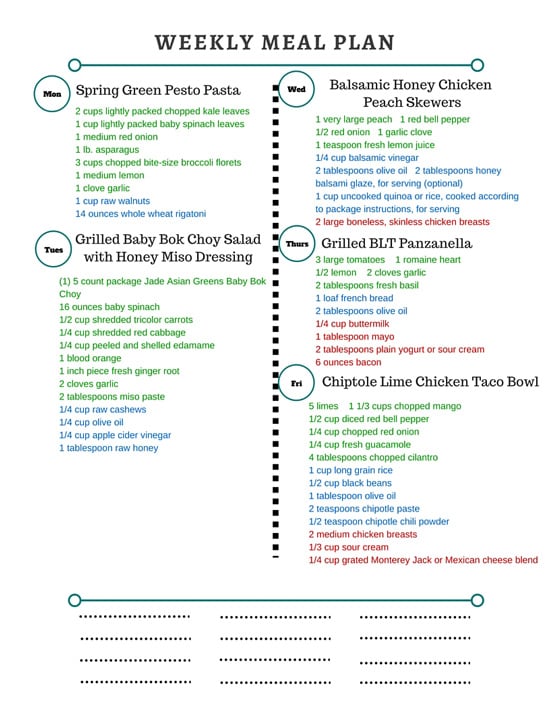 Click HERE for our customizable meal plan and grocery list (below)!