Our Favorite Fall Dinners (With Make-Ahead Tips!)
Let's talk a collection of our all-time favorite fall dinners! With make-ahead tips for each recipe! From cozy soup to comforting pasta to autumn salad, these recipes will keep you going all season long.
And just like that, October is somehow in full swing. How did this happen??
Last month flew by in a complete blur due to all things construction … and I am desperately hoping to reclaim our house from all the workers in a few weeks so I can finally settle in and enjoy fall!
We had a bit of a punch in the gut sort of delay come up on Monday with our kitchen reno, so to cheer myself up I thought it would be fun to talk about my very very favorite fall dinners! The ones that make you all warm and cozy inside!
On second thought, this may be torture since I can't actually make any of these dishes right now. I kid, I kid! But um, not really.
ANYWAY. Today's post is all about our all-time favorite fall dinners from the archives. Those recipes that I make time and time again.
Plus! I've included make ahead tips for every single recipe. Because we all know how crazy things start to get as the holidays approach (what????).
So let's do this! Time to chat about the food!
Favorite Fall Dinners
Asian-Inspired Dishes
Winter vegetable teriyaki stir-fry // Okay, I know the title says winter but we love this one in the fall too! Quick, easy and so much healthier for you than takeout!
Prep Ahead Tip: Cut all the veggies in advance and make the rice (or quinoa) ahead of time so they are ready to go come dinner!
Thai red curry baked vegetable meatballs // This dish! It's just so fun! Veggie meatballs smothered in an oh-so-flavorful creamy thai red curry sauce!
Prep Ahead Tip: The meatballs are 100% freezer-friendly! Make them as directed, let cool completely and then pop in the freezer. When ready to eat, I like to thaw them out in the fridge and then just reheat right before serving!
Chili Recipes
Slow cooker green chicken chili with quinoa // A super easy, protein-packed chili filled with chicken, veggies, quinoa and salsa verde. Great for a regular day OR game day!
Make Ahead Tip: This chili freezes beauuutifully, so make a batch to keep in the freezer for a quick weeknight meal!
White bean salsa verde chili with lentils and quinoa // Otherwise known as the vegetarian version of the above-mentioned chili! This one is a HUGE favorite at our house!
Make Ahead Tip: This chili also freezes so so well! Make, freeze and then enjoy whenever you'd like!
Pasta Dishes
Creamy pumpkin and brussels sprout gnocchi // Oh this pasta! Sauce-y, pumpkin-y perfection. AND it's filled with pan-roasted sprouts. Total win!
Prep Ahead Tip: This dish comes together in about 35 minutes, but you can prep the veggies in advance to speed it up even more!
Kale and eggplant baked ziti // Baked ziti. Enough said, am I right or am I right?! So cozy, so comforting!
Make Ahead Tip: Assemble the entire dish as directed and cover with aluminum foil. Store in the fridge until ready to enjoy! When you go to bake, either let it come to room temp first OR add extra time in the oven to get it to warm all the way through (if you are adding extra time, I'd keep the foil on until the last 10 minutes or so!).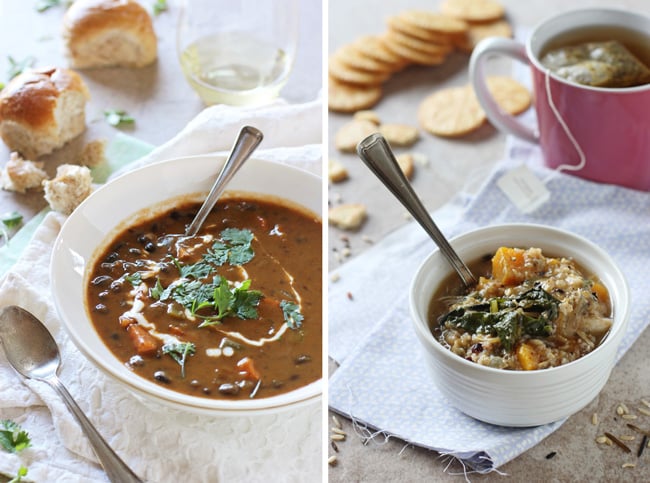 Cozy Soups
Creamy sweet potato and black bean soup // A simple and comforting soup filled with warm spices, a hint of smokiness and a creamy texture from sweet potatoes!
Make Ahead Tip: This soup just gets better and better as it sits, so I like to make the whole thing in advance, store in the fridge and then just reheat as needed!
Crockpot chicken, wild rice and butternut squash soup // Throw a bunch of ingredients in your slow cooker and let it do it's thing! You'll wind up with creamy, thick soup packed with butternut squash, swiss chard, chicken, wild rice and plenty of spice!
Prep Ahead Tip: If you are not using pre-cut butternut squash, cut it up in advance! Also, this soup does freeze decently, although personally I prefer to just store in the fridge and enjoy throughout the week.
Fall Salads
Harvest sweet potato and brown rice salad // Fall salad to the max! And just so darn colorful! It's filled with roasted sweet potatoes, sliced apple, crunchy pecans and a simple maple dressing!
Prep Ahead Tip: The sweet potatoes, salad dressing and rice can all be made in advance. Store in separate containers in the fridge and then just assemble the salad when ready to eat!
Apple cheddar meal bowl // Another fall meal in a bowl! Anddd also with roasted sweet potatoes (can you tell I like them? what gave me away?).
Make Ahead Tip: These bowls keep well fully assembled for several days in the fridge! I like to just let them come back to room temp before enjoying (or eat cold), but you can also heat up in the microwave. If you heat back up, just keep in mind that the cheddar will melt! Not necessarily a bad thing but still. Worth mentioning!
—
And that about wraps it up! I'll catch you on the flip side (aka next week) with more brand spankin' new recipes!