10 Simple Meals for Summer
And just like that, it's officially summer! Well, okay fine, unofficially, but we all know that Memorial Day is totally the marker for the start of the season.
Plus, it's hot. And the heat has some sort of magical power that brings on my complete and utter laziness when it comes to cooking dinner.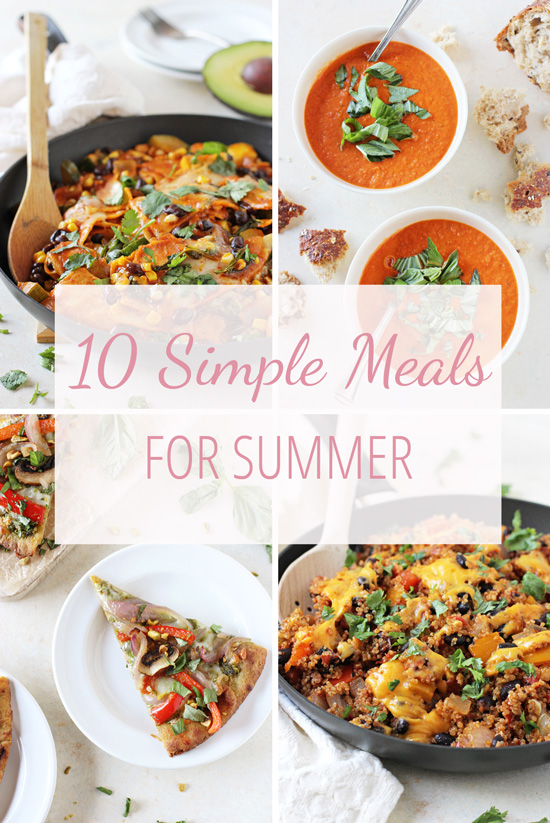 So, it seems like an appropriate time to chat about these 10 simple meals for summer!
They are all recipes from the archives that I wanted to bring back to your attention – show em' a little love! Because man, are they deeeelicious.
All are 100% easy, quick and completely satisfying (umm, we need to fuel up for all that lounging around by the pool with popsicles, yes?!).
I'm pretty sure that low maintenance is the only way to go during the lazy days of the season! So, three cheers for sunshine and popsicles and flip-flops and of course, simple meals! Let's do this!
Simple Meals For Summer
Summer Vegetable Skillet Enchiladas // All-time favorite recipe! We're talking 30 minutes, one skillet and all the goodness of enchiladas without the hassle of rolling them up!
Zucchini and Corn Tacos with Guacamole // These guys are packed with summer veggies and are on the table in 30 minutes or less. Plus, tacos. <— Always a good thing.
Roasted Cherry Tomato Soup // Healthy, creamy, homemade tomato soup. Yes, you have to roast the tomatoes first, but it couldn't be easier! And when served with crusty bread OR grilled cheese??? Heaven.
Southwest Egg Scramble // For when you're really feeling the lazy vibes of summer. Just 20 minutes to this healthy, flavorful meal. And you MUST serve with avocado toast. Must!
Stuffed Pepper Quinoa Skillet // Colorful, healthy & SO MUCH easier than making actual stuffed peppers! Plus, there's only one skillet required. Awesome.
Lemon Garlic Pasta Skillet with Green Beans // 35 minutes! One pot! Fresh, light AND there's pistachios involved. Nuff said.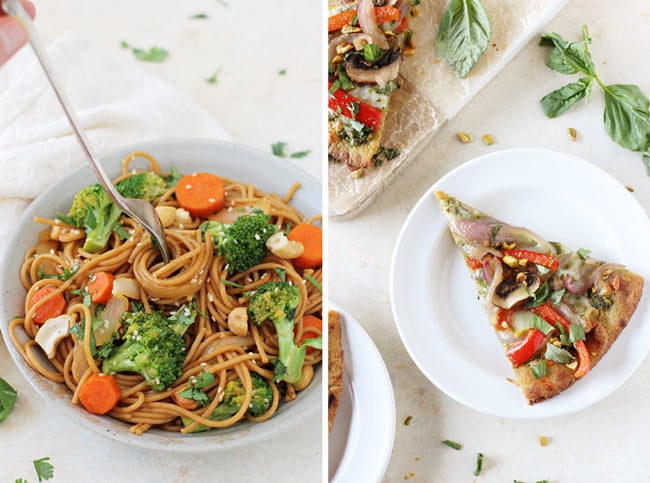 Spicy Broccoli Carrot Noodle Stir-Fry // With a flavorful spicy soy sauce and just a touch over 30 minutes to pull it together, this meal is hard to resist. And I mean, oodles of noodles! You just can't beat that.
Veggie and Pesto Flatbread Pizza // With naan bread as the base, a pistachio pesto and plenty of colorful veggies! Need I say more?
And now, let's talk a few recipes from some of my blogging friends!
30-Minute Caprese Pasta Skillet from Flavor the Moments // Because caprese anything is always a good thing!
Grilled Portabella Hummus Wraps from Making Thyme for Health // I've made these several times and cannot get enough! Pickle the veggies in advance and the rest is super quick!
—
Andddd that's a wrap.
Now don't you worry, I have plenty more summer recipes coming your way over the next few months! Hip hip hooray!