Bruschetta Stuffed Sweet Potatoes
It's high time for a sweet potato recipe, don't you think? Because by my calculations the last time I shared one was over three (!!) months ago in the form of these delicious baked sweet potato falafel.
I'm slightly amazed I've gone this long without sharing a recipe featuring my favorite orange veggie. You know, considering I eat them numerous times each and every week. So today, we remedy this situation and talk these bruschetta stuffed sweet potatoes!
Or otherwise known as the perfect dish for the transition between summer and fall.
I have no idea about where you live, but here in central North Carolina we are currently waffling back and forth between the two seasons like mad. Hot and humid one day, slightly crisp and breezy the next. We are alllll over the place my friends.
But you know what helps deal with this weather madness? Today's recipe of course!
We start with a base of baked sweet potatoes, which I consider more in the fall / winter food category because the long bake time in the oven tends to heat up the house, yes??
Then, we layer on a heaping and oh-so-generous amount of a flavorful quinoa pilaf … there's some shallots, garlic, lemon zest, basil! Perfect for any time of the year.
Next, we scoop on a simple and classic bruschetta topping. To celebrate the end of summer and tomato season. <— Which I am super sad about – don't go summer tomatoes!
And last but certainly not least, we drizzle these babies with plenty of balsamic glaze – for that touch of tang and sweetness. And also just because I love it so. ♡
Tips & Tricks For These Bruschetta Sweet Potatoes
First things first. Let's discuss how to prep this dish. Get the potatoes going in the oven and THEN prep everything else while they are baking. If you do this, the overall recipe time listed down below will be much less (by about 20 minutes). I just wanted you to see the active / hands on time.
I tend to serve these sweet potatoes as a main dish (with these sweet and spicy green beans on the side!). But you can absolutely serve these potatoes as a side to something else! I think they'd go especially well with any sort of grilled protein.
As the bruschetta sits, it definitely accumulates some liquid. So use a slotted spoon for serving if you aren't digging those tomato-y juices!
Finally, all the components for this dish can be made in advance. You can store them all in separate containers OR fill the potatoes with the quinoa pilaf and store those two parts together (and keep just the bruschetta in a separate container).
And that my friends, is a wrap! PS – I do solemnly swear to never, ever go so long again before sharing another sweet potato recipe! Sweet potatoes for life!
Did you make this recipe? Rate and review it down below! I'd love to hear from you.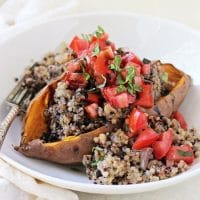 Bruschetta Stuffed Sweet Potatoes
Yield:
about 4 servings, as a main
Total Time:
1 hour
25 minutes
These bruschetta stuffed sweet potatoes are a fantastic make ahead recipe! With baked sweet potatoes, quinoa pilaf and a classic bruschetta topping!
Ingredients
For the potatoes:
4 medium sweet potatoes, pierced with a fork
olive oil, for rubbing
salt and pepper, for sprinkling
For the bruschetta:
1 pound roma or plum tomatoes, diced
2 tablespoons minced sweet onion
1 clove garlic, minced
1 tablespoon olive oil
2 tablespoons minced fresh basil
¼ teaspoon fine sea salt
pinch of red pepper flakes
For the quinoa:
2 tablespoons olive oil
1 medium shallot, minced
3 cloves garlic, minced
¼ cup raw walnuts, chopped
1 cup uncooked quinoa, rinsed
2 cups low-sodium vegetable broth
¼ teaspoon fine sea salt
1 teaspoon lemon zest
2 tablespoons minced fresh basil
For serving:
additional chopped fresh basil
Instructions
For the potatoes:
Preheat the oven to 400ºF.
Rub the sweet potatoes lightly with some olive oil, then wrap each individually in aluminum foil. Bake for about 1 hour to 1 hour and 20 minutes, or until tender (a knife should glide easily into the center without resistance). Carefully unwrap from the foil and let cool for a few minutes.
Slice the sweet potatoes in half lengthwise, then sprinkle lightly with some salt and pepper.
For the bruschetta:
Add all the ingredients for the bruschetta to a medium bowl. Taste and adjust any of the flavors as desired (I usually add a little more salt), then transfer to the refrigerator to allow the flavors to meld while the potatoes cook.
For the quinoa:
Meanwhile, add the olive oil to a medium saucepan set over medium heat. When hot, add in the shallot and cook for about 1 to 2 minutes, until softened. Add in the garlic and walnuts and cook for another 2 minutes, stirring frequently, until toasted and fragrant. Add in the quinoa, broth and salt. Bring the mixture to a boil, then cover, reduce the heat and let simmer for about 15 minutes, until the broth is absorbed. Turn off the heat and let sit covered for 5 minutes, then fluff the quinoa with a fork. Stir in the lemon zest and basil. Taste and season with additional salt as desired (I usually add about ¼ teaspoon more).
To serve:
Top each of the halved sweet potatoes with a generous amount of the quinoa. Spoon on some of the bruschetta, then sprinkle with extra basil and drizzle with the balsamic glaze. Serve!
Nutrition Information:
Yield:

4
Serving Size:

1
Amount Per Serving:
Calories:

495
Total Fat:

22g
Saturated Fat:

3g
Trans Fat:

0g
Unsaturated Fat:

18g
Cholesterol:

0mg
Sodium:

466mg
Carbohydrates:

67g
Fiber:

10g
Sugar:

16g
Protein:

11g
Nutrition data shown is an estimate provided by an online calculator and is for informational purposes only. It should not be considered a substitute for a medical professional's advice.