Creamy Mashed Cauliflower
When I was growing up, my very favorite side dish at Thanksgiving was always my mom's mashed potatoes.  I would load up a huge portion on my plate, passing over plenty of other sides that my brain didn't even register because of my utter focus on that creamy dreamy bowl of goodness.  She makes a mean mashed potato I tell you.
While I certainly do still love mashed potatoes, this creamy mashed cauliflower has become the object of my affection in recent years.  I'm not exactly sure when the change happened, but somewhere along the way I started to prefer this dish.  I've tinkered with my recipe over time, trying to find the best way to achieve that creamy consistency that reminds me of actual mashed potatoes.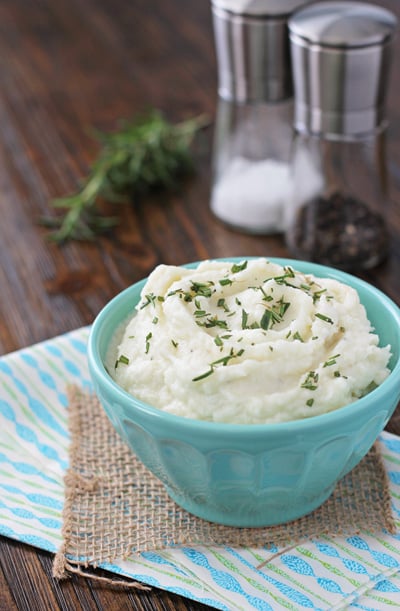 And bingo, here it is.  The little bit of cream cheese and milk really help to give it that silky smooth texture.  And oh is it good.  While this side dish is a great option for Thanksgiving, it is something that we enjoy all throughout the year as well.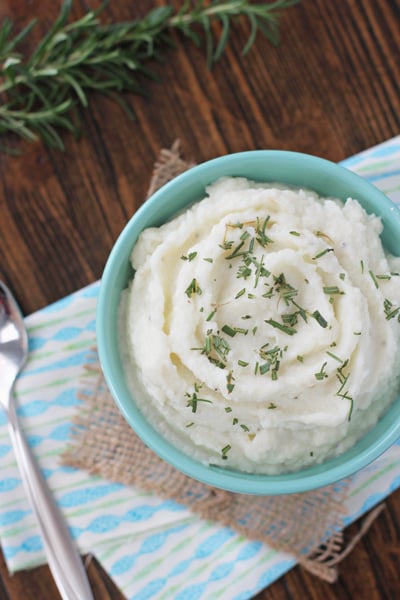 Getting a decadent feeling while eating lots of a healthy vegetable?  I'll take it.
Yield: about 4 to 6 servings
Creamy Mashed Cauliflower
Recipe for creamy mashed cauliflower. A delicious, healthier side dish. With a hint of cream cheese and milk, this cauliflower has a silky smooth texture.
Ingredients:
2 medium heads cauliflower, florets chopped into 1-inch pieces (about 9-10 cups)
2 cloves garlic, minced
about ¼ to ⅓ cup milk
1 tablespoon unsalted butter, softened
1 ounce cream cheese, softened
1 teaspoon sea salt, or to taste
¼ teaspoon pepper
fresh chopped rosemary, for garnish
Directions:
Bring a large saucepan of lightly salted water to a boil over high heat. Once boiling, add in the cauliflower and cook until very tender, about 10 minutes.*
Drain and then carefully transfer the cauliflower to the bowl of a food processor. Add in the garlic, milk, butter, cream cheese, salt and pepper. Process until smooth (start with ¼ cup of the milk and then add more if needed to get it to the right consistency). Taste and add additional salt/pepper if needed. Transfer to a serving bowl and garnish with the chopped rosemary.
*Make sure that the cauliflower is very tender – otherwise it will not blend as smoothly and you won't have a creamy consistency. If you need to cook it longer than the 10 minutes, go ahead and do so.
I would recommend doing this in the food processor (or a blender should also work). Whenever I try to do it by hand I just don't wind up with the creamy consistency that I want.