It's official. I am a stir-fry-aholic. Not that this is anything new, judging by the sheer number of stir-fry recipes that I have on this site. But still. It's gotten a bit out of hand as of late.
And yet, here I am shamelessly sharing yet another recipe. But this garlic ginger summer veggie stir-fry? Sooo worth it. And you absolutely need it in your life.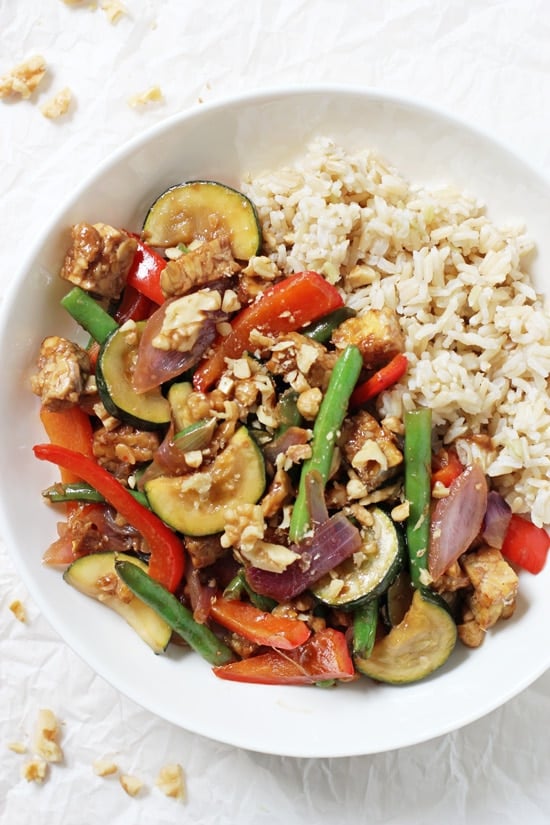 Because it's super flexible and customizable … kinda like a pick your own adventure. Oh yes, we're having some fun here today.
Now, I've made this dish a ridiculous amount of times so far this summer and I'm here to tell you that really anything goes.
So, let's discuss the components and all your options:
The protein: Tempeh, chicken, chickpeas, beef! You name it, I've tried it (ahem, I really have made this far more times than I should admit). All are delicious, all are nice and simple. Pick your poison.
The veggies: I've listed my favorite combination down in the recipe, but you absolutely have options here. Use any colored bell pepper. Yellow squash instead of zucchini. Broccoli florets or asparagus instead of the green beans. Just be sure to stick with the same total amount and use veggies that will cook in approximately the same time (i.e. don't use sweet potatoes or something that will take much longer to get tender).
The nuts: Don't dig walnuts? Use pecans or cashews. Or sprinkle on some sesame seeds at the very end instead.
But!! There's one thing that I'll ask you not to change – the sauce. Because oooooo do I love this sauce. It's my go-to for any on the fly stir-fry. Made with all pantry staples (like soy sauce and rice vinegar) and plennnnnty of ginger + garlic, it is just dang good. The bee's knees. The cat's meow. The queen of stir-fry sauces! So just do it, okay?
30 minutes. Healthy. Easy. Compatible with plenty of different diets depending on what you choose. Vegan, gluten free, dairy free, vegetarian!
So peace out takeout – we have this dinner thing covered.