Classic and comforting, this dairy free baked ziti is sure to be a family favorite! With layers of tender pasta, saucy marinara, ground meat and a creamy homemade dairy free "ricotta," it will absolutely remind you of the Italian baked pasta you know and love. Perfect for a weeknight or a cozy holiday meal. Gluten free and soy free options included.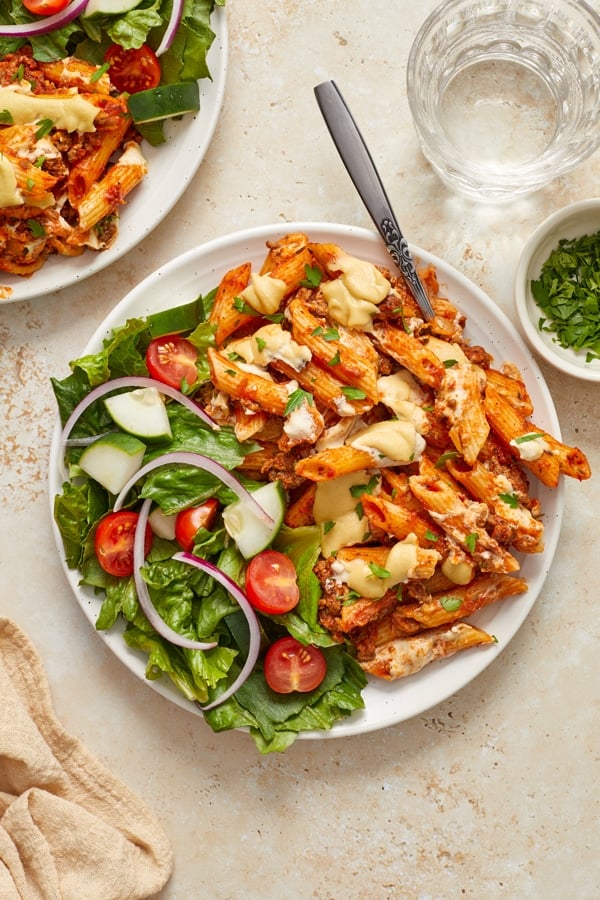 Craving classic Italian comfort food but without all the milk, butter and cheese?
Look no further than this simple dairy free baked ziti.
Filled with layers of chewy pasta, saucy marinara, hearty ground beef and a creamy dreamy homemade dairy free ricotta, it's totally reminiscent of the original.
And when served with some dairy free garlic bread, a big ol' green salad or a tray of roasted vegetables?
It's bound to be a hit with the whole family.
Try it for a weeknight meal, bring it to a potluck or serve for a cozy holiday dinner. Any which way, it's mealtime perfection.