Rich, hearty and oh-so-cozy, this dreamy dairy free bolognese is absolute perfection tossed with swirls of your favorite pasta. With incredible depth of flavor, this slow cooked Italian meat sauce is the ultimate comfort food. And you'll never be able to tell there's no milk involved. Egg free, nut free and soy free with a gluten free option.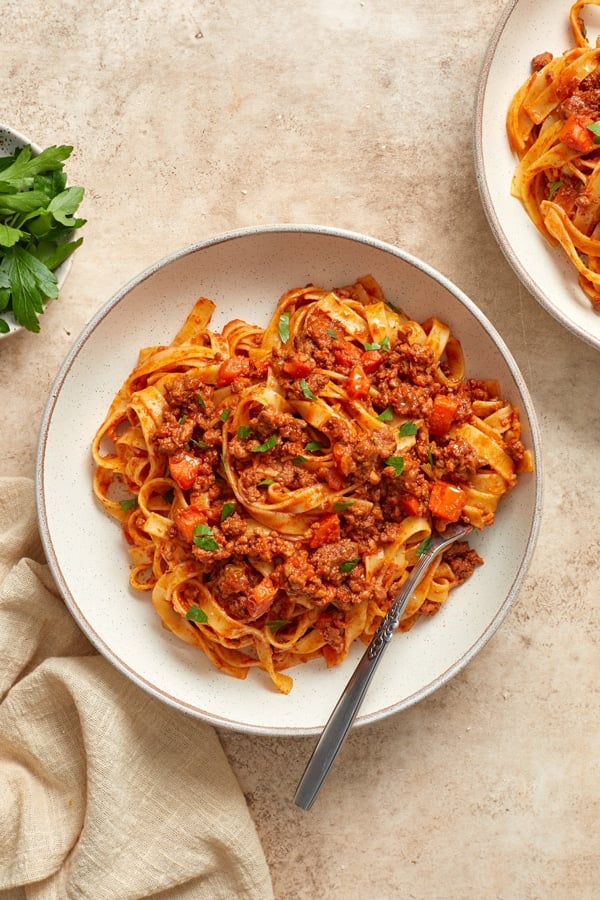 Are you ready for the most luxurious pasta sauce? One that's deep, rich and oh-so-flavorful?
Then say hello to this dreamy dairy free bolognese.
Between the soffrito (a combination of onion, carrots + celery), the ground meat, red wine, tomatoes and a hint of creamy oat milk, this dreamy sauce will have you coming back for more.
It's slow-simmered for hours to create the most amazing depth of flavor … and while it's not hard at all to make, it does take some patience and time.
But I promise you the end result is totally worth it.
And the best part? There's no dairy involved. {Unfortunately, classic bolognese sauce typically contains dairy thanks to regular milk and wine.}