Fast and convenient, this homemade dairy free tomato soup is the ultimate comfort food! Made from scratch with all pantry and fridge staples, you can have it on the table in 30 minutes or less. Cozy, healthy and creamy, it's also vegan and gluten free.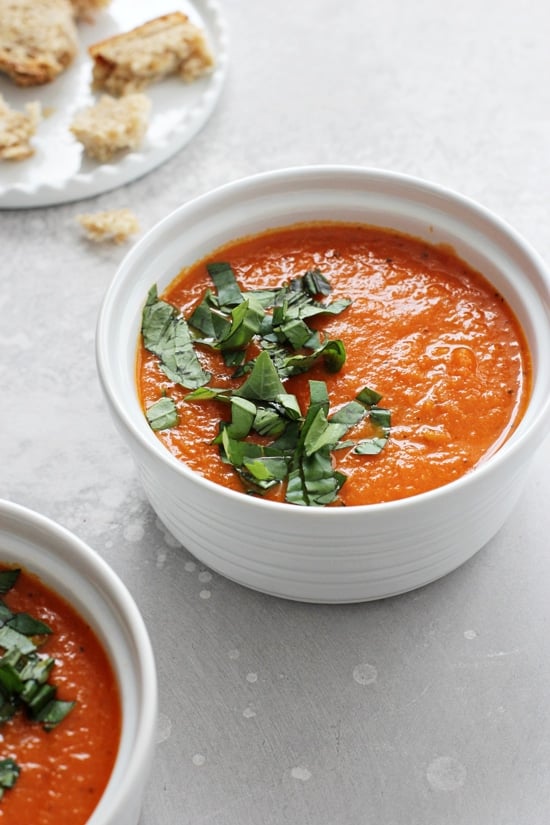 With soup season right around the corner, I figured it was high time to bring you today's recipe.
Cozy, creamy and bisque-like in texture, this dairy free tomato soup is ready to serve during all those cold winter months ahead.
Or, um, to enjoy right now. I can't be the only one who totally eats soup all year round – the blazing heat of summer included. Bueller? Bueller?
ANYWAY. Today's soup is basically the pantry version of this all-time reader favorite: roasted cherry tomato soup. <— Which is also dairy free / vegan / gluten free.
That version is made with fresh cherry tomatoes and I've had numerous questions / requests about how to make it with canned instead.
Which brings us to the recipe at hand.
Using just a few pantry and fridge staples (including a can of tomatoes), this non dairy tomato soup comes together in 30 minutes flat.
It's quick, it's easy and is most excellent served with your favorite crusty bread.
Dunk away my friends, dunk away.