Cranberry Orange White Chocolate Scones
Let's talk about my newest obsession, shall we?  This flavor combination – cranberry, orange and white chocolate.  I've been putting this glorious trifecta in just about everything lately.  Cookies?  Yup.  Granola bars?  Yeah I went there … twice in the last two weeks.  Scones?  Well here they are.  I figured at least one of these needed to make its way to the blog to share with you.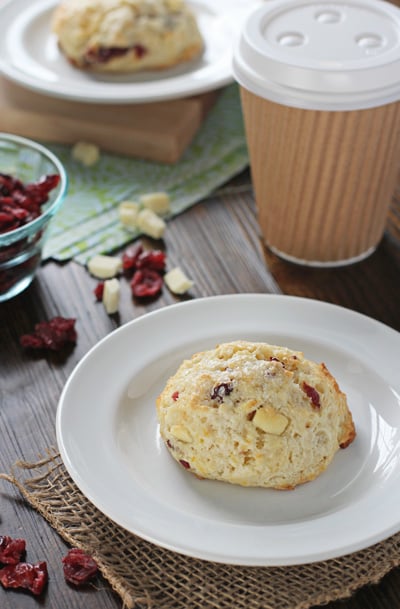 Scones are hands down my favorite breakfast treat.  I don't make them all that often, since I figure I should eat something a little more nutritious most of the time to start off my day.  But I do think they are perfect for special occasions … or a weekend breakfast.  That counts as special, right?
Plus, you can make the dough ahead of time, freeze the shaped scones and then just bake them off when you need them.  I pretty much always do this when I make scones … just bake what I plan to eat that day and freeze the rest.  That way they are perfectly fresh each time.  Which makes me very happy.  And makes for an impressive breakfast if you have guests staying at your house over the holidays.  Go ahead and let them think you slaved away all morning on breakfast.  They don't need to know that you pulled them out of the freezer.
So go forth and make some delicious scones.  Your belly will thank you.  And your guests will too.
Cranberry Orange White Chocolate Scones
Recipe for cranberry orange white chocolate scones. A delicious breakfast treat that can be made in advance. Perfect for guests.
Ingredients:
2 cups all-purpose flour
¼ cup granulated sugar
½ teaspoon salt
1 tablespoon baking powder
1 ½ tablespoons orange zest
6 tablespoons cold unsalted butter, cut into small chunks
¾ cup buttermilk
1 large egg
2 teaspoons vanilla extract
⅓ cup dried cranberries, chopped
⅓ cup white chocolate chips (or chopped white chocolate)
heavy cream, for brushing
coarse sugar, for sprinkling
Directions:
Preheat the oven to 375 degrees. Line a baking sheet with parchment paper and set aside.
Whisk together the flour, sugar, salt, baking powder and orange zest in a large bowl. Using your fingers, two knives or a pastry blender, cut the butter into the flour. Continue until the mixture resembles even-sized crumbs. In a small bowl, whisk together the buttermilk, egg and vanilla. Add the wet ingredients to the dry and stir until the dough comes together. Don't over mix (the mixture will be on the drier side but stop when it comes together – if needed add another tablespoon or two of buttermilk).
Gently fold in the cranberries and white chocolate chips. Drop the dough onto the prepared baking sheet (I used my muffin-sized dough scoop – which holds about ¼ cup of batter). Brush the tops with the heavy cream. Sprinkle with the coarse sugar.
Bake for about 19 to 21 minutes, until the scones just start to turn golden brown.
To make these ahead of time, prepare the scones as directed and drop the dough onto the prepared baking sheet. Transfer the sheet to the freezer. Once frozen, you can remove them from the baking sheet and store in a baggie or container. When you are ready to eat the scones, bake them directly from the freezer. You will likely need to add a few minutes to the baking time. Just keep an eye on them while in the oven.