Berries and Brie Breakfast Bake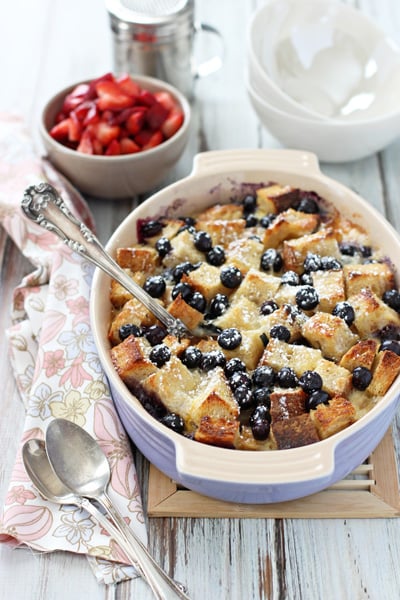 Looking for a last minute Easter brunch idea?  I got you covered.  And it involves brie.  Which we all know makes everything better.
A few years ago I thought I hated brie (seriously what was wrong with me?).  But I've since seen the error of my ways and well now, I can't get enough.  Especially when you combine it with fruit and carbs.  Brunch heaven.
The inspiration for this dish came from one of the potluck brunches I have with my friends.  One of the girls brought a hunk of brie, apples and bread.  It was demolished in no time.  And it got me thinking of different ways to use brie in a dish.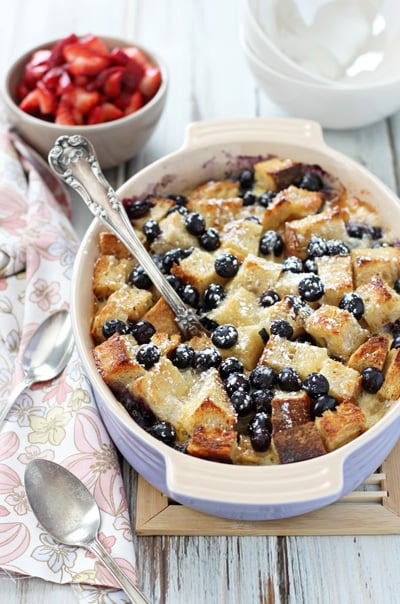 And so the berries and brie breakfast bake was born.  I'm calling it a breakfast bake but really it's pretty much like baked french toast.  With brie.  Have I mentioned there is brie?
So you want to know the best part?  You make it ahead of time.  It needs to sit in the fridge for quite a few hours, so you can make it at night and then just bake it off the next morning.  My kind of brunch dish.  And while it's baking you can enjoy some coffee, mimosas, whatever floats your boat.  Iced coffee?  Big yes.
Did I mention there's a strawberry topping?  Just go brunch it up already!
Because there's brie … and berries … I think I'm starting to sound like a broken record.
Berries and Brie Breakfast Bake
Recipe for berries and brie breakfast bake. A baked french toast with blueberries, brie and a strawberry topping. Perfect for brunch and made in advance!
Ingredients:
For the bake:
5 large eggs
1 cup milk
⅓ cup pure maple syrup
2 teaspoons vanilla extract
½ teaspoon ground cinnamon
6 cups cubed (1-inch pieces) sourdough bread*
6 to 8 ounces brie, rind removed and cut into cubes
1 cup fresh blueberries
For serving:
2 cups chopped fresh strawberries
1 tablespoon granulated sugar
½ teaspoon vanilla extract
confectioners' sugar, for dusting (optional)
Directions:
Spray a 2 to 3-quart baking dish with nonstick cooking spray and set aside.
In a medium bowl, add the eggs and beat with a fork or whisk. Add in the milk, maple syrup, vanilla and cinnamon. Whisk until well combined.
Add half of the bread cubes to the prepared baking dish. Top with half of the brie and then half of the blueberries. Top with the remaining half of the bread cubes, then the remaining half of the brie and blueberries. Evenly pour the egg mixture over the top.
Cover the dish tightly with plastic wrap and transfer to the refrigerator. Let sit for 8 hours or overnight.
When ready to bake, preheat the oven to 375 degrees. Add the strawberries, granulated sugar and vanilla to a small bowl. Mix to combine. Let this mixture sit while you bake the dish.
Remove the plastic wrap from the baking dish and then cover with foil. Bake for 20 minutes then remove the foil and bake for another 15 to 20 minutes. It should be golden brown on top and should not really "wiggle" if you shake the pan gently. Let stand for about 10 to 15 minutes before serving.
To serve, top each portion with a good amount of the strawberries and a dusting of confectioners' sugar, if desired.
*Try to use at least one day old bread for this recipe. French bread or any other type of crusty loaf would work great as well.