Overnight Broccoli Cheddar Breakfast Casserole
Spring fever has officially set in. The sun is shining, the birds are chirping, that crazy beagle of ours is back to sunning herself on our deck. As for me? I'm in full on brunch mode. Like, I want to invite all the people over all the time for brunch.
Enjoy some good food … sip on a few mimosas … sit out on our screened in porch … laugh at silly stories. Spring perfection right there.
Now, as far as the food goes, I am definitely a savory brunch kind of girl. Don't get me wrong, I want muffins, fruit and the like as part of the spread too. But the main component? Needs to be savory. And preferably include some kind of carbs. ♡
Which leads us to this broccoli cheddar breakfast casserole. You all seem to absolutely love overnight bakes – both this berries and brie breakfast bake and this raspberry almond baked french toast are still reigning favorites on the site. So I decided it was high time to create a completely savory version. With broccoli and cheddar!
And just like those other two recipes, this entire casserole is prepped the night before. 100% assembled. You let it sit overnight in the fridge and then bake it off when ready to enjoy in the morning.
So you can hang out with friends or family and sip on some coffee (or a mimosa!) while it bakes away. Most excellent indeed!
Now, a few things to note!
Tips for this broccoli cheddar breakfast casserole:
After the casserole is done baking, be sure to let it stand untouched for about 10 to 15 minutes before serving. This gives it a chance to set up.
I love to add the red bell pepper for a pop of color (and because I love them and they pair so well with the other flavors here), but you could certainly just use extra broccoli instead.
Don't have any white cheddar on hand? Orange cheddar works too!
You can also use any other sort of heartier loaf. I love the whole wheat, but I've also made this with an oat-y multigrain bread and it's fantastic both ways.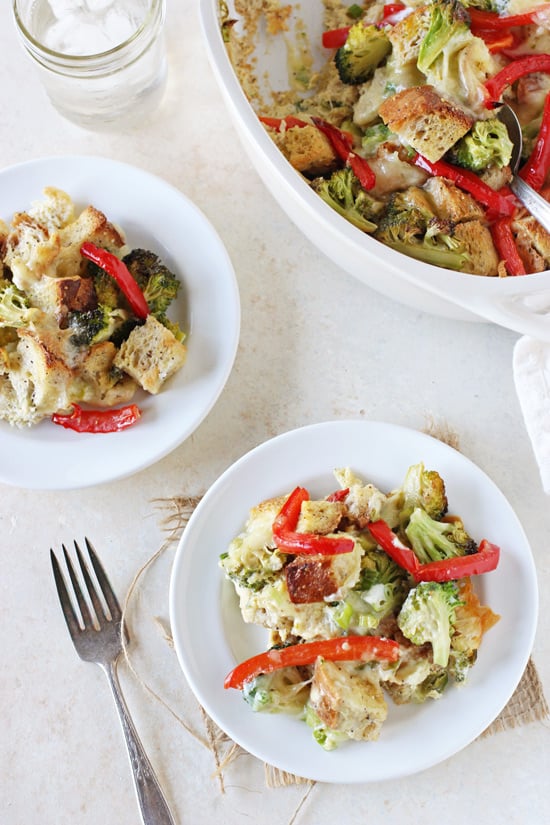 And now, we brunch!
Overnight Broccoli Cheddar Breakfast Casserole
Prep Time: 20 minutes
Cook Time: 50 minutes
Total Time: 1 hour 10 minutes
An easy broccoli cheddar breakfast casserole recipe that the whole family will love! Assemble the casserole the night before and bake off in the morning!
Ingredients:
For the veggies:
1 ½ tablespoons olive oil
1 medium red bell pepper, sliced
3 cups bite-sized broccoli florets
¼ teaspoon fine sea salt
pinch of pepper
For the casserole:
4 large eggs
1 ⅓ cups unsweetened plain almond milk (or regular milk)
¼ teaspoon fine sea salt
pinch of pepper
5 cups cubed (¾-inch pieces) whole wheat bread*
½ cup thinly sliced green onions
5 to 6 ounces mild white cheddar cheese, cut into ½ inch cubes
Directions:
For the veggies:
Set a medium skillet over medium heat. Add in the olive oil. When hot, add in the pepper, broccoli, salt and pepper. Cook for about 4 to 5 minutes, until crisp tender. Remove from the heat and let cool for 5 to 10 minutes.
For the casserole:
Spray a 2 to 3-quart baking dish with olive oil or nonstick cooking spray and set aside.
In a medium bowl, whisk together the eggs, milk, salt and pepper until well combined. Set aside.
Add half of the bread cubes to the bottom of the prepared baking dish. Top evenly with half of the cooled broccoli mixture, half of the green onions and half of the cheddar cheese. Top with the remaining half of the bread cubes, the broccoli mixture, the green onions and the cheese. Evenly pour the egg mixture over the top. Cover the dish tightly with plastic wrap and transfer to the refrigerator. Let sit for at least 8 hours or overnight.
When ready to bake:
Preheat the oven to 375ºF.
Remove the plastic wrap from the baking dish and then cover with foil. Bake for 20 minutes, then remove the foil and bake for another 20 to 25 minutes. The casserole should be golden brown on top and should not really "wiggle" if you shake the pan gently. Let stand for 10 to 15 minutes before serving.
*Try to use at least one day old bread for this recipe.
Prep time does not include time to let the base sit overnight in the fridge.