Dairy Free Biscuits
Soft and tender, these dairy free biscuits are irresistible! Made with coconut oil, coconut milk and a touch of honey, they're quick, easy and delicious. And make for a perfect breakfast or side. Vegan option included.
These dairy free biscuits were originally published in August 2012. The post has been updated as of June 25, 2019 with new photos, text and a revamped recipe.
Today we talk soft and tender coconut milk biscuits! Crisp on the outside and fluffy on the inside, these super easy biscuits are perfect for all your carb loving needs.
Maybe you enjoy them for breakfast. Or as a side to your favorite meal. Or perhaps as a little snickety snack as you pass through your kitchen just because.
They're fantastic slathered with your favorite dairy free butter, smeared with some juicy sweet jam, piled high with soft scrambled eggs or dunked into a cozy pot of soup.
You really can't go wrong.
Now, are these babies exactly like traditional biscuits that are packed with butter and regular milk? Not exactly.
They're not quite as flaky as their buttery counterpart and because we are using coconut oil, they don't bake up as deep golden brown as the regular version.
BUT. They're still pretty darn close in taste and are so deliciously delicious that I don't think you'll care.
How To Make
So, let's talk about how this dairy free biscuit recipe comes together.
Whisk the dry ingredients. In a large bowl, we'll whisk together some white whole wheat flour, all-purpose flour, baking powder, baking soda and salt.
Cut in the coconut oil. Next, we'll cut some coconut oil into the flour mixture, just like we would regular butter, continuing until it resembles even-sized crumbs.
Add in the wet ingredients. We'll stir in some chilled coconut buttermilk (i.e. coconut milk combined with vinegar) and a touch of honey, and mix until the dough *just* comes together.
Cut out the biscuits. The dough gets patted into a circle and then we cut out circles with a round biscuit cutter until the dough is used up.
Bake until lightly golden brown. The dough rounds get placed nice and close together on a baking sheet (this helps them rise higher in the oven!) and then we bake until puffed and lightly golden in color.
Let them cool down ever so slightly and then we dig in!
Tips & Tricks
Be sure to scoop your flours into your measuring cup with a spoon and then level off. If you dunk your cup directly into the bag, you'll likely use too much.

Remember to plan ahead and give yourself time for the coconut buttermilk to chill in the fridge. The cold liquid helps to create biscuits that are fluffy on the inside and slightly crisp on the outside. Which is especially important here as we are using coconut oil instead of cold butter.

Now, let's talk briefly about the coconut milk. While I typically use Trader Joe's coconut milk for cooking, I find that either Native Forest, Whole Foods 365 or Thai Kitchen coconut milk work better in these biscuits. The consistency is smoother for baking.

Alright, moving along. The key with biscuits is to not overwork the dough. So add just enough milk to get the dough to come together (it's okay if it's a tad bit crumbly!), then bring it together as best you can with your hands and gently pat into a circle – i.e. touch the dough as little as possible.

And finally, when you go to cut out the circles, just press down and cut. Don't twist the biscuit cutter as this will sort of seal off the edges and the biscuits won't rise as well.
Substitutions
To make these dairy free biscuits vegan, use pure maple syrup instead of honey.

Don't have white whole wheat flour on hand? Use additional all-purpose flour instead.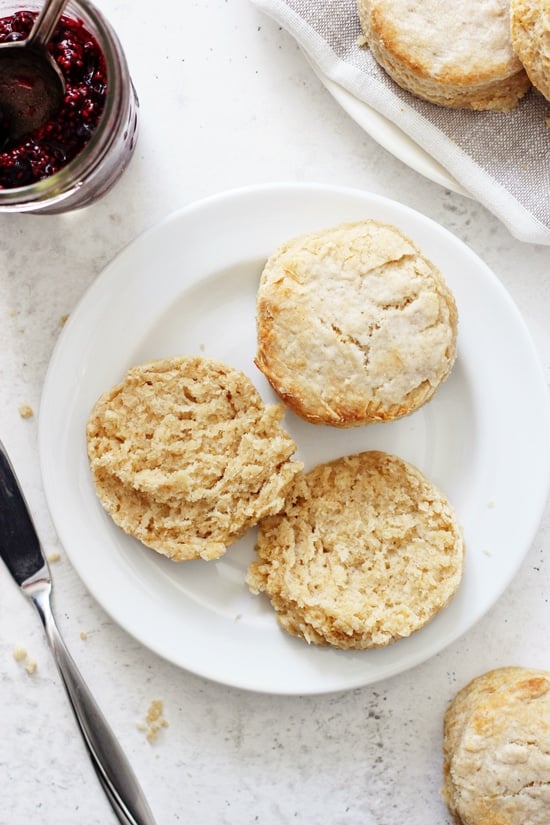 How To Store
First things first – biscuits are definitely best freshly made.
However, if you do have leftovers, let them cool completely then wrap tightly and store at room temperature for up to three days. They'll taste best if you rewarm them slightly in the oven before enjoying.
If you do want to make these in advance, here's my suggestion – make the dough as directed then place the cut biscuit rounds spaced apart on a parchment lined baking sheet (don't brush with extra buttermilk).
Place the sheet in your freezer until hard, then transfer the biscuits to a freezer safe bag or container.
When ready to enjoy, bake them off in the oven, adding about 2 to 4 minutes to the baking time (keep an eye on them the first time you do this as you may need to adjust the cook time slightly depending on your oven).
Additional Dairy Free Bread Recipes:
Did you make this recipe? Rate and review it down below! I'd love to hear from you.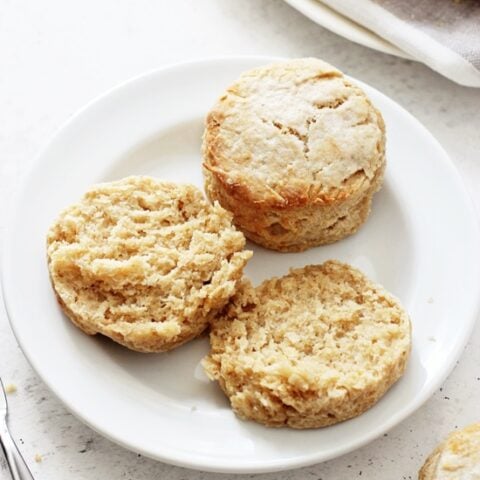 Dairy Free Biscuits
Yield:
about 10 to 12 biscuits
Soft and tender, these dairy free biscuits are irresistible! Made with coconut oil, coconut milk and a touch of honey, they're quick, easy and delicious. And make for a perfect breakfast or side. Vegan option included.
Ingredients
1 cup white whole wheat flour
1 cup all-purpose flour
1 tablespoon baking powder
¼ teaspoon baking soda
½ teaspoon fine sea salt
⅓ cup solid state coconut oil
¾ cup chilled coconut buttermilk, plus extra as needed*
1 tablespoon honey**
Instructions
Preheat the oven to 425ºF. Line a large baking sheet with parchment paper and set aside.
In a large bowl, whisk together both kinds of flour, the baking powder, baking soda and salt. Add in the coconut oil and use a pastry cutter to cut the oil into the flour, continuing until it resembles even-sized crumbs.
Add the ¾ cup coconut buttermilk and honey to the bowl, then mix until just about combined (if the dough is too dry, add in additional coconut milk one tablespoon at a time – I usually need to add 1 to 2 tablespoons).
Dump the dough onto a well floured surface. With well floured hands, turn the dough over onto itself about 3 or 4 times, then bring it together and pat into a circle that is about 1 inch thick.
Using a 2 to 2 ½ inch biscuit cutter, cut out biscuits from the dough. Pat together the scraps into another circle and cut out additional biscuits until the dough is used up.
Arrange the biscuits so that they are touching and close together on the baking sheet. If desired, brush the tops of the biscuits lightly with additional coconut buttermilk.
Bake for about 15 to 18 minutes, until puffed and just barely golden. Serve warm!
Notes
*To make the coconut buttermilk: Add 1 (14 ounce) can full fat coconut milk to a small saucepan. Set over medium heat and cook, stirring frequently, until just combined and no longer separated (it doesn't need to be hot!). Remove from the heat and let cool to room temperature. Stir in 2 tablespoons white distilled vinegar, then let the mixture sit for 10 minutes. Transfer to an airtight container and place in the fridge until well chilled (it will keep in the fridge for up to one week). Give it a shake before using.
**To keep these vegan - use pure maple syrup instead of honey.
Nutrition Information:
Yield:

12
Serving Size:

1
Amount Per Serving:
Calories:

164
Total Fat:

8g
Saturated Fat:

7g
Trans Fat:

0g
Unsaturated Fat:

1g
Cholesterol:

1mg
Sodium:

291mg
Carbohydrates:

21g
Fiber:

2g
Sugar:

4g
Protein:

3g
Nutrition data shown is an estimate provided by an online calculator and is for informational purposes only. It should not be considered a substitute for a medical professional's advice.