Maple Pecan Biscotti
Biscotti is one of those things that reminds me of home.  Growing up in a very Italian family, this treat was always, and I mean always, around.  Whenever we went to my grandma's house, she typically put out biscotti (and of course coffee, or milk for us kiddos).  I have to admit though that it was never really my favorite sweet snack.  The plain versions had no flavor and sometimes they were just too hard to enjoy.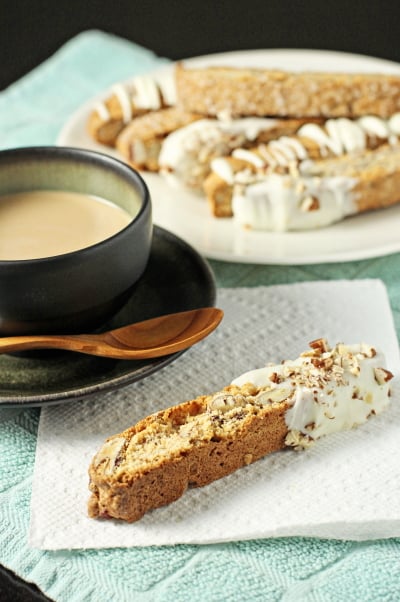 I thought biscotti would be difficult to make at home, so I never gave it a try until recently.  Turns out, it's pretty easy.  I thought it would be fun to make a Fall version and I adore all things maple.  So I settled on maple pecan.
Let me tell you that these are nothing like those plain versions I remember.  This biscotti is full of maple flavor, bits of pecans and is perfectly crunchy (yet not so hard that it will break your teeth!).  Be sure to enjoy these with some coffee, tea or milk, which somehow makes them even better.  I was home in New Jersey this past weekend and was able to bring a few of these to my grandma for her to try.  She's currently in the hospital and we all know how terrible hospital food can be.  She told me that these were the best thing she's eaten since she's been there and gave them her stamp of approval.  Which definitely made me smile.
Maple Pecan Biscotti
Recipe for maple pecan biscotti. Perfectly crunchy and filled with maple flavor and pieces of pecans. Perfect with a cup of coffee or tea.
Ingredients:
For the biscotti:
2 cups pecans, coarsely chopped
2 large eggs
½ cup granulated sugar
½ cup packed light brown sugar
¼ cup pure maple syrup
½ teaspoon maple flavor
⅓ cup (5 ⅓ tablespoons) unsalted butter, melted
2 ½ cups all-purpose flour
2 teaspoons baking powder
½ teaspoon salt
For garnish:
coarse sugar, optional
chopped white chocolate, optional
additional finely chopped pecans, optional
Directions:
Preheat the oven to 350 degrees.
Add the pecans to a baking sheet or pan, arranging them in a single layer. Bake for about 5 to 8 minutes, until the nuts are lightly toasted. Set aside.
Line a separate large baking sheet with parchment paper. Set aside.
In the bowl of a stand mixer fitted with the paddle attachment, add the eggs, granulated sugar, brown sugar, maple syrup and maple flavor. Beat until well combined. Next, add in the melted butter. Beat until combined and the mixture is smooth. Add in the flour, baking powder and salt. Beat until just combined. Remove the bowl from the mixer and fold in the toasted pecans.
Divide the dough in half and transfer to the prepared baking sheet. Using wet fingers, shape each half into a rectangle that is about 10 inches long, 4 inches wide and ½ inch thick, leaving several inches of space in between the two sections of dough. *I found it helpful to draw the rectangles on the parchment paper. I then dumped half the dough into each and used the lines to pat it into the correct shape.
With wet fingers, smooth out the top and sides of each rectangle. If desired, sprinkle the tops with coarse sugar. *I only did this on one rectangle.
Bake in the 350 degree oven for 30 minutes. Remove the baking sheet from the oven and let the biscotti cool for about 10 minutes. Maintain the oven temperature during this time. Using a sharp knife, cut the dough into about ½ inch thick slices. Balance the slices upright on the baking sheet close together. *If you can't get the slices to balance upright you can lay them down flat, but be sure to flip them once during baking.
Bake for another 20 to 25 minutes, until the biscotti start to brown. Remove from the oven and let cool directly on the baking sheet.
Once completely cool, if desired, melt some white chocolate. Dip one end of the biscotti in the white chocolate then place on a baking sheet lined with wax or parchment paper. Sprinkle with chopped pecans. You can also drizzle the tops of the biscotti with melted white chocolate. Let the chocolate set completely before removing from the sheet.