Homemade Cranberry Orange Sauce
This homemade cranberry orange sauce was originally posted in November 2012. The post has been updated as of November 15, 2017 with new photos, text and a revamped recipe!
I feel like there are two camps when it comes to classic canned cranberry sauce.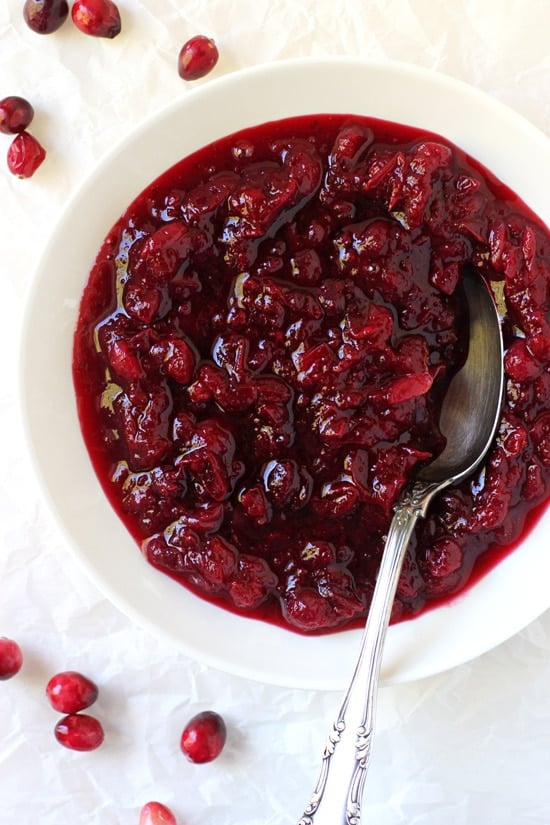 There's team gimme all that jiggly goodness!
And then, then, there's team oh-heck-no I'm not touching that thank you very much.
Um, yeah. I totally fall into the second category. I partially blame my sister – the two of us would sit there and talk about it every year at Thanksgiving growing up … the way it jiggles around and holds its shape (indents and all). Eeep. Still creeps me out to this day.
So, for those of you who also fall into the second category, allow me to introduce you to this homemade version instead.
Made with fresh cranberries, maple syrup and two kinds of orange (in the form of fresh orange zest and orange liqueur <— so fun!), it bears absolutely no resemblance to the stuff from the can.
It's fresh, it's tart, it's sweet! And in my opinion, is absolutely delightful.
Not to mention the fact that you can make these dreamy leftover cranberry sauce pumpkin muffins with the extras.
Yup, I'm pretty sure the homemade version wins on all fronts! (Well, for me. For those of you who love the canned stuff, rock on!)
So, let's move along to a few tips & tricks for the recipe:
First things first. This recipe is completely revamped from the original version I posted five (!!) years ago. I've made homemade cranberry sauce countless times since then and now have a go-to base recipe that I am obsessed with (which is what you are seeing down below). It features maple syrup instead of regular sugar (adding an awesome depth of flavor) and fresh cranberries instead of frozen.
So! I would encourage you to give this version a try (because I do think it is much improved!). But if you would like the original recipe, you can hit me up via email. I still have it saved just in case you want it.
Moving right along! You can absolutely leave out the orange liqueur if desired. The sauce is still delicious without it.
Or! You can try this homemade vanilla thyme cranberry sauce instead! I love both flavors and flip flop between the two for the holidays.
And just like that, we are only one week away from turkey day (!!). Delicious feast here we come! We so have the spiked cranberry sauce covered.
Homemade Cranberry Orange Sauce
Prep Time: 5 minutes
Cook Time: 20 minutes
Total Time: 25 minutes
This easy homemade cranberry orange sauce is essential for the holidays! Made with maple syrup, orange zest & orange liqueur, you'll never want the canned stuff again!
Ingredients:
1 (12 ounce) bag fresh cranberries (about 3 cups), picked through
1 cup water
½ cup pure maple syrup
1 tablespoon orange zest
¼ teaspoon fine sea salt
2 tablespoons orange liqueur, such as triple sec
Directions:
Add the cranberries, water, maple syrup, orange zest and salt to a medium saucepan and mix to combine. Set the pan over medium high / high heat and allow the mixture to come just to a boil. Reduce the heat and simmer, stirring occasionally, for about 10 to 15 minutes, until the cranberries have mostly popped and the mixture is sauce-y (it will thicken as it cools). Remove from the heat and use the back of a wooden spoon to smash any cranberries that haven't popped. Stir in the orange liqueur.
Allow the mixture to cool to room temperature, then store in an airtight container in the refrigerator. The sauce keeps well in the fridge for several days. I like to bring it back to room temp before serving.