Homemade Enchilada Sauce
Promise me that you'll never buy store-bought enchilada sauce again.  Pinky swear?  Cross my heart that you won't even want to buy it after trying out this recipe.  Making enchilada sauce at home couldn't be easier and really only takes about 20 minutes.  You can make it in advance and keep it in your refrigerator (or freezer), so it's ready to go whenever you need it.
And the flavor?  So so much better than the canned version.  None of that watered down taste.  This sauce is packed full of the good stuff and has a great consistency (not too thick but not too runny either).  Just right.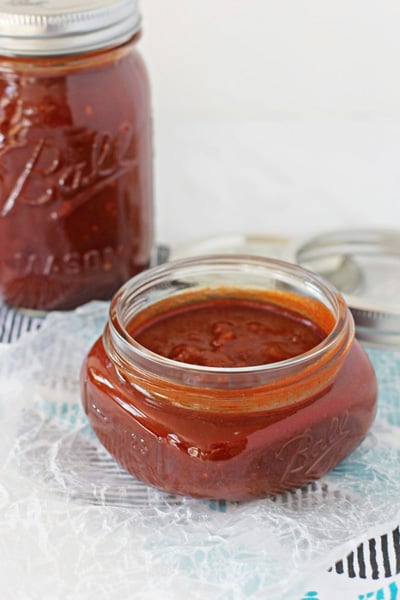 So what's my favorite enchilada recipe you ask?  Well, that's coming your way later this week.  You knew I was going to say that, huh?  But this sauce deserved it's own post.  Trust me.
Homemade Enchilada Sauce
Recipe for homemade enchilada sauce. Stop buying store-bought and make this simple homemade version instead. Packed full of flavor, you'll never go back.
Ingredients:
1 tablespoon olive oil
1 small onion, minced
2 cloves garlic, minced
3 tablespoons chili powder
1 tablespoon ground cumin
2 teaspoons granulated sugar
2 (8 ounce) cans tomato sauce
1 cup low sodium chicken broth
salt and pepper, to taste
Directions:
Set a medium saucepan over medium-high heat. Add in the olive oil. When hot, add in the onion and cook for about 5 minutes, until soft and it starts to brown on the edges. Add in the garlic, chili powder, and cumin. Cook for 30 seconds, until fragrant.
Add in the sugar, tomato sauce and chicken broth. Stir to combine then bring to a boil. Reduce the heat to low and simmer gently for about 10 minutes. Season with salt and pepper to taste (I added about ½ teaspoon salt and ¼ teaspoon pepper).
Store in the refrigerator for up to one week or in the freezer for up to three months.