Chicken, Black Bean and Vegetable Enchiladas
These enchiladas were created as a compromise.  You see, my husband likes chicken enchiladas.  And I like veggie enchiladas.  He is a pretty good sport about trying (and eating) all the meatless meals I make around here, but I know they're not his favorite.  So I figured it was time to combine the two so we would both be happy.
Funny enough these turned out to be my favorite enchiladas that I've ever made.  See what happens when you compromise?  Man, I'm such a good wife : )  These enchiladas are packed with the perfect ratio of chicken to black beans to zucchini and corn – some of my favorites.  They're even better if you use homemade enchilada sauce – which you promised me on Wednesday you would use from now on (remember? we pinky swore!).  So I have no doubt that you'll do the right thing and use that in these!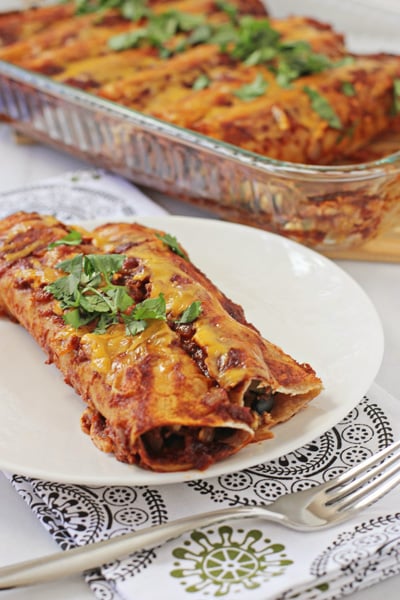 Andddd I wish I had another tray of these babies to shove in my face right about now… along with some chips and salsa.  And maybe a margarita.  Definitely a margarita.
Chicken, Black Bean and Vegetable Enchiladas
Recipe for chicken, black bean and vegetable enchiladas. Packed with chicken, black beans, zucchini and corn, along with plenty of cheese and fresh cilantro
Ingredients:
1 tablespoon olive oil
1 onion, chopped
1 zucchini, chopped
1 ear corn, kernels removed
1 large chicken breast (about ½ pound), cooked and shredded
1 can black beans, drained and rinsed
2 ¼ cups enchilada sauce, divided
1 cup crumbled queso fresco
salt and pepper, to taste
10 whole wheat tortillas
½ cup freshly shredded cheddar cheese
⅓ cup fresh cilantro, chopped
Directions:
Preheat the oven to 400 degrees.
Set a medium skillet over medium heat. Add in the olive oil. When hot, add in the onion and cook for 3 to 5 minutes, until soft. Add in the zucchini and corn. Cook for another 5 to 8 minutes, until all the veggies are tender.
In a large bowl, add the veggie mixture, shredded chicken, black beans, ½ cup of the enchilada sauce and queso fresco. Mix to combine. Season with salt and pepper to taste.
Heat the tortillas for about 30 seconds in the microwave so that they are pliable. Pour another ½ cup of the enchilada sauce in the bottom of a 9 by 13 inch baking dish. Tilt the pan back and forth so that the sauce coats the bottom.
Place a tortilla on a work surface. Scoop about a heaping ⅓ cup of the filling and place in a line down the center of the tortilla. Roll the tortilla up tightly and transfer to the prepared baking dish with the seam-side down. Repeat this process with the remaining tortillas and filling.
Evenly pour the remaining 1 ¼ cups of the enchilada sauce over the top of the enchiladas. Sprinkle with the cheddar cheese. Cover the pan with foil and bake for about 20 minutes. Remove the foil and then return to the oven to bake for 5 additional minutes. Remove from the oven and let cool for 5 to 10 minutes. Sprinkle the cilantro down the center of the enchiladas for garnish before serving.