Baked Honey Chipotle Chicken Wings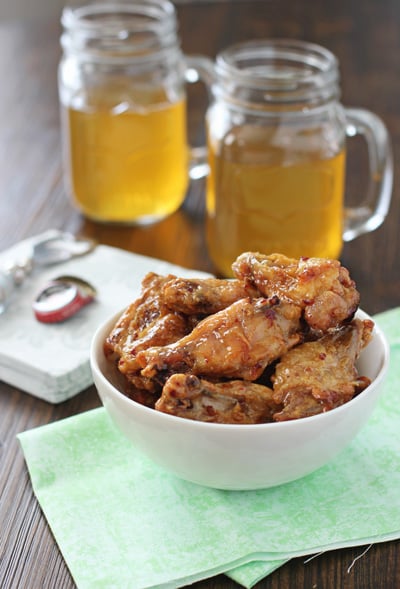 Chicken wings make me feel like a bad wife.  And super guilty.  Want to know why?  Because my husband has been asking me for probably close to 5 years (i.e. almost as long as we've known each other) to make him homemade chicken wings.  And until now I've ignored that request.  Bad bad bad.
Especially considering he really doesn't make too many requests when it comes to what I cook.  Hence the guilt.
And I really have no excuse.  At the beginning I could blame it on my lack of culinary skills but even that doesn't really hold up.  Because these baked honey chipotle chicken wings?  Yeah, pretty darn easy.
Plus, they are finger lickin' good.  Super good.  Awesome.  You catch what I'm throwing your way, right?  Nice and crispy without any of the frying.  And the sauce.  Ohhhh the sauce.  A little sweet, a little smoky.  I could drink it with a spoon.  But I didn't, don't worry.  That would be a little much.
I can't believe I've been missing out on these wings all these years.  I guess that's what I get for being so stubborn and ignoring one little request.  Punishment in the form of delicious crispy chicken wings.
Baked Honey Chipotle Chicken Wings
Recipe for baked honey chipotle chicken wings. Super crispy wings that are baked not fried. With a sweet and smoky sauce. Perfect for game day.
Ingredients:
For the wings:
2 pounds chicken wings, halved at joints & wingtips discarded
1 tablespoon baking powder
¼ teaspoon salt
For the sauce:
3 tablespoons unsalted butter, melted
¼ cup honey
1 to 2 tablespoons minced chipotle peppers in adobo sauce
Directions:
To make the wings – adjust the oven racks to the upper-middle and lower-middle positions. Preheat the oven to 250 degrees. Line a rimmed baking sheet with aluminum foil and then set a wire rack in the pan.
Pat the chicken wings dry with a paper towel and then transfer to a gallon sized zipper-lock bag. In a small bowl, mix together the baking powder and salt and then add this mixture to the bag. Seal the bag and then shake to coat. Arrange the wings in a single layer on the prepared baking sheet (skin side up).
Place the pan on the lower-middle rack in the oven and bake for 30 minutes. Then move the pan to the upper-middle position, increase the temperature to 425 degrees and bake for about 40 to 50 minutes, rotating the pan halfway through baking. The wings should be brown and crispy when done.
Remove the pan from the oven and let cool for 5 minutes.
Meanwhile, to make the sauce, add the butter, honey and minced chipotle to a large bowl. Whisk to combine. Add the wings to the bowl and toss until well coated. Serve immediately.
If you buy chicken wings that are already split and have the wingtips discarded you only need 1 ¾ pounds.
Adjust the minced chipotle depending on how much spice you like. It will be more on the milder end of the spectrum if you add the 1 tablespoon (sweet with a smoky undertone). With 2 tablespoons, you get a good kick.
Baked chicken wings method from Cook's Country October/November 2013. Sauce from Cook Nourish Bliss.