Crockpot Vegetarian Chili with Farro
Let me share with you my newest obsession.  Farro.  I can't get enough of it lately.  Why, I have no idea but I am suddenly alllll about it.  My husband is certainly a good sport when I get into one of these crazes – he happily eats whatever I put in front of him (or at least pretends he is happy about whatever it is).  Even if we have had farro for oh, a few times within the last week.  And lentils – I'm on quite a kick with those right now too.
But we'll talk lentils another time.  For now we're going to stick with farro.  More specifically this crockpot vegetarian chili with farro.
Because we've had this at least three times lately – and I have more stashed in my freezer for another day (side note – this chili freezes really well!).  And it's super simple.  Chop a few veggies and throw it all in your crockpot.  And that's it.  Easy peasy.
And the best part is that this is a nice and hearty vegetarian chili with a spice level that you can adjust to your own tastes.  Filled with plenty of beans, chewy farro and lots of veggies.  And did I mention it was easy?  Oh yes, yes I did.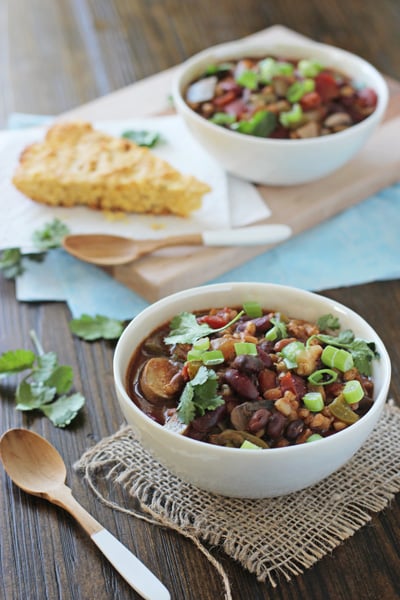 So make yourself a pot and then cuddle up on the couch with a big bowl and a blanket.  But don't spill the chili … not that I know about that or anything.  You really don't want a messy couch.
Crockpot Vegetarian Chili with Farro
Recipe for crockpot vegetarian chili with farro. A hearty vegetarian chili filled with beans, chewy farro and lots of veggies. Simple and easy.
Ingredients:
For the chili:
1 red onion, chopped
1 green pepper, chopped
1 orange pepper, chopped
1 (8 ounce) package baby bella mushrooms, sliced
2 (14 ounce) cans diced fire-roasted tomatoes
1 can black beans, drained and rinsed
1 can pinto beans, drained and rinsed
1 can kidney beans, drained and rinsed
3 cups low-sodium vegetable broth
1 cup farro, rinsed and drained
1 to 3 chipotle peppers in adobo sauce, minced**
1 ½ tablespoons chili powder
2 teaspoons cumin
2 teaspoons garlic powder
1 teaspoon salt
Topping / serving ideas:
plain greek yogurt / sour cream
sliced green onions
chopped cilantro
shredded cheddar cheese
sliced avocado
tortilla chips
Directions:
Add all of the ingredients for the chili to a 6-quart crockpot. Give it a good stir then cover and cook on low for 6 to 8 hours (I do 8 hours in my crockpot).
The chili should have thickened up slightly by the time it is done and the veggies should be nice and tender. Season with salt and pepper to taste, if needed. Top as desired.
The chili will thicken up even more as leftovers. If needed, add a splash of veggie broth when reheating to loosen it up.
**Adjust the amount of chipotle pepper to your taste. If you go with 1, the chili will be really mild in spice. We like to add the full 3, to give it a good kick (but that's just our preference!).