Lemon Poppy Seed Cupcakes with Blueberry Cream Cheese Frosting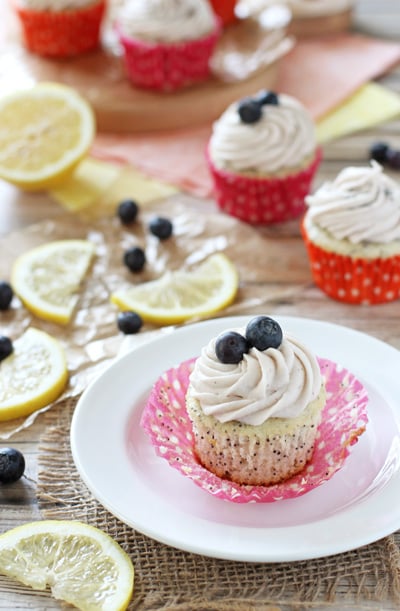 It's Monday again and well, Mondays call for cupcakes.  And let's call these celebration cupcakes … for the fact that it may actually officially really be spring!  Yes, yes, I know that the official start of the season was a few weeks ago, but this was the first time that we had a string of slightly warmer days.
On that note, we finally went to the store this weekend and got all the goodies to start our garden.  So funny story.  We were merrily shopping away for our garden supplies when I realized I was supposed to be at a potluck brunch thing that I do with my friends every few weeks.
I somehow managed to put it on my calendar for Sunday (not Saturday).  Which set off my crazy mode – you know, dashing to get out of the store, get home, finding something to bring (since I didn't make my planned contribution because I thought it was the next day) and finally winding up grabbing a bag of cookie dough balls from the freezer.  Thank goodness for cookie dough, right?  Saves the day.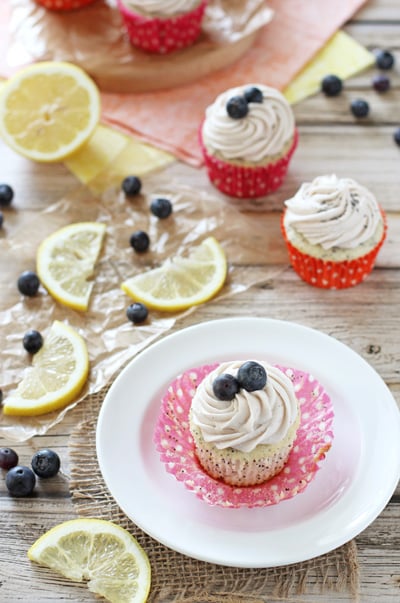 So do you see why I need a cupcake on this Monday?  I was frazzled mcdazzled.  And then it carried through the rest of the weekend because all the things I scheduled were now flipped around.
And my type-A personality can't handle that kind of funny business.  Which brings me to cupcakes.  These cupcakes will make any day better.  I took my favorite favorite favorite vanilla base and jazzed it up a bit with lemon and poppy seeds.  They are light, tender and well, pretty perfect.
And then there's the frosting.  A blueberry cream cheese frosting.  With just a hint of blueberry flavor from fresh blueberry puree, it pairs deliciously with the slightly lemon base.
Cupcake Monday.  I think it should be a thing.
Lemon Poppy Seed Cupcakes with Blueberry Cream Cheese Frosting
Recipe for lemon poppy seed cupcakes with blueberry cream cheese frosting. Tender, fluffy cupcakes that are perfect for spring!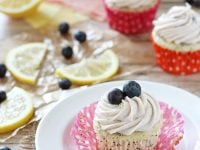 Ingredients:
For the cupcakes:
2 ¼ cups cake flour
1 tablespoon baking powder
½ teaspoon salt
2 tablespoons poppy seeds
1 ¼ cups buttermilk
4 large egg whites
1 ½ cups granulated sugar
1 ½ tablespoons lemon zest (from 2 lemons)
½ cup (1 stick) unsalted butter, room temperature
1 ½ teaspoons vanilla extract
For the frosting:
6 ounces fresh blueberries
8 ounces cream cheese, chilled
½ cup (1 stick) unsalted butter, room temperature
4 ½ to 5 ½ cups confectioners' sugar, sifted
1 ½ teaspoons vanilla extract
pinch of salt
Garnish ideas:
lemon zest
fresh blueberries
poppy seeds
Directions:
To make the cupcakes – preheat the oven to 350 degrees. Line cupcake pans with liners and set aside.
In a medium bowl, sift together the cake flour, baking powder and salt. Add in the poppy seeds and give it a quick stir. In another medium bowl, whisk together the buttermilk and egg whites. In the bowl of a stand mixer fitted with the paddle attachment, add the granulated sugar and lemon zest. Use your fingers to rub them together until the sugar is moist and fragrant. Add in the butter. Beat on medium speed for 3 minutes, until it is very light. Add in the vanilla extract and beat until incorporated.
With the mixer on low speed, add in one third of the flour mixture. Next, add in half of the buttermilk mixture, beating until incorporated. Repeat this process, one third flour mixture, remaining half buttermilk mixture. Finally add in the remaining third of the flour mixture. Once incorporated, increase the speed to medium low and beat for 2 minutes, to ensure it is well aerated. Fill the prepared cupcake tins evenly with the batter (about ⅔ of the way full).
Bake for about 18 minutes, or until a toothpick inserted into the middle comes out clean. Let the cupcakes cool for about 5 minutes in the pan, then remove to a wire rack to cool completely before frosting.
To make the frosting – add the blueberries to the bowl of a food processor. Process until smooth. Strain through a fine mesh sieve to remove the skins, using a wooden spoon to help push it through. Measure out ¼ cup of the strained puree and set aside (any extra you can discard).
In the bowl of a stand mixer fitted with the paddle attachment, add the cream cheese and butter. Beat on medium high until light and fluffy, about 2 minutes. Add the confectioners' sugar (start with the 4 ½ cups) to the bowl in several batches, beating on low / medium-low until combined (it will be very stiff at this point). Add in the ¼ cup blueberry puree, vanilla and salt. Start on low then increase the speed to medium high and beat for another 1 to 2 minutes, scraping the bowl and beater blade as needed. If the frosting is not thick enough to pipe, add in additional sifted confectioners' sugar to get it to your desired consistency (and beat again on medium high – I usually add the full 5 ½ cups since I prefer it to be stiffer when piping).
Pipe the frosting on the cooled cupcakes as desired. Garnish as desired.