Polenta Bites with Ricotta and Shaved Asparagus
So is it bad that looking at these pictures makes me want to run into my kitchen, make another batch and shove a few more of these polenta bites into my face??  Because that's exactly what I want to do right now.
I expected to like these babies … but did not expect to loveeee them.  I've made them quite a bit over the last few weeks.  But they are the perfect appetizer, brunch contribution or for just making for yourself to eat after work outside on the patio with a glass of red wine.   Yes yes, that one wins most.
Plus then you can reheat the leftovers and consume far too many for lunch the next day.  Perfectly acceptable since there are veggies involved.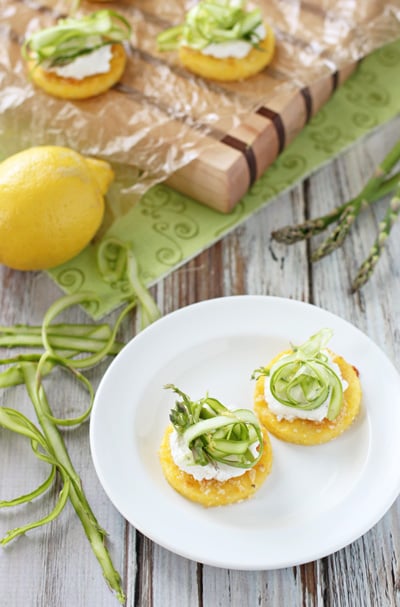 And I mean, shaved asparagus is just so darn pretty.  Look at those ribbons!  We all know that I am a sucker for pretty food.  Plus I am totally smitten with the fact that when you shave asparagus it tastes great raw.  Don't run away until you've tried it!
Now.  There are a few steps to make these bites but each part is simple and you can do it all in stages and in advance.
Make the polenta, chill it and cut into rounds.  Mix up the ricotta mixture, prep the asparagus.  You can do all of this ahead of time and just keep them stored in the fridge in airtight containers.  That way, all you have to do is the bake the polenta when you need it and then assemble!  It's easy, I promise.
And another little tidbit for you – alternatively, you can just go ahead and bake the polenta bites.  Let them cool completely and then store in the fridge.  You can reheat them the next day (350 for about 10 to 15 minutes) and they will be right back to crispy and awesome.  And then assemble as directed in the recipe.  Can you tell I experimented a lot with these??
Crispy polenta, creamy salty ricotta and fresh bright asparagus.  That's one glorious trifecta right there.
Yield: 24 bites (using a 2 ½ inch round cutter)
Polenta Bites with Ricotta and Shaved Asparagus
Recipe for polenta bites with ricotta and shaved asparagus. Crispy polenta bites that are a perfect appetizer or spring brunch addition!
Ingredients:
For the polenta base:
2 ½ cups milk
2 cups water
¼ teaspoon salt
1 cup coarse polenta (not instant or quick cooking)
1 tablespoon unsalted butter
¼ cup freshly grated parmesan cheese
For baking:
1 tablespoon unsalted butter, melted
¼ cup freshly grated parmesan cheese
¼ cup panko breadcrumbs
For topping:
1 ½ cups ricotta cheese
¼ teaspoon salt
¼ teaspoon garlic powder
¼ teaspoon dried parsley
1 bunch asparagus
lemon zest, for garnish
Directions:
To make the polenta – add the milk, water and salt to a medium saucepan. Set the pan over medium-high heat and bring to a low simmer. Slowly pour in the polenta in an even stream, whisking constantly the entire time. Turn the heat down to low and partially cover with a lid. Cook for about 20 to 25 minutes, whisking every few minutes to get out any lumps (be sure to scrape the sides and bottom of the pan). Remove from the heat and add in the butter and parmesan. Whisk until combined.
Carefully transfer the polenta to a rimmed baking sheet that has been lightly sprayed with nonstick cooking spray. Spread using a spatula to about ½ inch in thickness (you don't need the edges/shape to be perfect since you'll cut the polenta later). Let cool for about 5 minutes then transfer the pan to the refrigerator and let chill for about 45 minutes to 1 hour.
To bake – preheat the oven to 400 degrees. Line a baking sheet with parchment paper. Once the polenta is completely cool and well chilled, use a cookie cutter (or a knife) to cut out the polenta into your desired shape getting as many pieces as you can (I used a round 2 ½ inch cutter).
Place the polenta rounds on the prepared baking sheet. Brush the top of each round lightly with the melted butter. Combine the parmesan and panko in a small bowl and then top each round with some of the mixture, lightly pressing it into the top of the polenta. Bake for about 25 minutes, until the topping is golden brown and the rounds are slightly crispy on the outside. Remove from the oven and let cool for about 10 minutes.
Meanwhile, to make the topping – add the ricotta, salt, garlic powder and parsley to a small bowl. Mix until combined.
Lay the asparagus spears on a cutting board and use a vegetable peeler to shave off thin ribbons (I find it easiest to hold the tough end of the asparagus that you normally cut off). Set aside.
To assemble – top each polenta round with a good dollop of the ricotta mixture (I like to kind of spread it out a bit on the round) and then a heaping of the shaved asparagus. Garnish with lemon zest if desired.
See the body of the post above for make-ahead instructions.