Almond Flour Cupcakes
Happy almost birthday to my little sister!! I made these cupcakes for a small party a few weeks ago at my parent's house to celebrate the fact that she's getting "old" – as my sister likes to say.  Never mind that she's quite a few years younger than me and is not even close to turning 30.
Anyway, because she needs to eat gluten-free, I was a little worried about making the dessert for her celebration.  I definitely do not eat gluten-free and don't have a lot of experience when it comes to gluten-free baking.  I toyed with a few recipes but decided that this one was my favorite.  It's hard for me to describe these since I don't have much to compare them against, but they definitely got the seal of approval from both my sister and my mom (who have sampled a number of gluten-free cupcakes over the years).
Even I really enjoyed the flavor of these cupcakes, which are full of vanilla and have just a hint of lemon to give them a bit of brightness.  The texture did throw me off a little, but my sister said that's normal for gluten-free cupcakes (and even mentioned that she liked these better than her favorite bakery cupcakes since these were lighter).  Win!  Another bonus?  No need to get out the mixer to whip these up.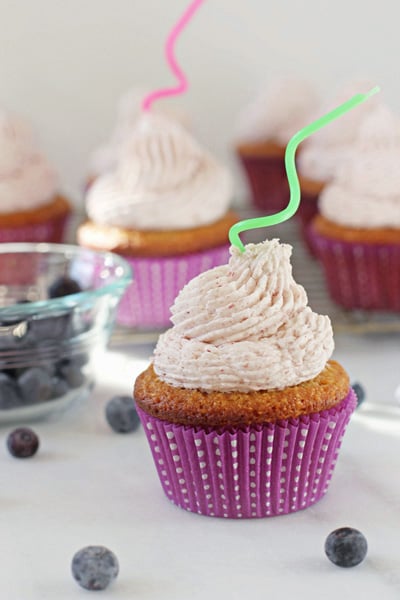 I paired these cupcakes with a blueberry frosting (I want to make a few tweaks to it before I share here with you).  But I think that these would also go wonderfully with this strawberry buttercream.  Or maybe I can interest you in a chocolate buttercream or even vanilla bean?  Take your pick.  These cupcakes are a solid base for whatever your heart desires!
Almond Flour Cupcakes
Recipe for almond flour cupcakes. An easy, delicious option for a gluten-free cupcake. Full of vanilla and with just a hint of lemon for brightness.
Ingredients:
3 cups blanched almond flour
½ teaspoon baking soda
½ teaspoon salt
¼ cup melted coconut oil*
½ cup honey
3 large eggs, at room temperature**
2 teaspoons vanilla extract
½ teaspoon almond extract
1 teaspoon lemon zest
Directions:
Preheat the oven to 325 degrees. Line a 12 cup muffin pan with baking cups and set aside.
In a large bowl, whisk together the almond flour, baking soda and salt. Set aside.
In a medium bowl, whisk together the melted coconut oil, honey, eggs, vanilla extract, almond extract and lemon zest until combined. Add the wet ingredients to the bowl with the dry ingredients and mix until combined.
Pour or scoop the batter evenly into the prepared cupcake tins. Bake for 22 to 25 minutes, until golden brown and a toothpick inserted into the middle comes out clean. Let the cupcakes cool in the pan for about 5 minutes, then remove to a wire rack to cool completely.
Frost the cooled cupcakes as desired.
*Be sure to melt the coconut oil first and then measure out the correct amount. Otherwise you may use too much!
**Updated June 2018 – if your eggs are not at room temp, there is a chance that they could cause the coconut oil to harden up (and then the batter will be a different consistency). While this doesn't always happen, let them come to room temp to avoid any issues!