Individual Mediterranean Dips & A Summer Party!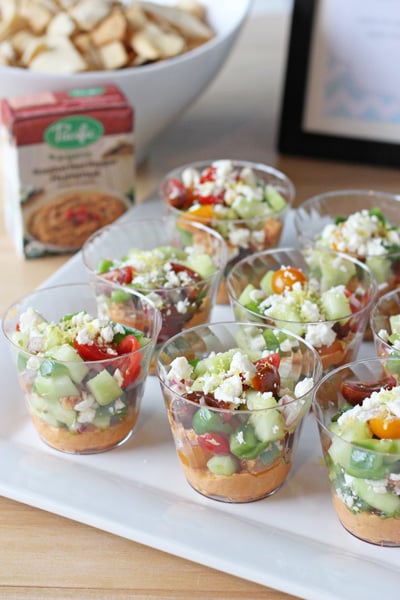 This is a sponsored post in partnership with Pacific Foods. As always, all opinions and content are my own.
It's party time! And what a party this was. Remember when I told you about how our air conditioning broke right before we had friends over? Yup, that was this day. But see, no one looks too sweaty or anything! It was alllll good (well, other than me just complaining about the heat).
I really did learn to roll with the punches for this summer party. We were planning on having the whole thing outside, setting up some cornhole, you know. Outdoor fun. And then it decided to rain all. day. long. For several days straight. Inside it was!
Keep It Casual and Simple
As much as I love elaborate dinners and the like, when it comes to summer entertaining I want simple. Plain and simple. I'm funny, huh?
I picked as many things as possible that could be made ahead of time or required little prep work. A few easy appetizers and a build-your-own sandwich bar. So fun, right? Think mostly picnic-y foods. You're going to want to eat it all – so good!
Easy Appetizers
All the prep work for these dishes could be done a day or a few hours in advance. All I had to do was heat up the cheesy delicious dip and party!
– Individual mediterranean dips (recipe at the bottom of this post!) served with plenty of pita chips. Sort of along the lines of a mexican seven layer dip but with mediterranean flavors instead! Including yummy Pacific Foods' hummus and greek salad-esq veggies and feta!
– Pacific Foods' salsa con queso dip with bread cubes and sliced apples. Cheesy goodness combined with a little sweetness from the apples to get that sweet and savory thing going on. A must. The bread doesn't hurt either. This platter was completely demolished in no time.
Build-Your-Own Sandwich Bar
Below is what I served, but this is something you could easily switch up to your own preferences. I tried to pick a variety of options with plenty of combinations – you could go mexican with some tortillas, refried beans and salsa. Or classic, with some chicken and cheese. Or mediterranean with hummus, roasted veggies and mustard! Or you could really go crazy and be adventurous and make the sandwich your own.
Breads:
marbled rye
multigrain
flour tortillas
Proteins:
hummus, such as Pacific Foods' organic hummus
refried beans, such as Pacific Foods' organic refried black beans
sliced roasted chicken
Toppings:
roasted summer veggies (eggplant, squash, onion)
mango salsa
alfalfa sprouts
thinly sliced red onion
cheese slices
Condiments:
honey mustard
pepper jelly
plain greek yogurt
Side Dish:
strawberry quinoa balsamic salad
Relax and Enjoy
I set up a few printed signs that clearly labeled all the food, put out a disposable tablecloth and everything was good to go. None of the food was anything that had to be attended to during the party, so I could just sit back and relax.
Emma also had a grand ol' time.
1. Calming observing all the food set up on the table.
2. The agitated "why are you not giving me any of this" look.
3. Please? Don't you see how cute I am!?
Parting Words of Wisdom?
My advice for summer parties – keep everything as simple and easy as possible.
That way you can enjoy the company. Even if that means sitting inside on a rainy day in a super warm house. It will still be plenty of fun, I promise.
Yield: about 9 individual cups
Individual Mediterranean Dips
Recipe for individual mediterranean dips. Fun, single-serving dips filled with hummus and greek salad inspired veggies!
Ingredients:
2 small cucumbers, peeled and diced
2 small green peppers, diced
2 cups cherry tomatoes, halved or quartered if large
½ cup minced red onion
1 tablespoon olive oil
1 teaspoon red wine vinegar
½ teaspoon salt, or more to taste
¼ teaspoon dried oregano
pinch of red pepper flakes
9 (9 ounce) plastic cups
2 (12 ounce) packages Pacific Foods' roasted red pepper hummus
1 cup crumbled feta
zest of 1 lemon
pita chips, for serving
Directions:
In a medium bowl, add the cucumber, pepper, tomatoes, red onion, olive oil, vinegar, salt, oregano and red pepper flakes. Toss to combine.
To assemble, in each plastic cup, spoon in some of the hummus and smooth into an even layer. Using a slotted spoon to remove any excess moisture, spoon some of the veggie mixture on top of the hummus. Top with a sprinkle of the feta. Repeat this process to fill the cup. Sprinkle the top with a touch of lemon zest.
Place one pita chip in the cup for garnish if desired. Serve with additional chips.
You can make the veggie mixture ahead of time. Then all you have to do is assemble!
Olives would also be a great addition – I'm just not a fan!
Looking for more party ideas? You can check out the Pacific Foods Pinterest board all about foodie parties!
This is a sponsored post in partnership with Pacific Foods. As always, all opinions and content are my own. Thank you for reading and letting me share companies that I love. These partnerships help support this blog and allow me to continue to create new recipes and content to share with you!